JoJo's Stint on 'The Masked Singer' Helped Her with Stage Fright
First runner-up of the fifth season of 'The Masked Singer', JoJo revealed she suffered from stage fright before the show.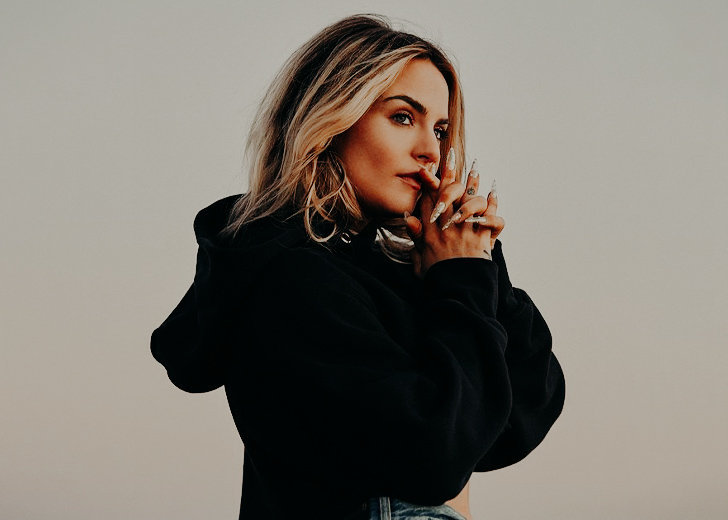 SPOILER WARNING: Plot and ending details for The Masked Singer, Season 5.
The reality singing competition, The Masked Singer (TMS), has become a beloved TV show in the USA. Adapted from the South Korean series of the same name, the show features various celebrities wearing costumes and facemask to hide their identity.
They sing in front of a panel of judges and a studio full of audiences and get eliminated if they don't receive enough votes. 
On May 26, TMS aired its season finale revealing the winner for its fifth season. The winner was no other than 'Piglet' Nick Lachey. The first runner-up was 'Black Swan' JoJo, and 'Chameleon' Wiz Khalifa secured the third position. 
After her identity was revealed, JoJo took to Instagram to confess that TMS helped her defeat stage fright. 
JoJo On How 'TMS' Helped With Her Stage Fright
The singer posted a selfie of herself wearing her 'Black Swan' costume on her Instagram. 
Initially, the 30-year-old revealed that she feared going to TMS. She was not at a good point in her life since the COVID-19 pandemic had taken a toll on her.
She had to cancel her 2020 tour, which made her feel disconnected and confused about her life. 
She then started questioning her skills; if she was good at singing and performing anymore. Over the past few years, JoJo had developed stage fright, which affected her both mentally and physically. 

JoJo in her 'Black Swan' costume. (Source: Instagram)
She knew she had to do something about her fright, for which she had to stop taking herself seriously. TMS was the perfect way for her to confront her fear. 
I figured donning a 15 lb bedazzled swan costume + headpiece while anonymously singing my heart out might be a good way to do that.
Watching the previous season of TMS was an escape for JoJo and her friends. They would divulge into the fantasy and music to see that the 'masked singers' were having a great time together. This made the singer accept the offer. 
The Grammy-winning artist didn't agree to the show to win it; rather, she considers her being a part of the show was a win on its own. TMS truly helped her get over her fear and helped her move forward.
The show also helped her realize her love for music, and because of this, she was able to make new music. 
In an interview with E! News, JoJo claimed TMS helped her get her "mojo back." She opened up how the show helped her connect to the little girl inside her who loved music more than anything.
TMS helped her realize the joy she feels when she sings, for which she is extremely thankful. 
Season 5 of 'The Masked Singer' 
The fifth season of TMS premiered on March 10 and ran for 11 weeks. Actor Ken Jeong, artist Nicole Scherzinger, singer Robin Thicke, and TV personality Jenny McCarthy served as panelists.
Nick Cannon hosted the show, but a few days before production, he was tested positive for COVID-19. As his replacement, actress Niecy Nash hosted the first five episodes. 
This season had garnered a wide range of contestants. On the premier for the season, they had revealed that the cast had a combined net worth of over $600 million, eight marriages, nine divorces, 459 tattoos, 198 million followers, over 55 million records sold, 25 gold and platinum records, one Oscar win, three Grammy wins, and three Emmy nominations.