Is Jacksepticeye Retiring? A Look at the Reactions to His Cryptic Tweets
Jacksepticeye has been suffering from health issues since 2020.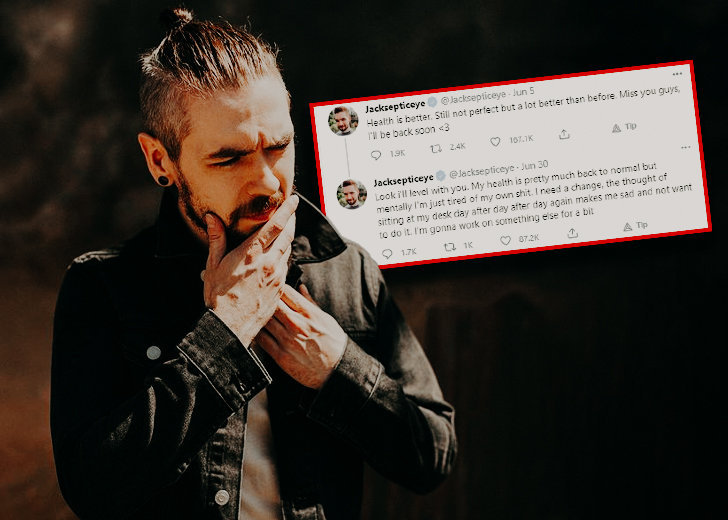 The Irish YouTuber and gamer Seán William McLoughlin, professionally known as Jacksepticeye, rose to prominence for his fun vlogs, Twitch streaming videos, and comic skits. 
His YouTube channel has over fourteen billion views and 27.2 million subscribers as of June 2021, making it Ireland's most-subscribed YouTube channel.
Recently, Jacksepticeye has created a stir among fans with his cryptic tweets and videos about his physical and mental health. But is he retiring?
Is Jacksepticeye Ending His Online Career?
The Twitch streamer initially took to Twitter on June 5, 2021, to inform the fans about his health. He stated, 
Health is better. Still not perfect but a lot better than before. Miss you guys, I'll be back soon.
In reaction to his own statement, Jacksepticeye commented on Twitter on June 29, 2021, that his health was almost back to normal, but he was mentally exhausted and needed a change. 
In late December 2020, the Irish YouTuber revealed his health difficulties. He noted that on certain days he would wake up to realize he simply lacked the energy to accomplish anything.
Fan Reactions 
Many netizens assumed that Jacksepticeye was implying he would retire from streaming. While most of them wished him good health, many of them were concerned about his digital future.
Responding to one tweet about him discussing his retirement, he said he needed a change of pace and a different concept to address instead of repetitive daily uploads.
Check out some of the fan reactions:
Jacksepticeye's Health Issues
Jacksepticeye's health story continued with a YouTube video titled 'Health' uploaded on June 11, 2021. The video starts with him asking his viewers if they missed him while he was on a break. "I've been gone for longer than I intended," he continued.
In fact, he said that it was the first time he had done his hair in two weeks and that he did it for the fans; so that people wouldn't judge him online based on his appearance and think that he looked tired. 
The video basically centered on Jacksepticeye explaining his extended hiatus because of health issues. He stated he went on a break last year because he was tired of his stuff and needed to be away from it all, including himself.
Jacksepticeye also revealed that he took a pause from streaming in early 2021 for personal reasons and again took a break recently because of his health issues. 
It's like my body doesn't want to enjoy things.
Elaborating on his health issues, he shared he suffered from asthma, acid reflux, and breathing issues.
According to him, his health has deteriorated since he went to VidCon UK in 2020, where he might have contracted Covid. But it was before the global pandemic, so he couldn't tell if it was Covid or not because there was no testing equipment available at the time.
Jacksepticeye mentioned he has been going to medical appointments and taking pills and inhalers for his health.
"Woke up one morning, couldn't breathe, I had a very very shallow breath whenever I tried to take a breath," he continued.
However, he noted he felt better but still he doesn't feel completely fine and normal.