Is Cynthia Bailey's Daughter Pregnant? A Look into the Rumors
Cynthia Bailey's Daughter, Noelle Robinson, addresses her pregnancy rumors.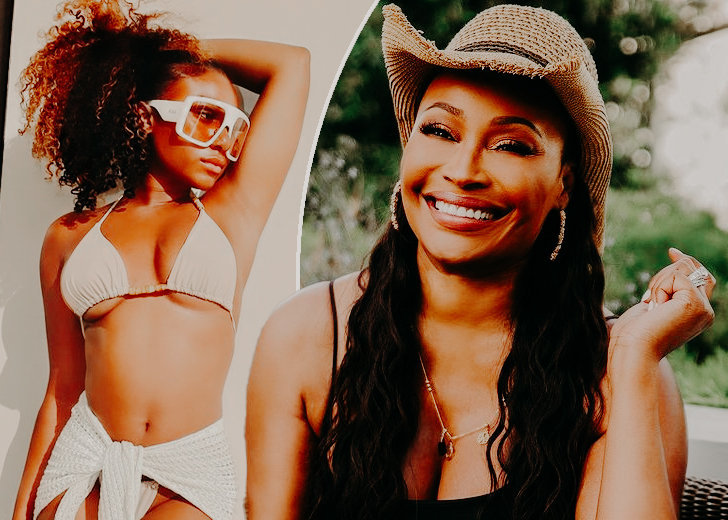 A March 2021 episode of The Real Housewives of Atlanta left the viewers confused with some speculating that Cynthia Bailey's daughter, Noelle Robinson, was pregnant. 
The special episode was about Bailey and Mike Hill's beautiful wedding, which took place in October 2020.
Despite her anxieties about COVID-19, the bride planned her wedding, took all the necessary precautions, and invited almost 250 guests.
Is Cynthia Bailey's Daughter Pregnant?
During the last minutes of the episode, the camera swung towards Bailey and Robinson as the reality television star got ready for her big day.
Some eagle-eyed fans noticed that Robinson's tummy looked noticeably rounder in the clip. Although she was seen for a fraction of a second, it sparked widespread pregnancy speculations.
Many of them even took to Twitter to find answers. 
"Noelle better watch them white dresses n bad angles… that's how rumors get started, sista child!!" one fan pointed out.
Another fan stated, "Looks like Noelle was pregnant," as the individual posted a clip of the scene. 
However, Twitter remained silent. And nobody on the RHOA crew commented on the footage or addressed the pregnancy rumors until Robinson spoke up last week.
Noelle Robinson Addressed Pregnancy Rumors
In a YouTube video uploaded by Robinson on June 21, 2021, she addressed her pregnancy speculations. 
She revealed that the pregnancy rumors have been circulating online since January 2021, and she has refused to accept them since they were "ridiculous" to her.
Robinson clarified that she definitely was not expecting a child. She even stood up and showed her belly to the camera, proving that she did not have a pregnancy bump.
The 21-year-old mentioned that she was irritated by the notion and considered it a form of body shaming.
"It's normal to eat food sometimes and be bloated. It is a normal thing that happens to people," she continued.
Adding to that, she noted people should normalize seeing it rather than making assumptions or fabricating pregnancy rumors with no other proof.
Robinson Came Out as Gender Fluid in 2019
Robinson also found the rumor crazy because she came out as gender fluid. She stated,
Y'all already know that I did girls, so like how's that gonna happen? Y'all think I just really went to the doctor, did all this stuff and like I'm not gonna tell you guys about it or keep it a secret.
The moment occurred during a close-talk between the mother-daughter duo in a 2019 episode of The Real Housewives of Atlanta.
Explaining her side, she told Bailey that people attempt to box everyone in and place labels on everything.
She stated she began exploring her orientation during her freshman year at Howard University. "It really just came out of nowhere. I wasn't really expecting that to happen," Robinson added.
Denying the speculations once again in the YouTube video, she revealed she was not planning on getting pregnant until she was at least 27 years old.
And when she does eventually get pregnant, she confirmed that the fans would be able to see her maternity portraits and enjoy the journey together.