Zooey Deschanel's Bio, Plastic Surgery, Ex-husband, Boyfriend & Kids Covered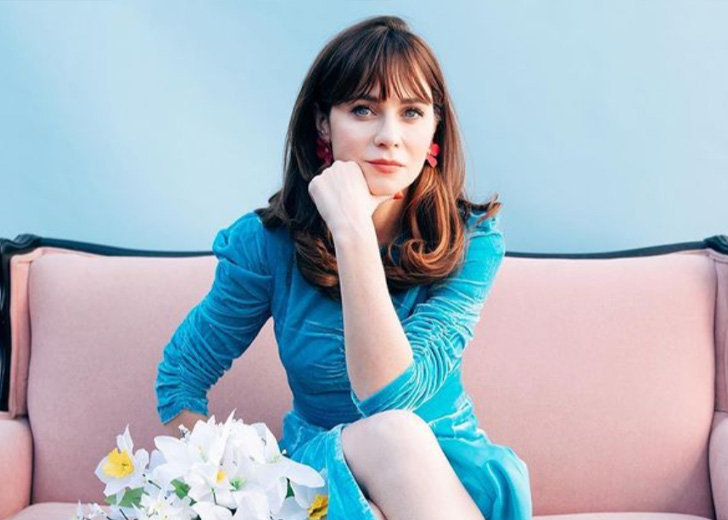 American actress, host, and musician Zooey Deschanel, who stands at 5 feet and 6 inches, always rocked the cute bangs and faux lashes that make her big beautiful blue eyes pop.
However, the 43-year-old star shocked fans by getting rid of her iconic bangs, looking unrecognizable on 26 March 2021. 
She took to Twitter and Instagram to flaunt her new look that bared her forehead. "Proof I have a forehead," she humorously captioned the mirror selfie. 
But was it only the missing bangs that made her look completely different?
Well, Deschanel's changing looks over the years have also often been attributed to her rumored plastic surgery.
In this article, get to know about the personal life of the host of the upcoming show What Am I Eating? with Zooey Deschanel.
Zooey Deschanel's plastic surgery rumors explained
Deschanel's plastic surgery rumors have been around for a long time, to say the least. 
People have taken to Twitter to discuss how her appearance has changed over the years. 
Many have pointed out that she has gone under surgery outright.
Some others have pinpointed she has had gone through procedures such as a nose job and a brow lift and used products such as lip fillers and Botox injections. 
College Times even stated that she could have had "rhinoplasty and possible lip injections. "

Commenting on how different she looked without her bangs, someone tweeted, "one way to say Zooey Deschanel looks so different without her bangs! is... Zooey Deschanel had plastic surgery and CHANGED her face!"
Interestingly, a few of her fans have shown their support amid the rumor. They opined her plastic surgery was unnoticeable and complimented her surgeon.
One particular user wrote, "How did I not know Zooey Deschanel had plastic surgery?"

Meanwhile, others have stated she was losing her original self because of the cosmetic procedures. 
One user even claimed, "the plastic surgery Zooey Deschanel had done makes her look like a Madame Tussaud's figure of herself."

While the 500 Days of Summer star might have some work done on her face privately, she hasn't addressed the rumors yet.
Instead, she has been vocal about using makeup since a young age. 
In a 2021 interview with Byrdie, Deschanel said she's been doing makeup for a long time and knew her way around it since she was 8 or 9.
"I learned how to shade and highlight and contour, but there wasn't any practical makeup—we never used eyeliner!" added the star.
Deschanel has never spoken about any plastic surgery rumors regarding her. Hence, it won't be fair just to label that she could have gone under the knife. It might also be a case that she has never had plastic surgery but has been maintaining sharp looks through diet, lifestyle, and other choices, similar to actress Alicia Silverstone. 
Deschanel's bangs-less photo spurred memes and more plastic  surgery rumors
New Girl star Zooey Deschanel, who has an estimated net worth of $25 million, usually opts for a hairstyle with fringe. And she has shared she liked bangs "because they are cute." 
But her changing bangs style has often spurred plastic surgery rumors. 
Whenever she has changed her fringe, skeptics have pointed out that she might have gone under the knife.
2021 wasn't the first time she broke the internet by showing her forehead. Deschanel pulled a bang-less look for the 2013 Met Gala.

Deschanel's bangs-less meme. (Source: Twitter)
The photo didn't go viral until 2015. And when the fans caught on, it gave rise to an internet-breaking meme.
The famous side-by-side meme featured the actress' New Girl character, Jess Day, with bangs and glasses on the left and Deschanel on the red carpet with a side-swept hairdo on the right.
"Seeing Zooey Deschanel without bangs and glasses, I finally get how nobody knew Clark Kent was Superman," the caption read. 
Does Zooey Deschanel have a husband or boyfriend?
Deschanel has been dating  Property Brother star Jonathan Scott for a long time now. They first met during the filming of an episode of James Corden's Carpool Karaoke: The Series in August 2019. Later a month, Deschanel and her then-husband Jacob Pechenik, who were married in June 2015 and shared two kids, Elise Otter and Charlie Wolf, announced that they were separating.        
Post announcement, Deschanel publicly started dating Scott. Deschanel and Pechenik's divorce was finalized on 1 June 2020. Their divorce papers state that they agreed that they would share joint custody of the children.  It was Pechenik who had filed the divorce in September, citing "irreconcilable differences."       
It was also revealed that their divorce settlement had a clause in which they had agreed to legally change their children's names to Elsie Otter Deschanel Pechenik and Charlie Wolf Deschanel Pechenik.
Previously, from 2009 to 2012, Deschanel was married to vocalist Ben Gibbard. Although they announced their separation on 1 November 2011, their divorce was finalized on 12 December 2012. This time, it  was Deschanel who had filed for divorce on 27 December 2011, reasoning "irreconcilable differences."   
How is Zooey Deschanel's relationship with her boyfriend, Jonathan Scott?
Deschanel and her boyfriend share a solid bond and express their love for one another on social media. In January 2023, fans saw the pair extracting fun from their unhurried efforts of renovating their new Los Angeles dream home they had purchased in June 2020.  They had initially planned to complete the project in 3 months. 
"Many Saturdays, we sat searching for the right details to add to this home," Deschanel shared. 
On the occasion of Valentine's Day in 2023, Deschanel shared with his fans a list of 10 things he adored about his girlfriend, Zooy Deschanel.  
In the video, Scott was seen reading the list heartfully.         
"I love the way you talk to me, and send me cute emojis. I love the way you drive with me, and plan all the fun things we want to do, I love the mad escape room skills you have, and the way you pick up my slack," Scott read.
"I love that you know what makes me tick, and support me when I'm down. I love that we talk things through, even when we don't see eye to eye," He continued. "I love it when you make me laugh, and it happens quite a lot."
On the other hand, Deschanel, who has named Scott "the best boyfriend," shared heartfelt photos of the pair on the occasion of the 2023 Valentine's day. She wrote in the caption, My favorite, today and always! Happy Valentine's Day, sharing a series of heartfelt pictures at once of them together.
In June 2020, Deschanel labeled Jonathan the "nicest person in the world" while she was promoting her new series, The Celebrity Dating Game. And on the occasion of their first anniversary, she captioned in an Instagram post about how grateful she was to have him. 
"One year ago today I met this kind, caring, hilarious, generous, creative, nerdy, handsome and all around incredible human," she wrote, adding, "I am so grateful for every smile, kiss, hug, snuggle, laugh, scrabble game, escape room, breakfast, lunch and dinner we share together. Even during the weirdest year for humanity I want a million billion more with you."
Is Zooey Deschanel engaged or married now?
There were also some speculations from the pair's friends that they would soon get engaged, but the pair have yet to get married or engaged as of writing.
How old is Zooey Deschanel?
Born on 17 January 1980, Zooey Claire Deschanel was born in Los Angeles, California, to cinematographer Caleb Deschanel and actress Mary Jo Deschanel. As of writing, her age is 43. 
Deschanel is one year younger than her boyfriend, Jonathan Silver Scott, who was born on 28 April 1978.