Zion Williamson's Weight Gain amid Foot Injury Draws a Lot of Attention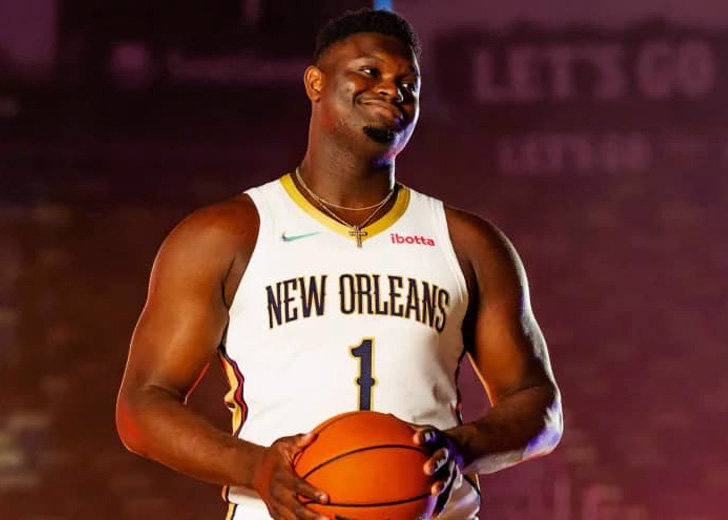 Zion Williamson is a professional basketball player in the National Basketball Association (NBA) for the New Orleans Pelicans. The Pelicans selected him with the first overall choice in the NBA draft of 2019.
In 2020, he was chosen for the NBA All-Rookie First Team. In addition, he became the fourth-youngest player to play in an All-Star game in 2021. 
Despite all his accomplishments, Williamson has not been able to play games for quite some time now. This is because of his foot injury and the surgery he had over the summer of 2021. 
To make matters worse, the athlete has gained weight and is receiving a lot of criticism for it. 
Zion Williamson's Foot Injury and Weight Gain 
Early this summer, Zion Williamson underwent surgery to correct a fifth metatarsal fracture. He allegedly suffered from the injury before the 2021 NBA Summer League. 
It has been a while since the injury, and the basketball player has yet to return to action. The Pelicans vice president, David Griffin, said that Williamson would miss the start of the regular season. 
While injuries are an unpleasant facet of the game, Williamson's injury concerns have prompted some to wonder if some of his issues may be due to his size and physical fitness.
Ever since the athlete's surgery and hiatus, the topic of weight gain and it affecting his career has been discussed a lot. Williamson was always a healthy guy, but in recent days, he has gained a few pounds. 
According to Bleacher Report, he currently weighs over 300 pounds. In October 2021, sports reporters Israel Gutierrez, Christine, and David Jacoby discussed Williamson's injury and weight gain. 
During the conversation, Gutierrez dubbed the NBA player "a walking injury" and assumed he had a dietary issue and had trained poorly. He further compared Williamson to Shaquille O'Neal and said the latter proved to the world his skills regardless of his weight. 
On the other hand, Christine questioned if Williamson cared enough to be an excellent athlete for the Pelicans. She mentioned that he could train, eat properly and do things to make his body healthy if he wanted to prove his worth to the critics.
She went on to say that the Pelicans might have some other problems as well, but before that, they need to fix the "Zion thing" and vice versa. 
The easiest part is he'll figure out how to eat less. It's not hard when it's your profession. He puts the hours in to become a great basketball player. He'll figure out those hours he needs to keep his body right.
On November 8, 2021, Kenny "The Jet" Smith gave an exclusive interview with TMZ regarding Williamson's weight gain. Smith is a former professional basketball player in the NBA who now works as a sports commentator. 
Previously, Smith had joked about Williamson's weight issues alongside O'Neal and Charles Barkley on Inside The NBA. However, he gave a piece of honest advice to the athlete via TMZ. 
He said that every player is bound to get hurt in their career. But regardless of the injury, the players need to "figure out how to stay in shape and stay into a basketball body."
Smith was confident that Williamson would figure it out and bounce back. He said that it was not as complicated as people portrayed the situation to be. Instead, Williamson simply needed to "figure out how to eat less."