Does Zachary Quinto Have a Husband Yet? Was Once Rumored to Have One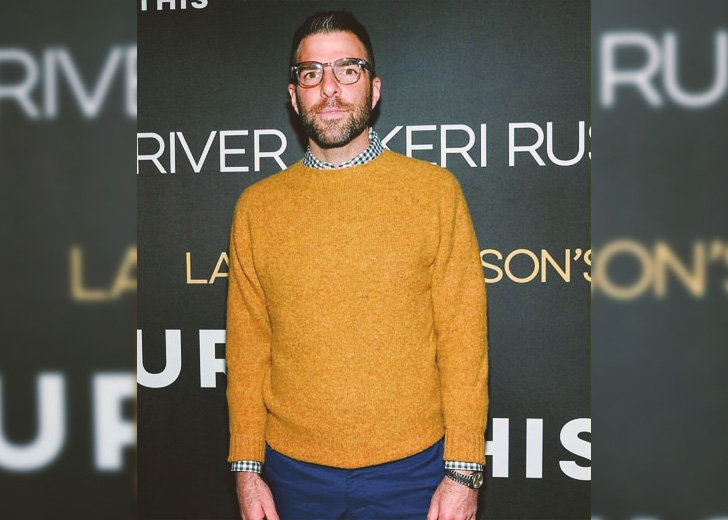 Openly gay actor Zachary Quinto was in a happy relationship with his longtime boyfriend, Miles McMillan, an accomplished model and painter, until some year ago.
The couple often posted their pictures on social media and also walked around the street together. There was also an instance in November 2017 when people speculated if Quinto found a husband in McMillan.
The words spread like wildfire after the Star Trek actor posted a picture on Instagram that showed what looked to be a wedding band on his ring finger. But the marriage rumors had no truth.
Zachary Quinto Confirmed He Was Not Married
Speaking with ET Online at that time, Quinto clarified that it was not a wedding ring and his boyfriend, McMillan, was not his husband yet.
"It's the only finger it fits on, if I'm being honest," he stated. "[It's] not a wedding ring."
He then shared that the picture in question, featuring him and McMillan, was snapped at an event organized by their friends, Modern Family star Jesse Tyler Ferguson and his husband, Justin Mikita, at NeueHouse Hollywood. The actor said the couple's organization, Tie the Knot, celebrated five years of giving back to LGBTQ equality organizations.
"I'm just so proud of my friends," he added. "I've known Jesse for so long and I'm happy for all of his success. But more than that, I'm impressed and inspired by how he's channeled it into making a difference for people and, yeah, I'm really happy that I was in town to come and celebrate them."
Zachary Quinto and Miles McMillan Separated in 2019
Quinto and McMillan, who had been together since 2013, sadly separated in early 2019. During the years of their togetherness, they left fans in awe of their chemistry — many fans even wished to see them get married.
According to People, a source reported that the couple had amicably split.
The news broke out after the pair were spotted at separate Oscar after-parties following the award ceremony. Quinto attended the Vanity Fair Oscar Party while McMillan made his presence at Elton John's bash.
Despite the split, Quinto still has not removed the pictures he had shared of McMillan on Instagram. For instance, in his June 2018 post, he had wished the model on his birthday, writing, "happy birthday to the most beautiful person i know: @milesmcmillan."
On May 11, 2018, the actor also shared a picture with McMillan and their two dogs and wrote "family portrait," in the caption.
Zachary Quinto's Personal Life Post-Breakup from Miles McMillan
Is Zachary Quinto married after his last breakup? No, there is no confirmation of such news yet. But he has been reported to be dating a famous fellow actor.
In January 2020, he was spotted with Brandon Flynn as they took Quinto's dog to the park in Los Feliz, California.
The two actors — who were reported to be single before that time — also drank beverages from Maru Coffee. The 44-year-old actor had an iced coffee while the 13 Reasons Why star opted for a hot drink.
But none of them addressed the rumors, and the news slowly faded away from the media.