A Look Back at Winona Ryder and Johnny Depp's Relationship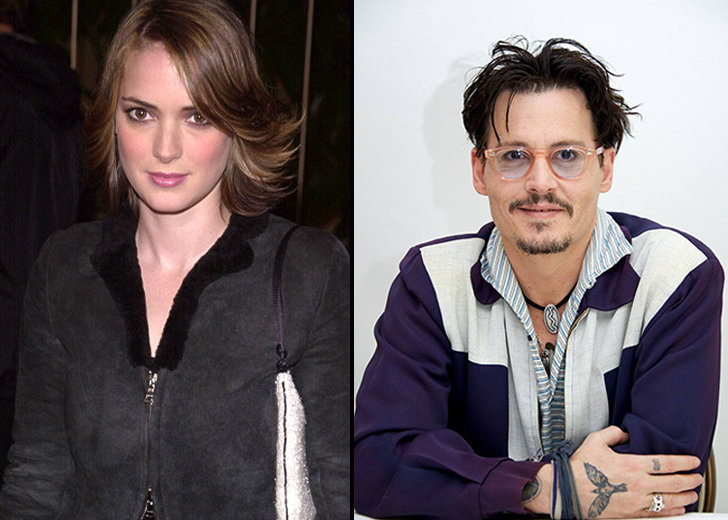 A love story that ended in flames, literally!
Winona Ryder and Johnny Depp had the typical Hollywood romance. So much so that Depp waited no more than five months to ask her to be his wife.
However, things weren't meant to be; not in the limelight of Hollywood stardom, at least.
It Was Love at First Sight!
Depp first caught a glimpse of Ryder at the 1989 premiere of Great Balls of Fire in New York City.
She was getting a coke when she glanced at him, only to realize that he was looking her way, too. They locked eyes in a moment that Depp could only describe as "a classic glance," or so InStyle reported.
In his experience, his gaze was set on the actress, and everything else, background and foreground, faded fuzzy.
That was it. They were only formally introduced via a mutual friend at the Chateau Marmont a few months later.
There's been nothing in my 27 years that's comparable to the feeling I have with Winona.
Many have posed, "How old was Winona Ryder when she dated Johnny Depp?" To scratch their itch, she was 17 years of age.
Depp and Ryder were engaged just five months into their relationship, and the romance was blossoming.
The duo could often be seen making public appearances together. Things were looking beautiful for Ryder right until they weren't.
Why Did Johnny Depp and Winona Ryder Break Up?
At the time of this writing, it's public knowledge that the Depp-Ryder romance didn't go very far.
Although iconic in its own regard, their relationship lasted only three years.
And to answer the question, the couple broke up because it was hard for them to maintain their relationship in the spotlight of Hollywood fame.

Johnny Depp and Winona Ryder in the movie 'Edward Sissorhands.' (Source: Twitter)
According to representatives from Ryder, they broke up because the relationship was one of haste — one of youth. The exact words being: "They're young, and they grew apart."
Along the same lines, Depp, on a later day, confirmed that the intrusion of media and the masses was to be blamed for their split.
In retrospect, he considered it a mistake to have been as open as he was about his relationship with Ryder.
I thought if we were honest it would destroy that curiosity monster. Instead it fed it, gave people license to feel they were part of it.
Ryder was only 19 when her engagement to Depp was broken. Understandably, the breakup was hard on her.
"When I met Johnny, I was pure virgin," she once said.
Johnny Depp Was Winona Ryder's First
Depp was a lot of firsts for Ryder. Her first kiss. Her first boyfriend. Her first fiancé. The first man she had an intimate relationship with. 
She also admitted to being depressed when the relationship ran its course. As she recalled on a later date, she was "embarrassingly dramatic."
In fact, the aftermath of the breakup was near-fatal. Ryder confessed that she once fell asleep with a lit cigarette and was woken up by the flames that it had grown into.
This was a relationship that went down in flames, if there ever was one.
The romance was short-lived, yes. Did it go down because the partners were public sweethearts? Maybe. Ironically, the romance is still a curious topic to the masses.
Thankfully, they'd be happy to know that neither Depp nor Ryder have any bad blood between the two of them.
Winona Ryder Even Defended Johnny Depp against Amber Heard's Accusations
At present, the defamation trial between Depp and his estranged wife, Amber Heard, has been a hot topic of discussion.
But at the same time, the Stranger Things actress still came forward to defend the actor, using examples from their past relationship to uphold his character.
Speaking to Time Magazine [via GameRant], Ryder stated that Depp was never abusive toward her when they were dating and that she only knew him as a really good, loving, and caring man. She also said that he was very protective of the people he loved.
The actress then clarified that she was not calling Heard a liar, as she was only speaking from experience.
That said, she admitted to feeling difficult and upset to wrap her head around the allegations being thrown at Depp.