Uma Thurman and Husband Ethan Hawke's Nasty Split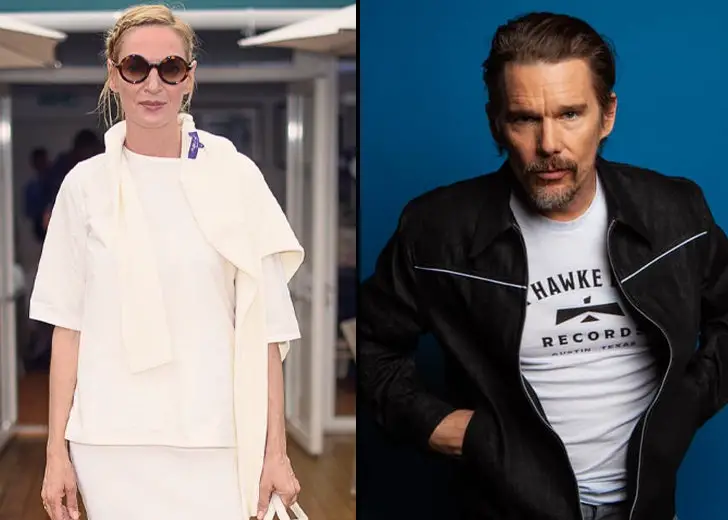 For decades, Uma Thurman and her former husband, Ethan Hawke, have been a mainstay on our screens.
The former couple has starred in some of the most iconic Hollywood blockbusters of all time, sometimes together. 
They met in 1996 on the set of their sci-fi thriller Gattaca, and two years later, in 1998, the couple tied the knot.
That same year, they gave birth to their daughter Maya Hawke, and four years later, in 2002, they welcomed their son, Levon Hawke. 
According to reports, both kids have followed in their parents' footsteps, with both Maya and Levon reportedly set to appear in season four of Stranger Things. 
Unfortunately, in 2003, the power couple separated and finalized their divorce two years later. 
Since then, both Thurman and Hawke have opened up about their relationship, their divorce, and the rumors surrounding it. 
Around the time of their separation, rumors started swirling that Thurman's husband had cheated on her with their children's nanny, Ryan Shawhughes. 
But Hawke denied it, stating that their marriage had fallen apart even before Shawhughes entered the picture. 
Uma Thurman and Her Husband on Their Marriage Failing
After the divorce, Hawke started publicly dating Shawhughes in 2005 even though he vehemently denied the rumors. 
The actor later explained in an interview with The Guardian that by the time he had fallen in love with their nanny, it had been a long while since she had been employed. 
He stated that their hunger for superstardom as actors was the main cause of the divide. 
After having kids, Thurman went back to work while her partner stayed behind to take care of the kids. 

Uma Thurman's former husband, Ethan Hawke (Source: Ethan Hawke/Instagram)
But the arrangement didn't work out with Hawke saying:
"I'm living in a hotel room taking care of my kids while you're off on a film set six hours a day doing what you love. Do that for nine months and see what a good mood you're in."
As for the Pulp Fiction star, she was devastated by the demise of their marriage. 
She noted that the whole experience was bizarre because they were a family one day, and suddenly she and her husband were not talking the next. 
But the actress iterated she had no one but her to blame for their separation. 
Uma Thurman and Her Husband Moved On
Hawke ended up marrying Shawhughes secretly in 2008, and the same year they welcomed their first daughter. 
They are still married and currently share two daughters, Clementine and Indiana.
And if you are wondering, "who is Uma Thurman married to now?" she is not. 
She went through her share of failed romances.
She was engaged to hotelier André Balazs and French financier Arpad Busson, but both relationships did not work out. 
Thurman ended up having a daughter with Busson in 2012, and the duo ended up in a custody battle, but the actress was granted primary custody. 
In June 2021, People reported the actress was in a relationship with the CEO of Bloomberg Media Group, Justin B. Smith.
This information was subtly revealed in a New York Times article "Washington Society Steps Back Out," which reported about a party held at Smith's Home. 
The piece listed some media elites that attended the party and mentioned that among them was "Pulp Fiction star who is dating Mr. Smith."