Ethan Hawke's Current Wife Was Initially Hired as a Nanny by His Ex-wife
Legendary Hollywood actor Ethan Hawke caused quite a stir when he tied the knot second time in 2008 with Ryan Shawhughes, the nanny to his children with ex-wife Uma Thurman.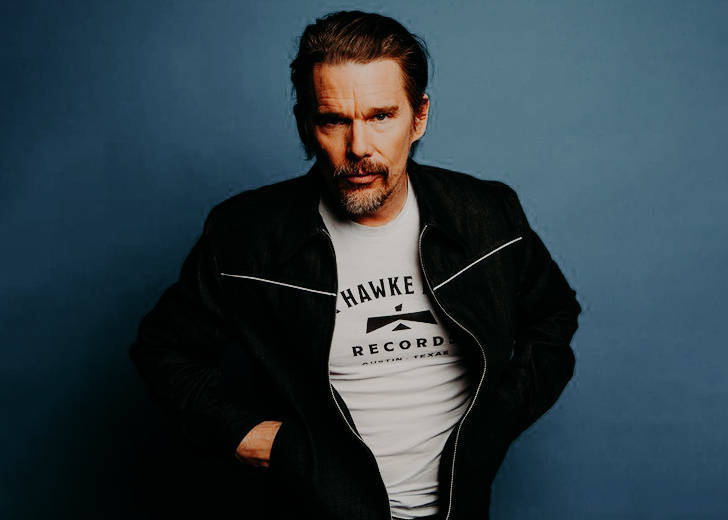 Legendary Hollywood actor Ethan Hawke caused quite a stir when he tied the knot for the second time in 2008 with Ryan Shawhughes, the nanny to his children with ex-wife Uma Thurman. 
Married for over a Decade
Hawke met Shawhughes when his former partner Thurman hired her to look after their two children — Maya and Levon. However, after a short period, Shawhughes moved back to Columbia to get her degree. 
At the time, the then Hawke couple were having trouble in their marriage. Eventually, they parted ways in 2005 after seven years of conjugal relationship.
Three years later, Hawke married Shawhughes in a quiet New York ceremony in the summer of 2008. Despite being seen wearing wedding bands, the pair initially dismissed reports about their marital status.
However, after much anticipation, the artist's then-agent, Mara Buxbaum, confirmed the wedding in June 2008. Also, Shawhughes was spotted with a growing baby bump while walking their dog in Greenwich Village, New York. 
Soon, the couple was blessed with their first child, Clementine Jane Hawke, born in July 2008. The Boyhood star became a dad for the fourth time in July 2011, when his wife gave birth to their second daughter, Indiana Hawke. 
Hawke with wife Ryan at the 2009 Venice International Film Festival (Source: Wikimedia Commons)
Cheating Allegations
Despite widespread rumors that The Purge star was unfaithful to Thurman, he publicly claimed that their relationship failed for reasons unrelated to his second wife. Also, he still maintains that he started dating Shawhughes only after his divorce was finalized in 2005. 
There were never any scandalous thoughts or actions back then. In the years that followed, my marriage disintegrated due to many pressures, none of which were remotely connected to Ryan.
In 2009, he told The Guardian that the two met again at a park around a year later after his split. When Shawhughes asked him out, the actor couldn't deny it. "The truth is, by the time Ryan and I were falling in love, it had been a long while since I had employed her," he continued.
Nonetheless, when he made some unguarded remarks about sexual fidelity not being an important part of a relationship, he received harsh criticism. In a 2013 interview with Mr. Porter, the Before Midnight actor said, "Sexual fidelity can't be the whole thing you hang your relationship on. "
"People have such a childish view of monogamy and fidelity. 'He's cheated, so he's bad, she's cheated so she's bad,' as opposed to a recognition that our species is not monogamous," Hawke added.
Meanwhile, Shawhughes has stood by her husband over the years and even got his initials EGH (Ethan Green Hawke) tattooed on her arm.
Hawke's Relationship with His Children
Despite his separation from his first wife, Thurman, the father of four has maintained a stable relationship with his children and has managed to build a happy blended family with his now-wife.
In fact, the family spent their quarantine days together entertaining themselves with singing and dancing. Maya, 22, his eldest daughter, took to her Instagram account to share the beautiful family bonding video in March 2020. 
While Hawke and his son, Levon,19, were seen playing the guitar, his three gorgeous daughters sang Townes Van Sandy's song 'To Live Is To Fly' alongside their father.
Following their parent's footsteps, Maya and Levon both found their way to Hollywood. Maya is an actress who has worked on projects like Little Women, Stranger Things, Once Upon a Time in Hollywood, etc. Similarly, Levon has appeared in the movie Blackout and will soon be seen in Netflix's Stranger Things Season 4.