MLB Star Tyler O'Neill's Dad Was Once Canada's Top Bodybuilder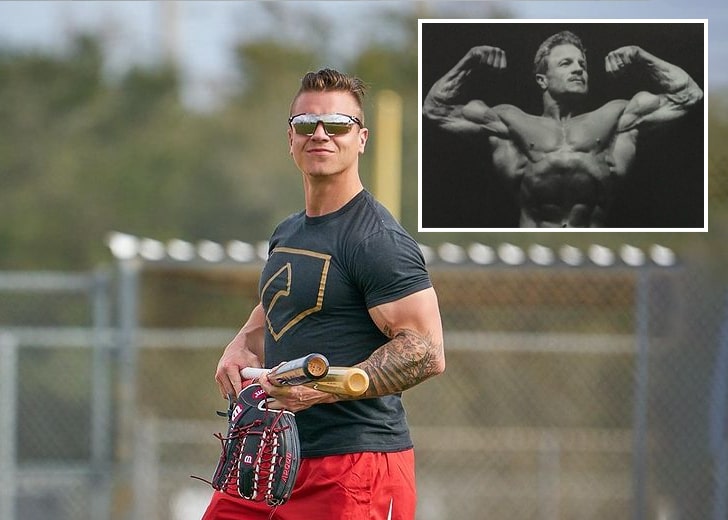 Fans of MLB star Tyler Alan O'Neill, commonly known as Tyler O'Neill, are often confused between his dad, Terry O'Neill, and English actor Terry O'Neill.
Speaking on SiriusXM in December 2020, the baseball left fielder's father clarified that he was not related to the English actor.
However, both of them had an interesting common link. And that was actor Arnold Schwarzenegger.
Tyler O'Neill's Dad Connection with Arnold Schwarzenegger
Tyler's father, Terry, and the actor, Terry, knew Schwarzenegger closely, with the former even featuring with the fellow actor in the cover of Combat magazine back in September 1983.
"Do you ever break out this cover of this magazine with you and Arnold? This is an amazing picture, Terry," the host of the SiriusXM show told Terry.

Tyler O'Neill's dad Terry O'Neill says the man posing with Arnold Schwarzenegger in the picture is not him. (Photo: Twitter)
Addressing the topic, he said he was glad that they brought it up during the conversation while revealing the man posing with Schwarzenegger for Combat was not him.
"That's not me. It is crazy. I don't know who that is. I think there are a couple of others Terry O'Neills [who] were bodybuilders, martial artists, and [moved] into acting," he explained.
When asked how he came to know Schwarzenegger, he shared that he — like a few other bodybuilders along with Schwarzenegger — used to drive the I-5 from the border down to LA in the early 1970s.
They went to the original Gold's gym, where they rubbed elbows and became friends.
He also implied that since Schwarzenegger was friends with other bodybuilders, he knew the other Terry through that channel.
But sadly for Tyler's dad, he was often confused with the other Terry.
Tyler O'Neill's Dad Terry O'Neill Was a Top Bodybuilder Himself
Back in his days, Tyler's father Terry had made a name for himself as one of the top bodybuilders from Canada.
The MLB star's father was also named Mr. Canada in 1975. In case you are unaware, Mr. Canada is an annual honor given to the nation's top bodybuilder.
A tweet by MLB Network Radio on SiriusXM in December 2020 also revealed pictures of Terry showing off his body when he was an active bodybuilder.

Tyler O'Neill's dad Terry O'Neill showing off his body. (Photo: Twitter)
"As it turns out, Tyler O'Neill's dad was even more jacked than you thought," the tweet read.
Fans were surprised after the pictures went public.
"In a different era Vince McMahon would have thrown a contract at him so fast," a user on Twitter quickly wrote.
"WOW like father like son," another chimed while someone added, "Seems like @toneill21 should grow out the stache this season."
Due to that, several online tabloids subsequently ran stories on why Tyler was such a successful athlete and top baseball player.
The answer, evidently, is that the younger O'Neill learned a lot from his father.