Is Trisha Paytas Trying to Get Pregnant with Their First Baby?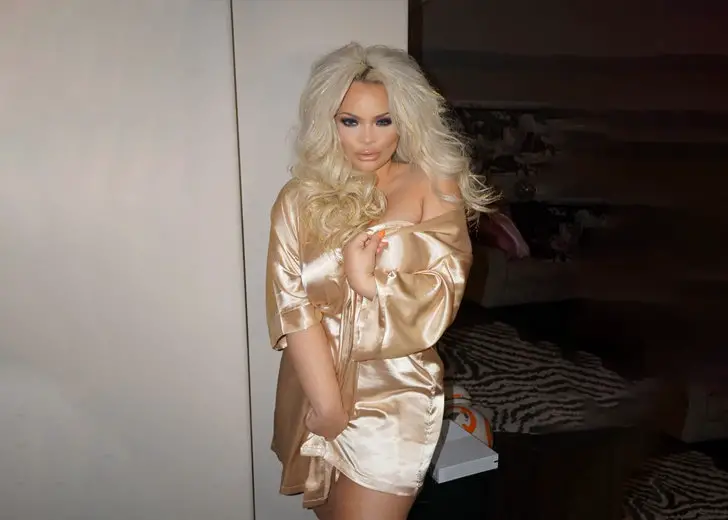 Trisha Paytas' dream of having a baby and becoming a mom might finally come true. 
Now that they are married to Moses Hacmon, the pair is trying to get pregnant.
It was revealed after the YouTuber posted a series of pictures that hinted that they were planning for a child. 
Is Trisha Paytas Pregnant?
Paytas has always spoken about wanting to have a child and starting a family.
Even when they were dating Hacmon, they opened up about having a kid with him. 
For instance, on September 22, 2021, they uploaded a video titled "Warning!" on YouTube where they talked about manifestation.
There, they manifested being a mother. 

Trisha Paytas and Moses Hacmon at their wedding. (Source: Instagram)
They envisioned themself with two children - a son and a daughter. They also revealed that they had already picked out names for them since they were a kid. 
They affirmed that they would have a baby and be a good mother.   
On December 28, they uploaded an Instagram story of themselves with a red hairnet and wearing a hospital gown.
After that, they posted a picture of a baby sticker that said, "We create families."
This made people speculate Paytas was undergoing fertility treatments.
They have always been open about having fertility issues, so it is no surprise that they are getting treatment to have a baby. 
Many people were upset that the YouTuber was trying for a child. They poured their frustration on Twitter, where they said Paytas was not stable to have a kid. 
A user, @Kathlee64821940, asked them not to conceive a child and told them they did not deserve one. Paytas simply quote tweeted, "Blessings."
The YouTuber also tweeted a picture of their breasts, saying that they were big that night.
Very Well Family has reported that breast tenderness was one of the side effects of fertility treatment. 
Therefore, Paytas might be finally trying to get pregnant with their first baby. 

Trisha Paytas posing in front of a Christmas tree with her husband, Moses Hacmon. (Source: Instagram)
Trisha Paytas' Fertility Issues
Back in 2016, Paytas revealed that they could not have babies. They uploaded a YouTube video titled "WHY I CAN'T HAVE CHILDREN," where they talked about their fertility issues. 
Paytas used to work as an escort in the past, where they used to have unprotected intercourse. Because of this, they were vulnerable to sexually transmitted diseases. 
Paytas went on to say that they had chlamydia for the first time roughly five years ago. They had it treated and assumed that was the end of the matter.
However, after leaving the escort profession for a few years, they had chlamydia for the second time.
They were treated again, but they discovered they had a pelvic inflammatory condition when they returned to their doctor.
I've had lots of unprotected sex in my life. And I don't say that to boast; I say that as a word of caution that what happened to me is something that could happen to anyone.
This meant they couldn't have children. They still had their uterus, but their periods were irregular - sometimes they didn't have one for a long time, and occasionally they had one every other week.
Paytas also revealed that their ovaries were damaged and had cysts. This meant they wouldn't get pregnant as easily as other women.
This was almost five years ago, so if Paytas is getting fertility treatments, they might be able to get pregnant and have a baby.