Donna Klein Leaks What She Texted Trisha Paytas and Moses — Trisha Strikes Back
Is this the end of Paytas-Klein Drama?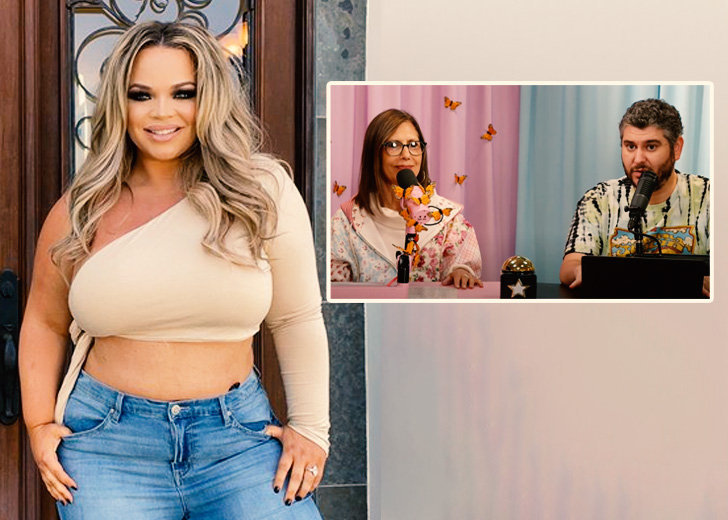 The drama between Trisha Paytas and The Kleins does not seem to end. It started in May 2021, and three months later, it is still going on. 
Paytas used to do a podcast with YouTuber Ethan Klein called Frenemies. Ethan is best known for his channels, h3h3 Productions and H3 Podcast, which he runs with his wife, Hila Klein. 
Paytas left Frenemies because of misunderstandings and monetary disputes. Paytas had been in a positive light when they were in Frenemies, but they have been involved in a fair share of drama since the conflict. 
As a result, their fanbase is turning against them. Since Paytas is engaged to Hila's brother Moses Hacmon, the petty internet drama has families involved. 
What Happened between Trisha and Donna?
Recently, Ethan's mom, Donna Klein, also got involved in the feud when she called out Paytas for their behavior. This happened after Paytas went to Keemstar's podcast, Mom's Basement.
Keemstar posted a picture of himself with Paytas and his co-host Faze Banks, on August 15, 2021. Keemstar was flipping the camera off, with Paytas sitting between the hosts wearing Frenemies merch. 
Ethan shared the picture and said he was disappointed that Paytas would go to his enemy's podcast. Donna, supporting her son, called Paytas a "weasel" and claimed that she would not go to their wedding with Hacmon.
Since then, Paytas made videos and tweets about Donna, calling her evil and comparing her to 'Satan.' They claimed Donna was trying to ruin their relationship and family. 
Paytas kept talking about a text Donna sent to their fiancé and said it was the cruelest thing anyone said to them. Everyone was wondering what the text was. So, Donna revealed the text and exposed Paytas on Families, a podcast she hosts with Ethan. 
What Did Donna Text Trisha?
Donna addressed the scandal on the ninth episode of Families, released on August 23, 2021. Before she revealed what the text was, Donna gave a little backstory to build the context. 
Hila and Ethan had been trying very hard to get pregnant. They have a young son, Theodore, but they wanted to expand their precious family. After a lot of treatments and procedures, Hila finally conceived. 
The couple announced their pregnancy live on their podcast, H3 After Dark, on May 29, 2021. The doctor had told them to be careful since Hila was pregnant with over one kid.
As a result, she was supposed to be careful and stress-free. Instead, soon after Kleins announced their pregnancy, Paytas publicly fought with Ethan. 
The drama was getting out of hand for the family, so they worried Hila might miscarry. Since Hila was in a vulnerable situation, it was a likely scenario. 
Donna was scared and worried for her son, daughter-in-law, and her unborn grandchildren. Therefore, she took matters into her hand and texted Hacmon on Facebook Messenger. 
She said that if Hila had a miscarriage because of Paytas and their dramas, she would hold the couple responsible. 
Moses, if your sister has a miscarriage because of this stress, I will hold you and Trisha responsible. Stop this nonsense. ENOUGH!
Paytas had claimed that Ethan knew about the text and allowed his mom to blame them. But Ethan clarified Paytas' accusations and said that he did not know until they told him. 
Similarly, he claimed he was horrified when he saw the messages but understood where his mother was coming from. He also added that everyone in the family was scared that Hila might miscarry — Donna was the only one who said it aloud. 
While the drama did not end, fortunately, Hila is safe and sound. The pair revealed they are expecting only one child and not triplets. Hila constantly gives updates about her pregnancy on her Instagram. 
Currently, their unborn baby is the size of an avocado. Ethan promised that this was the last time they would talk about Paytas. After that, he blocked them on all his social media platforms.
On the other hand, Paytas uploaded a video and went on a Twitter rant. They uploaded a video titled 'I'm not staying silent on this,' on August 23, 2021, addressing Ethan and his mom. Like the title of the video, Paytas defended themselves and continued to drag the Kleins.
Out of all the other claims, they said that Donna texted other people in Hacmon's family about blaming the pair if Hila miscarried.
Similarly, Paytas was adamant that Ethan knew about the text. They also said that Donna is neither their nor Hacmon's family, so she is not invited to the wedding. The Kleins have not responded to Paytas' video.