Tom Segura and Wife Christina Pazsitzky Discuss What to Do for Their 13th Wedding Anniversary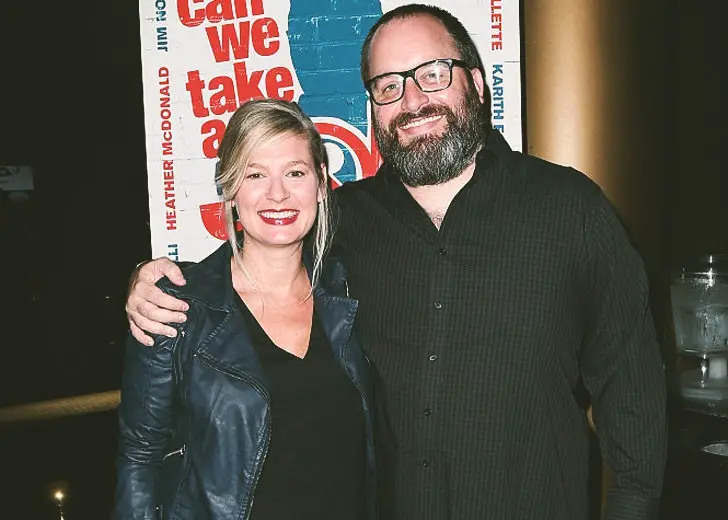 November 14, 2021, marked the 13th marriage anniversary of professional comedian, Tom Segura, and his wife, Christina Pazsitzky. The pair discussed how they should celebrate the milestone on the 629th episode of their Your Mom's House podcast.
But before they reached the topic, both Segura and his partner recounted the years they had been together, mentioning how they felt like they had been married for decades.
"I feel like there are fossils of when we met," Segura remarked, to which Pazsitzky replied with, "I feel like I'm always on an elliptical machine like you, you know how one minute of that time is so painful."
The comedian then changed the topic, stating why they were even counting time. He added that counting anniversaries was like counting breaths. Redundant.
Supporting her partner, Pazsitzky changed the course of the discussion and asked what they should do for their wedding anniversary. She mentioned they had been so busy that they couldn't even take a night off. So, keeping the situation in mind, she proposed they exchange gifts. 
The mother-of-two asked Segura to buy her a fancy undergarment and revealed that she had already gotten something for him online. The 45-year-old added that lace should be a common theme in their gifts.
Adding to the humor, Segura suggested they could spend the night away by leaving food and water for their kids. Then, he quickly remarked that the children would be terrified in their parent's absence. 
His wife weighed down on the idea, stating, "I think that's the kind [of experience] that messes you up for life." Segura agreed, saying, "yeah it's not a funny prank."
How Did Tom Segura Meet His Wife?
Segura and his wife met as comedians back in the 90s. Initially, they remained friends as Pazsitzky was in a long-term relationship with her then-boyfriend. In fact, Segura used to join Pazsitzky and her boyfriend at parties and celebrations. 
Months after Pazsitzky broke up with her boyfriend, Segura made a move. The pair hit it off instantly. They stayed in a relationship for four years before tying the knot on November 14, 2008. 
After the wedding, the lovebirds welcomed two kids, sons Ellis and Julian, into their family. But they have kept the details of their sons under wraps, posting no pictures of them on their socials. 
Having said that, the Ohio native mentions his children in his shows and podcasts time and again. While hosting his 2 Bears, 1 Cave podcast in October 2021, he noted his sons had outstanding personalities.
Segura referred to his older son as a prankster, sharing an account of when he almost made fellow comedian Bert Kreischer drink toilet water. He then mentioned that his younger son, too, had already learned to trick people at a very young age.