Bert Kreischer on How Daughters React to his off-limit Family Jokes
Bert Kreischer shares two daughters with his wife.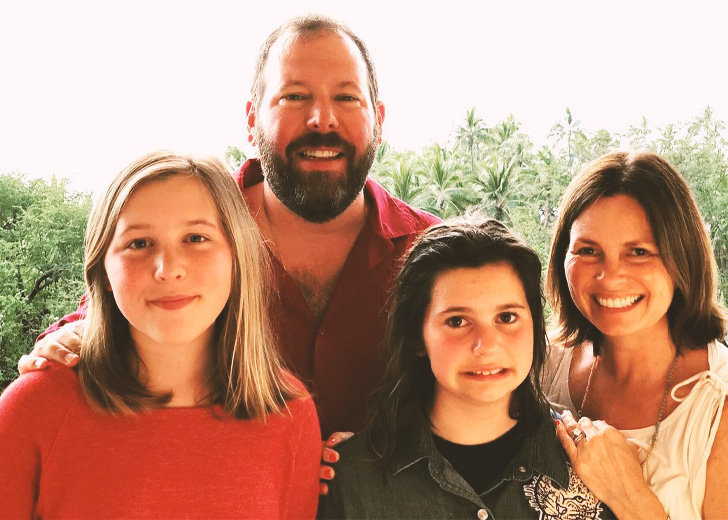 48-year-old Bert Kreischer is a wholesale entertainer — he is a stand-up comedian, podcaster, reality television host, and actor. He currently serves as the producer and host of Bertcast, a weekly comedy podcast on the All Things Comedy network.
He also co-hosts the 2 Bears, 1 Cave podcast with fellow comedian Tom Segura, and the Bill and Bert podcast with actor and comedian Bill Burr. In addition, the comedian has served as the host of the television series Hurt Bert on FX, Bert the Conqueror, and Trip Flip on Travel Channel.
There are only a few like Kreischer who knows how to entertain his audience, and sometimes, to do that, he is happy to walk the extra mile and write jokes about his family. However, he also knows topics that are off-limits.
The Florida native talked about his family jokes when he sat with fellow stand-up comedian Theo Von earlier this year in May for a conversation on theThis Past Weekend podcast.
"There's only been one subject that Ila [his younger daughter] asked me not to talk about, but like I talked about her period. I'll get her period no special," he said, implying there are a few subjects his family does not want him to talk about.
When Von asked if he, as a dad to two daughters, ever thought about the long-term effects his jokes about them could have on them, he responded to it, saying they are fine about everything, but he has to tell them the gigs first.
Otherwise, he admitted he initially never consulted his daughters or his wife about the jokes he wrote about them.
Kreischer even shared an instance when he included his daughter's period and her having a period party with her friends in his gigs. He said his shows received an overwhelming response from people, with many appreciating him for opening up about that topic, which is still taboo in many places. 
Women are connecting with it, going like cheering for Ila, which I think is cool...but then the next day [after one of his shows], my email gets flooded with little girls emailing me. Like, 'Hey, I was really scared about getting my period...'
Well, going by what Kreischer said during the said podcast, it seems that his family is pretty fine about him writing jokes about them as long as he does not go off-limits. Hence, he didn't even share what the off-limits were.
Kreischer has been married to his wife LeeAnn, who originally hails from Bowdon in Georgia. Like her husband, LeeAnn also hosts a podcast called Wife of the Party.
According to Republic World, the couple has been married for 17 years as of 2020. The publication also reported that she thought of Kreischer as "not the type you marry" and "too crazy, too wild, too comedian" during the initial days of their dating.
Presently, the two are parents of two daughters: Georgia, born in 2004, and Ila, born in 2006. Both of his now-teenage daughters also help him write his scripts for his shows.