'Vanderpump Rules' Stars Katie Maloney and Tom Schwartz Announced Their Split via Instagram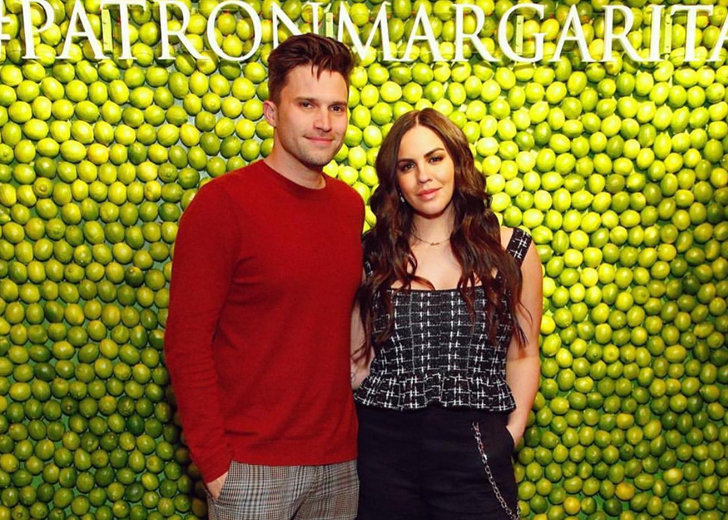 Katie Maloney and Tom Schwartz have called an end to their relationship.
The Vanderpump Rules stars, who were legally married in 2019, announced their split after 12 years together, as both took to their respective Instagram accounts to post separate announcements.
Katie Maloney's Break up Announcement
"I never thought I would have to make an announcement like this. But I feel it's important that I'm open about my life with you," Maloney, a 35-year-old actress, wrote.

Katie Maloney shares a picture with Tom Schwartz in her split announcement post. (Photo: Instagram)
"After 12 years on an adventure through life together Tom and I are ending our marriage. This ending is not met with resentment or animosity, no sides to choose. We have deep admiration for one another that will always remain and we cherish our friendship."
In the end, she implied the split was amicable, saying the pair will continue to love and support one another's happiness even though they might be on different paths.
Maloney's post also featured a couple of her pictures with Schwartz, in which they are seen spending special moments together. For instance, in one of the pictures, they held their hands together while walking in the street.
Tom Schwartz Talked about the Split, Too!
On the other hand, Schwartz, who is a television personality, wrote a three-page long statement to announce the split, as well as to express his undying love for his longtime partner.
"Well this [expletive]. How am I supposed to capture 12 years of love in a [expletive] canned Instagram caption," he began.
He admitted that his "heart aches" after the pair decided to call it quits, implying his estranged wife as the person who ultimately pulled the plug on the romance.
He stated, "I'm not the victim. Not gonna write too sad a song. Fully respect Katie's decision and we've had healthy, productive conversations about it. It would be far sadder if she decided to stay with me whilst not happy."

Tom Schwartz also posted a snap with Katie Maloney in his post. (Photo: Instagram)
In his post, Schwartz shared that he had some of the "most blissful, romantic, fun times humanely possible" during his relationship with Maloney while also asking fans to respect their privacy amid the split.
After the confirmation, the couple's comment section was filled with messages from fans and the members of the long-running Bravo show.
Most of the comments showed people were unhappy with the split, while some accepted the decision and offered them support.
Katie Maloney and Tom Schwartz's Relationship Timeline
Maloney and Schwartz reportedly began dating in September 2010. Hence, when Vanderpump Rules premiered on Bravo in 2013, the pair had already been dating for several years.
In the show, fans witnessed their journey of love filled with ups and downs, including allegations of cheating on his part. He proposed to her in season 4, followed by vows exchange at their 2016 ceremony in the subsequent season.
However, three years later, the couple admitted they lost their initial marriage license and weren't legally spouses.
The two, therefore, wed for the second time, and the July 2019 Las Vegas nuptial was well-documented in Bravo's show as well.
Despite the long relationship, Maloney and Schwartz didn't have any children together. That said, the diva has been open about her fertility struggle since marrying Schwartz.