Inside Tom Ellis and Wife Meaghan Oppenheimer's Beautiful Marriage
Know everything about Tom Ellis and his wife, Meaghan Oppenheimer.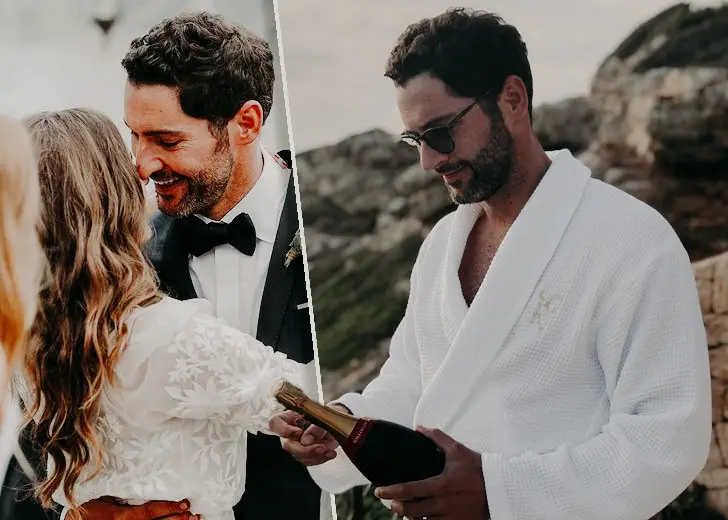 Amid the pandemic in 2020, Lucifer was the most-watched series on Netflix with over 1.5 billion views. 
There is something about Lucifer that just captivates the viewers — It has been canceled almost two times, yet because of massive fan demands, it was reprised. 
The urban fantasy superhero TV series was initially developed by Fox, which produced the first three seasons that received mixed reviews from critics. 
As a result, Fox canceled the series.
About a month later, Netflix picked it up for the fourth season, which was critically acclaimed. Soon after, they released season 5 in two parts — part one in August 2020 and part two in May 2021. 
Season 5, part two, was supposed to be the end of Lucifer. However, due to popular demand, it is being reprised for one last season.
While the show received mixed reviews, protagonist Tom Ellis's career soared. He was widely appreciated for his role as the alluring and nefarious fallen angel, Lucifer Morningstar. 
The series revolves around Ellis's character Morningstar who came to the Earth because he was bored from being in hell and punishing the dead.
He owns a nightclub called Lux and helps the Los Angeles Police Department (LAPD) using his devilish powers. 
Ellis has become a household name, and while he has many fans after him, he is after only one person — his wife, Meaghan Oppenheimer. 
Here is everything you need to know about Ellis, Oppenheimer, and their adorable relationship.
Who Is Tom Ellis?
Ellis is a Welsh actor who was born Thomas John Ellis on November 17, 1970. He was born in Cardiff to a religious family. The actor is the only son in his family.
He lived with his parents and three sisters, one of whom is his twin sister. His father, Christopher John, and one of his sisters as well as her husband are Baptist ministers. 
Ellis's mother, Marilyn Jean, was a music teacher. She taught her children how to play various types of instruments. As a result, all the Ellis kids are musically talented and know how to play instruments. 
The actor started with trumpet but later switched to French Horn. He has showcased his talents at various orchestras by playing this brass instrument.
The Ellis family later moved to England, where the actor attended high school. First, he went to High Storrs School in Sheffield. Then, he pursued a BA in Dramatic Studies. 
He could not afford to go to a school in London. So, as good fortune would have it, he found out about the Royal Scottish Academy of Music and Drama (now called the Royal Conservatoire of Scotland). 
It was the one school that had offered him a spot, and Ellis fell in love with the city of Glasgow once he stepped on it. Hence, he pursued his further studies there. 
At the drama school, Ellis became best friends with fellow actor James McAvoy. McAvoy is best known for the X-Men franchise, Narnia and Split. 
Ellis started his professional career while he was still at drama school. The two friends were given a term off to do a pantomime at the school. If they got a professional gig, they could pursue it. 
They took that opportunity and went to Kirkcaldy, where Ellis booked a gig for Beauty and the Beast. He played the role of Beast and the Prince. Since then, Ellis started doing professional acting. 
He made his screen debut in 2000 with an episode in Kiss Me Kate. Some of his notable roles include King Cenred on the BBC series Merlin, Thomas Milligan in the Doctor Who, Gary Preston on the BBC One sitcom Miranda and, of course, Lucifer Morningstar in Lucifer. 
Ellis has worked in over 50 television series and eight movies. Altogether he has 64 acting credits under his name. He has also served as an executive producer in eight episodes of Lucifer. He is currently working on season 6 of Lucifer and his new movie, Players. 
Tom Ellis and Meaghan Oppenheimer
2015 was definitely one of the best years for Ellis. He was cast as the dark lord in Lucifer and met the love of his life, Oppenheimer. 
The pair dated for two years before getting engaged in March 2017. Oppenheimer took to Instagram to share the news with her fans and followers. 
Fast forward to 2019, and the lovebirds got married in an intimate ceremony in front of their family and friends. Ellis took to Instagram to share the news. 
He posted a picture of himself clad in a classic black tux, looking adoringly at his wife, who was wearing a long-sleeved white lace gown with floral designs. After their wedding, the pair went to Paris to celebrate their honeymoon. 
The newlyweds did not accept any wedding gifts. Instead, Ellis tweeted asking people to donate to Planned Parenthood as gifts. 
The pair are happily married, and Oppenheimer is a loving step-mom to Ellis's kids. She often posts photos with them on Instagram and gushes about her perfect family. 
Who is Meaghan Oppenheimer?
Apart from being the wife of the devilishly handsome actor, Oppenheimer has a name for herself in Hollywood. 
She was born on March 28, 1986, in Tulsa, Oklahoma. She grew up with her parents and siblings — Sophie, Eric, and Luke. 
Not much is known about her childhood, but she used to be a child actress in the Disney series, Even Steven.
She studied in Holland Hall, and in 2009, she graduated from the New York University Tisch School of the Arts. 
After graduation, she moved to Los Angeles to pursue a career in screenwriting and producing.
However, before she went behind the camera, she starred in various movies, including How to Marry a Billionaire, The Rock 'n' Roll Dreams of Duncan Christopher, and LoveFinder: The Virals. 
Oppenheimer started screenwriting in 2012. Some of her credits include The Remains, a Facebook Watch series titled Queen America, Fear the Walking Dead, and We Are Your Friends. 
Along with screenwriting, Oppenheimer is also heavily invested in charities. Her family runs a charity organization — Reed Jules Oppenheimer Foundation. 
The organization is focused on various causes, from poverty alleviation initiatives across the world to wildlife conservation and tree plantation. 
Tom Ellis's Relationships Before Meaghan Oppenheimer
Before Oppenheimer, Ellis was married to an English actress, Tamzin Outhwaite. The actor met his first wife through McAvoy. 
Ellis had a crush on Outhwaite before he met her, and when he met her for the first time, it was as if he knew her all along. The pair got married in 2006 and share two kids — Florence and Marnie Mae. 
They separated after seven years of marriage and nine years of being together in 2013 and got divorced in 2014. 
The main reason for their separation was adultery. Allegedly, Tom Ellis cheated on his wife with another actress while filming Gothica.
However, they are still on good terms for the sake of their children. Ellis also has another daughter, Nora, with an unnamed partner. 
Ellis is also often referred to as 'Miranda's boyfriend.' This is because he played the role of Gary Preston, boyfriend of the title character on Miranda. 
While he is known as Lucifer Morningstar in the USA, people in the UK know him as Preston or Miranda's boyfriend. However, Ellis does not mind and feels glad that people recognize him from the beloved sitcom. 
Tom Ellis + Shirtless = Everything 
So it is of no surprise that Ellis is in shape. He, as Lucifer, is not only the devil with a heart of gold but also washboard abs.
Ever since Netflix revived the show, he has been in the gym chiseling his physique to be at its peak. As he revealed in an Instagram post, to get to the perfection he's at, he sweats out in the gym 2 hours a day for six days a week. 
He also sticks to a custom diet and drinks plenty of water. More posts with the hashtag #DevilTraining show his dedication to his craft. 
Ellis spoke about how showing his body is something he's proud of as well. 
In an interview with Vulture, the Welsh actor gave an insight on how network TV is conservative about suggestive things. However, with the show now being on Netflix, it is far from such restrictions and can be more liberal. 
That being said, the show itself has never disrespected the viewers with being outright vulgar. Ellis also added that because he was in better shape, he was feeling better. 
That new sense of self-image translated to his willingness to do nudity demanding scenes.