'Lucifer' star Tom Ellis Supports Black Lives Matter And Pride Month
Tom Ellis has been one of the most active actors in support of the Black Lives Matter Movement and Pride Month in 2020. Read here to find out how he has been an ally in two of the most revolutionary movements of all times.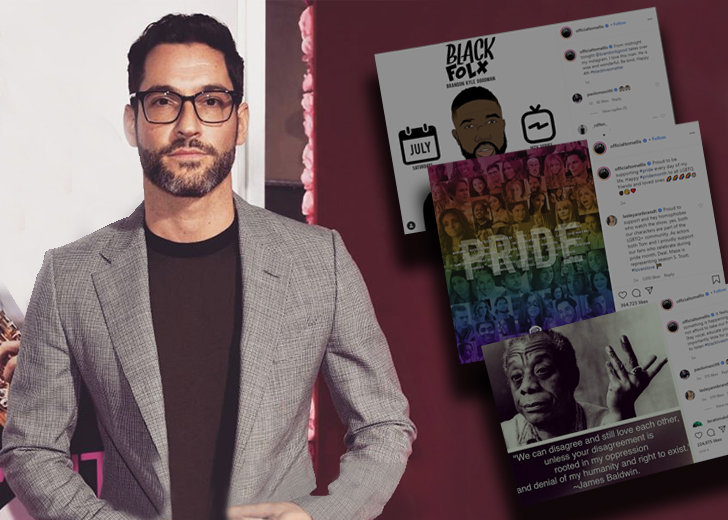 Because of the Covid-19 pandemic, we have learned to live in a reality of fear, anxiety, and suffering. But the suffering and coping mechanisms aren't the same for all the communities.
According to the Centre For Disease Control and Prevention (CDC), African Americans, American Indians, and Latinos are more likely to contract and die from the deadly disease than white people—who are the majority in the country.   
But what are the reasons that make one population suffer more than the others? Well, the answer has to do with systematic racism and inequalities. 
Its 21st century and minorities, including African Americans, Latinos, and American Indians or Native Americans, don't get equal and fair treatment when it comes to housing, healthcare, or education. 
Therefore, the historically underrepresented minorities in the United States have been left with no means other than to protest against the system. And this mid-2020, the country saw two of the biggest revolutionary movements. Both of these movements rightly raised the issues of the made us feel empowered even in quarantine.
Two of these movements are the Black Lives Matter Movement and Pride Month.
Black Lives Matter & Celebrities
On June 2, 2020, the world of digital media suddenly started seeing a black picture being posted on Instagram, Twitter, and Facebook with the hashtag "#BlackOutTuesday." This common act was collective activism in the social media platform against racism following the unlawful killing of George Floyd, Ahmaud Arbery, and Breonna Taylor.
Today this movement has turned into a representation of all voices against racism that the black community and minorities have been facing for a long time. Many celebrities have also given their support for the movement to help make a change. Some of them have used their social media platforms to bring awareness and unify people.
One such actor is our very own devil, Lucifer Morningstar a.k.a. Tom Ellis.
Here's how Tom Ellis has used social media to bring for the good.  
Tom Ellis and wife Meaghan Oppenheimer GoFundMe Campaign
Lucifer star Tom Elis with his wife Meaghan Oppenheimer has been supporting the Black Lives Matter movement through the GoFundMe initiative.
Through Instagram, Elis has asked people to donate to his GoFundMe page created to support the Black Live Matter movement.
Till now, his GoFundMe page has raised $35,145, way more than the targeted sum of $20,000.
His support with the digital movement of #Blackouttuesday, #Justiceforgeorgefloyd and #justiceforbreonnataylor
He then posted a picture of a retweet from Kevin Malejandro, who plays Daniel fin the series Lucifer, to raise awareness for justice.
In a post on June 2, 2020, he made his voice known in support of "#justiceforgeorgefloyd". This was followed his post of "#justiceforbreonnataylor" and "#blacklivesmatter" on June 5, 2020.
Educating People About The National Flag
On June 5, 2020, Tom Ellis took over Instagram yet again by posting a strong  message about his feelings towards the national flag. He said, "Our grandfathers fought for what the flag symbolizes, not the flag itself." He also emphasized that "a piece of cloth" shouldn't be the only factor that unites people. 
Said Vote People WHo Want To Listen
3 days after, Tom Ellis then showed his support to a viral video that had been going around of James Baldwin. 
In his post, Ellis presented a snippet of the video and encouraged people to vote for people "who want to listen."
Ellis Message To People on June 19, 2020, Also Known As Juneteenth
On Jun 19, 2020, the talented actor posted a picture asking people to join a "virtual block party. He requested people to not attend the Trump rallies that would take place in Tusla. 
Tom Ellis Support For LGBTIQ+ Community
Tom Ellis has always played his part to show that he is indeed a big supporter of the LGBTQ+ community. He also proudly portrays the bisexual character of Lucifer Morningstar in the series Lucifer. 
Here are some of his social media posts that reflect his support for the community.
Tom Ellis With His "Domestic Version of a Pride of Lions"
On April 8th, 2020, he posted a picture of his cat with a string of rainbow-colored bands and a cat toy that was of rainbow color too. Captioning "Domestic Version of a Pride of Lions" in the picture, he reached to his fans everywhere in support of the LGBTQ+ community.
 Tom Ellis In Support Of Pride Month
Similarly, on June 14, 2020, Tom Ellis posted a picture dedicated especially to the  Pride Month. In addition to supporting the pride month, he used that picture to also support the black lives matter movement.
In the caption, he wrote he was "proud to be supporting #pride every day" of his life and presented a white raised fist emoji with a black version.
Ellis And His Wife On Other Important Issues
Regardless of which background he and his wife, Meaghan Oppenheimer come from, they have been trying to make this society a better place through positive social media activism. Some of the things the couple has done together to help those in need are:
Ellis wife Meaghan Oppenheimer Condemns Trumps Tusla Rally 
Watch this please. This is why we have to condemn Trump's Tulsa rally on Juneteenth. I grew up in Tulsa and the repercussions of the massacre are visible a century later. Ask anyone from Tulsa. North Tulsa has never recovered. #TulsaMassacre https://t.co/lbzweznMXG — Meaghan Oppenheimer (@MoppyOpps) June 11, 2020
Tom Ellis Supports Planned Parenthood 
Thank you to all the people that have been asking about wedding gifts or charitable donations for my upcoming nuptials with @MoppyOpps that is so kind. If you would like to make a donation to @PPFA #plannedparenthood we would be very grateful ðŸ™ÂðŸÂ¼ðŸ˜Š — tom ellis (@tomellis17) May 22, 2019
Tom Ellis Wife Meaghan Oppenheimer—Who is a Screenwriter—Is Giving a Platform To "Black" Screenwriters.  
If you're a Black screenwriter with a screenplay ready to go (TV or Film) but you aren't currently represented by a manager, my literary manager at @anoncontent and I want to read your material. Message me here and I'll DM you info. #amplifymelanatedvoices — Meaghan Oppenheimer (@MoppyOpps) June 7, 2020
Tom Ellis Support Charities Working To Support Covid-19 Patients and Their Families
Ellis Tries To Send Positive Vibes To His Fans During Quarantine
Tom Ellis is soon coming out with this Season 5 part 1 of Lucifer on August 21, 2020. Make sure to support this actor who is not just an amazing personality but also a kind-hearted human being for people in need.