Netflix 'Lucifer' Season 5 Release Date, Casts, Trailer & Season 6 Rumors. All We Know About The Next Seasons!
Lucifans revived the series after FOX canceled it following three seasons. With excellent fan support and Netflix swooping in to take care of the lost show in 2019, the directors are now hinting towards the season 5 and season 6 season already.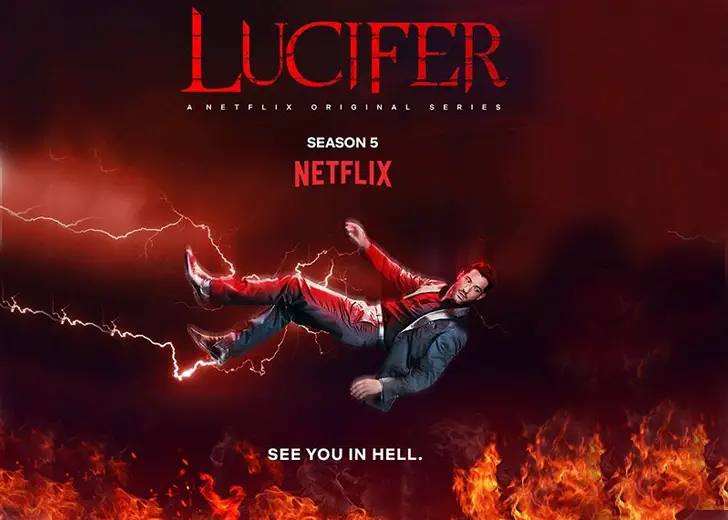 As Netflix gets ready to announce the release of season 5 of Lucifer, fans have started speculating theories about what might happen with the devil in this season.
Ever Since we welcomed the charming devil into our houses in 2016, Lucifer has amassed a bigger fan following than the book it is based on called 'The Sandman.' 
Who is Lucifer?
American urban fantasy television series Lucifer revolves around the character, Lucifer Morningstar (Tom Ellis), who is the "Lord Of Hell." 
The character comes to the human world because of boredom from his life. On earth, he starts living the life of a nightclub owner and LAPD civilian consultant, helping the police department to solve crimes through his ability to find out a person's desires."
Morningstar assists LAPD detective Chloe Decker (Lauren German) in solving the crimes. She is the only one on whom his power of desire exhibition and manipulation doesn't work. 
In the supporting roles, we see LAPD detective Daniel Espinoza, Morningstar's brother Amenadiel, the demon Mazikeen, and the psychologist Dr. Linda Martin.
Lucifans revived the series after FOX canceled it following three seasons in May 2018. After excellent fan support and Netflix swooping in to take care of the lost show in 2019, the directors are now hinting towards the season 5 and season 6 season already.
'Lucifer' Season 4 Recap  
After killing Lieutenant Cain and eventually showing his real face to Chloe in the finale episode of season 3, season 4 mostly revolved around him having a series of self-doubt as the "King of Hell."
Not to forget the return of Eve, his first-ever girlfriend, the devil showed his most vulnerable side that almost scared the audience. He was seen gradually turning into a good angel while being haunted by the demons. 
At last, Morningstar found no other way than to return to hell. Ultimately, the season 4 finale showed the goodbye the devil's return to hell following a heart-wrenching goodbye with his one and only, Chloe. 
'Lucifer' Season 5 Preview 
While Lucifer is known to have an irregular set of episodes each season, its season 5 will be released separately divided into two parts with eight episodes each.
When is the first part of 'Lucifer' season 5 Airing? Release Date & More 
The first part of Lucifer season 5 will be airing on August 21, 2020.
Ildy Modrovich, the show's writer, took over Twitter to confirm the news on June 22, 2020.
However, the release date of the second part of season 5 is yet to be revealed. 
What to expect from Season 5? 
Theories continue flowing over the internet about Season 5. Yet, the crew has done a tremendous job of keeping it a secret! Our research, as Lucifans, however, does not stop there!
Here Is What We Know Of The Season 5
In December 2019, Netflix's See What's Next used its twitter platform to show the first look of season 5, with our four favorite Lucifer girls dressed up in  a1960s disco party theme.
In May 2020, Lucifer's producer and writer Joe Henderson couldn't stop torturing the Lucifans by showing the picture of the devil himself and the detective, Chole, in a big beautiful park!
The surprises don't end here; EW  reports that the tenth episode of season 5 is going to be a musical with the devil himself dancing right in front of our eyes!
Yet, the biggest of all revelation will be the real face of God in season 5.  Actor Dennis Haysbert will be debuting in the role of the world's co-creator. 
Noir Episode
One episode that is already predicted to be the most popular Season 5 episode is the one in which Chole and Morningstar are in a Noir episode together. The "alternate universe" episode was shot in black and white. 
All of this is hinting how we might actually see the garden of Eden in Season 5 with a possible goodbye from the devil to his human companions. If this is true, will Chloe be joining him too?
New Characters In Season 5:
Among all the excitement over the Season 5 of Lucifer, it would be wrong not to welcome the new characters who are going to make the devil's time in the earth filled with an exciting turn of events. Here is a list of characters we know for sure we will see in the 5th season.
Matthew Bohrer from Amazon's Goliath, General Hospital, Masters of Sex and Blockbuster 
Brianne Davis from Jarhead, Synchronicity, Six as Detective Dancer.
Erin Cummings from Spartacus as Mandy
Chaley Rose who was featured on Nashville as Destiny Page
Dennis Haysbert as God
Catherine Dent as Dr. Alice Porter
Annie Funke as sister Francine (Episode 5)
Allison McAtee as Elizabeth Newman (Episode 10)
Adam Korson from Seed, Real Rob (Episode 6)
Will There Be Lucifer Season 6? 
Since Tom Ellis recently agreed on a deal to return as a title character, speculations of season 6 had gone wide.  
Netflix officially made an official announcement on June 23, 2020, regarding the renewal of season 6. On its Twitter, the media services provider wrote, "the devil made us do it....lucifer will return for a sixth and final season, like Final final."