Who is T.J. Holmes' wife? His Sweet note on being a married man
Journalist T.J. Holmes credited his wife to be someone who upgraded his life.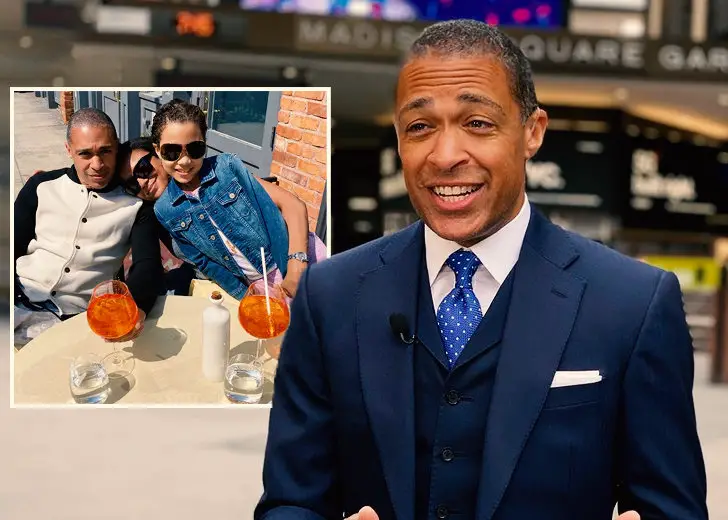 T.J. Holmes is a news anchor, and television host, famous for ABC network shows such as World News Now and Good Morning America.
He joined ABC News permanently in 2014, having worked as a substitute news anchor earlier.
As per ABC Audio, Holmes has reported a wide range of subject matters, including the impact of Covid on professional sports, the death of Chadwick Boseman, and Daniel Prude's police shooting. 
Some high-profile guests he has interviewed include attorney Ben Crump, actors Liam Neeson and Kate Walsh, former NBA star Dwyane Wade, and professional NBA player Stephen Curry. 
Before ABC, Holmes worked for Cable News Network for five years and later joined Black Entertainment Television or BET. He left the African-American audience-based network in 2013 after his program Don't Sleep was called off.  
Talking about his education, journalist Holmes holds a Bachelor's degree in Broadcast Journalism from the University of Arkansas.
Is T.J. Holmes Married?
Yes, Holmes is married, not once but twice. He was first married to Amy Ferson, but in 2007, the ex-couple went their separate ways and got divorced. News anchor Holmes shares two kids, a daughter Brianna and a son Jaiden with his former wife. 
Holmes' second marriage with his current wife, Marilee Fiebig, took place on March 1, 2010, after the two met each other in 2009 through a mutual friend.
Holmes and Fiebig have an eight-year-old daughter named Sabine, who was born three years after their marriage. 
The CNN alum is known to be a loving family man. During his marriage anniversaries with his wife Fiebig, Holmes pens words of love and affection for his wife and makes them public via his social media platform. 
During a 2020 airing of Good Morning America, Holmes was seen doing the hairs of his lovely daughter. During the show, Holmes showcased his love for daughter Sabine and confessed to doing her hair regularly for years, especially on Fridays.
T.J. Holmes' Memo Regarding His Married Life
In 2014, a year after the birth of his daughter, Holmes wrote sweet words of wisdom and explained his reasons to get married the second time. As per his memo published in The Root, Holmes opened about the time when he was 31 years of age and living a happy life in Atalanta as a single man. 
But in the opening exchanges of the light writing, Holmes shared how since 2010, he's been trying to make one woman happy and has eaten, slept, and vacationed with the same person. 
He further expressed his emotions and talked about how he had no catastrophic problems with his wife despite having dealt with different issues, such as living in separate cities, the birth of their daughter, relocation during their married life. 
Toward the end of the emotional writing, Holmes paid his tribute to his wife Fiebig, calling her the one who upgraded him to be a mature man.
Who Is T.J. Holmes' Wife Marilee Fiebig?
Holmes' wife Fiebig is an experienced lawyer. She has previously worked as a business immigration attorney.
In the past, she was also engaged in fashion and entertainment as a business executive.
Currently, Fiebig serves the position of Senior Director at Save the Children Us and works actively in the areas of diversity and inclusion.