Tim McGraw and Wife Faith Hill's Daughters Are All Grown Up - Meet Their Three Daughters
McGraw and Hill's three daughters are Grace, Maggie, and Aubrey.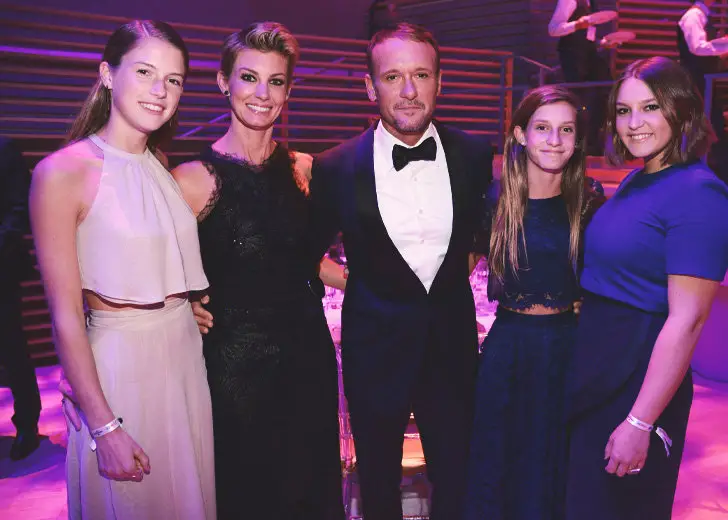 Tim McGraw and his wife Faith Hill are a happy couple. They have been together since they first met backstage at the CRS New Faces show in 1994.
Two years later, the couple walked down the aisle, surprising their friends and family. They invited their loved ones to what they described as a softball game and concert in Rayville, Louisiana, but it turned out to be an intimate wedding ceremony.
In the subsequent years, Tim and Faith welcomed their three daughters: Grace McGraw in 1997, Maggie McGraw in 1998, and Aubrey McGraw in 2001. Now, all three are grown-ups, with the eldest daughter Grace in her early 20s and the youngest Aubrey in her late teens.
The daughters of the country music power couple occasionally make appearances alongside their famous parents, but they also do their own thing full time.
Eldest Daughter Is an Aspiring Actress
Tim and Faith's eldest daughter, Grace, dreams of becoming an actress in the entertainment industry. Currently, she lives in Los Angeles to pursue acting, and she has worked on various Broadway plays.
Additionally, she is also a very talented singer. Grace is a former member of an all-female alt-rock group, Tingo, which she was part of while in high school.
Grace and her father performed 'Here Tonight' at the Bridgestone Arena in Nashville back in 2015.
Her Instagram, where she has over 42,000 followers, is also filled with content related to acting and music. For instance, she posted a video on September 1 this year, where she beautifully performed on Heather's 'Beautiful.'
Middle Daughter, Maggie, Is Also a Singer
The middle child of the couple, Maggie, is a Stanford University in California graduate who finished her master's degree in climate control.
"Maggie is a free diver," her father, Tim, told Country Countdown USA in June 2016. "She's always been interested in the ocean, so her primary interest is marine biology," he said, remarking that it's "always been her biggest interest."
Maggie has also followed in her father's footsteps. She is a talented singer and has been a part of few bands. She was the lead singer of a girl group that performed outdoor concerts at Stanford University.
Maggie is currently in a relationship. She has been dating her boyfriend John Whiting since she met him at Stanford.
Youngest Daughter Made Her Acting Debut This Year
Like her parents and sibling sisters, Tim and Faith's youngest daughter, Aubrey, has also found her feet in the entertainment industry.
Earlier in August, the 19-year-old made her acting debut in her father's music video '7500 OBO,' which narrated the story of a man who wanted to sell his truck because he couldn't be around it without thinking of an ex-love.
The music video features the perspective of a teenage girl, played by Audrey, who was heartbroken after her love moved away.
Aubrey also graduated from high school in the class of 2020 and is presently pursuing modeling.