The Rock with Hair: How We Remember Dwayne Johnson's Bygone Look Now
Dwayne Johnson once sported hair on his now bald head.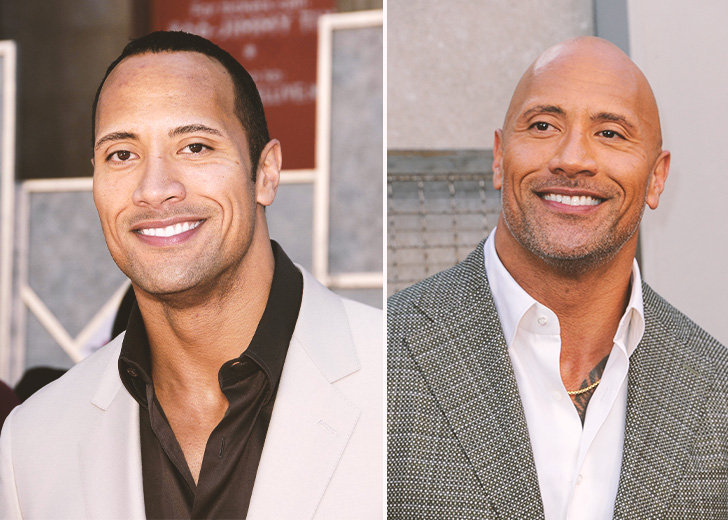 A buffed-up body, tall stature, signature eyebrow lift, contagious smile, and the easily noticeable bald head pops up in our mind when we think of Dwayne 'The Rock' Johnson. But the latter signature wasn't always there. 
Instead, the Hollywood heavyweight sported thick, black, healthy hair, which helped produce an iconic 'The Rock with hair' meme. 
In the meme, Johnson can be seen leaning toward a wall with a black turtleneck, gold chain, jeans, and his hand on his fanny pack. But, most importantly, he has hair on his head and a subtle smile. 
The Rock with Hair Memes
The Rock with hair photos has undoubtedly been a source for a plethora of The Rock with hair memes. But among all, his iconic picture with a black turtleneck has always garnered greater attention, and deservedly so. 
Even Kevin Hart couldn't help himself from roasting the multi-hyphenate's look with hair.
In 2019 Halloween, he dressed as Johnson from his famous meme and prepared a skit. Interestingly, Johnson also supported the comedy stint and acted alongside the comedian. 
Needles to say, the 49-years-old has never been offended by his no-hair memes.
Instead, he loves those funny pictures and gifs. He said so himself through a Twitter post dated April 3, 2017. He shared a gif about himself and clarified why he went bald. 
Reason Behind Dwayne Johnson's Baldness
Johnson had thick hair when he played football and joined WWE. Though not very long, he always fashioned his short-trimmed hair.
The California native did the same in the plethora of movies, like The Game Plan, Southland Tales, Walking Tall, The Rundown, and Get Smart. But from 2010, Johnson opted to have a bald head instead of his slight salt-and-pepper buzz. 
The Jungle Cruise actor opened up about the reason behind his look through the above-mentioned Twitter post. As per his accounts, he did not go bald because of his genetic predisposition.
In fact, he shaved his head because his hair wasn't that great.  
Fan's Reaction on The Rock with long Hair
Whenever Johnson's pictures with hair pop up, it becomes the talk of the town. And without question, those divide his fans into his admirers and critics. Some followers ship Johnson's look with hair while others are grateful it isn't so.
For instance, a Twitter user shared the actor's picture with long hair from his movie The Mummy Returns in August 2015. In the caption, he mentioned Johnson looked nice with long hair.  
Another follower also shared similar sentiments through a new post in April 2020. The person wrote, "Dwayne the rock Johnson with hair is baby."
However, not everyone agrees with the opinion. A Twitter user stressed that "Dwayne 'The Rock' Johnson with hair should never be allowed to exist."
Whatever the opinion may be, Johnson, with or without hair, will always be a prominent part of the entertainment industry and a heartthrob of millions of his fans and followers.