The Kid LAROI Proposes to His Girlfriend Katarina Deme in A 'Vogue Australia' Interview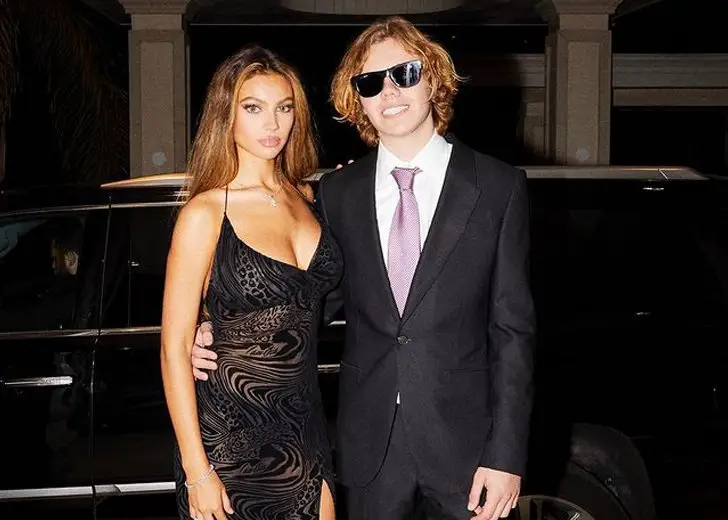 Charlton Kenneth Jeffrey Howard, known famously as The Kid LAROI, has been riding the waves of his success after his collaboration 'Stay' with Justin Bieber blew up.
With newfound fame, Laroi has cemented his status as one of the biggest artists in the world, and fans have now become invested in the singer's personal life. 
The singer does not shy away from sharing his dating life on social media and often uploads photos with his TikToker girlfriend, Katarina Deme. 
Recently, eagle-eyed fans noticed that Laroi had commented a ring and heart-shaped emoji on one of Deme's photos. 
This was not the first time he had used a ring emoji to signify his love. Some even took it as a gesture of a marriage proposal.
In a January photo upload with Deme, he captioned it with a ring emoji, among many others. 
Fans began suspecting that they were engaged, and speculations of their engagement began surfacing on social media. 
However, the love birds addressed nothing and continued letting fans speculate. 
But in a recent Vogue Australia Interview, the hitmaker talked about his plans with Deme. 
Kid Laroi's Marriage Proposal to His Girlfriend
In the interview, Laroi talked about his musical journey and success.
While acknowledging how lucky he was to have achieved so much, he exemplified his girlfriend. 
"I'm probably one of the luckiest people on earth because even when something looks like it will not work out, it somehow does. Just look at my girlfriend. I'm so lucky!" said the artist. 
When asked how his relationship was going, he said things were incredible and he loved her so much.

The Kid Laroi and his girlfriend (Source: The Kid Laroi/Instagram)
The actor also shared his thoughts on marriage, noting that he and Deme were going with the flow for now, but that marriage was definitely on the cards.
He iterated he would love to get married one day, and at that moment, according to Vogue, he turned to Deme and proposed to her. 
"Would you like to get married to me?" asked Laroi. 
Deme replied that she would love to, but Laroi realized a hesitation and pretended to be offended, saying, "Oh my god, she took so long to respond to that!"
Kid Laroi Packing on the PDA with Katarina Deme
After talking about their marriage plans, the couple was spotted at the Vanity Fair Oscar Party in LA. 
According to Daily Mail, Laroi could not keep his hands off his girlfriend, and they were spotted cuddling and kissing. 
Deme was clad in a black, jewel-embellished mini dress with a bustier-style top that showed off her cleavage and slender legs.
Meanwhile, Laroi cut a casual figure in a long black coat and trousers.  
The couple often attends events together. 
Before this, they were spotted at the 2022 iHeartRadio Music Awards in Los Angeles. 
As usual, the duo was loved up as they put on an affectionate display while sharing a kiss on the red carpet after arriving at the event.
They were dressed in coordinated black outfits, with Deme looking stunning in a black halter neck dress with black matching stiletto heels.
She completed her look with her hair down and a silver bracelet and watch.
Laroi, too was dressed in a black jacket and pants accessorized with a thin tie.