Is 'The Curse of Oak Island' Real? Things to Know About the Show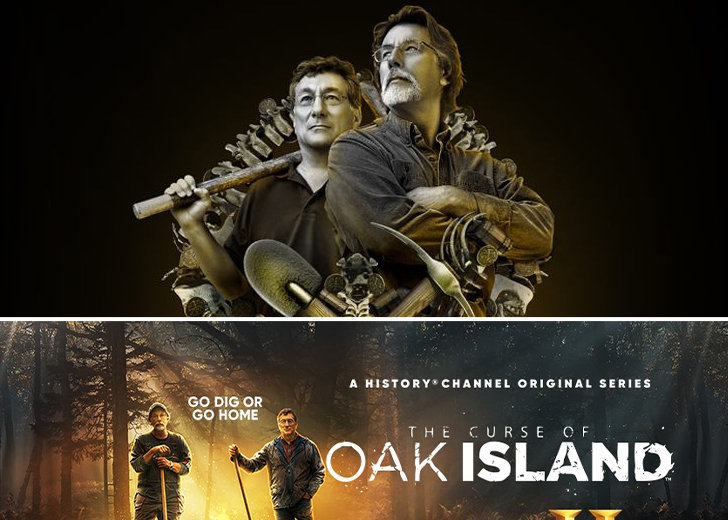 The Curse of Oak Island premiered on the History television network on January 5, 2014.
The show follows a diverse group of treasure hunters searching for legendary treasures on the fabled Oak Island in Canada.
Since its premiere, the reality series has successfully amassed a wide range of audiences. And the popularity has everyone wondering, 
Is The Curse of Oak Island Real?
The Curse of Oak Island stars Rick Lagina and his brother Marty Lagina.
The premise follows their effort to uncover the ancient, 220-year-old Oak Island mystery, which states that great treasures are hidden on the island. 
The celebrity brothers unearth the grounds with their team of treasure hunters, hoping to find the treasure.

Glimpses of treasure hunting from 'The Curse of Oak Island.' (Source: Instagram)
Interestingly, the premise has made the show one of the highest-rated programs on The History Channel.
However, not every viewer believes the show is real. Instead, some are convinced the show is fake and scripted. 
But the stars of the show have to say otherwise. In an interview with Reality Blurred, Marty stressed the show was real. "There are no scripts. We said early on we would not do a scripted show."
He mentioned they had no intention of filming their expedition or earning fame. "We kind of reluctantly agreed to it," he stated, adding they didn't like filming. 
Marty also clarified that the production slowed their hunt. "You have to get mic'd, and all that. So it's not them just following us, but it is real."
In the same interview, Rick said upfront that they did not seek out the show.
As per his accounts, they had already been searching the island for three years, and more before the filming crew approached them. 
Rick added the program intruded on their personal life.
Then on a positive note, he remarked the show had helped people know about the Oak Island mystery and have faith in it. "And we definitely appreciate all the support," he noted. 
As proof of their theories, the Lagina brothers and previous hunters have discovered several fascinating historical artifacts from the landmark over the years.
The findings include money pit, jeweled brooch, granite stone, coconut fibers, leather book bindings, ancient manuscripts, and roman sword, among others.
In addition, two human bones from the late 1600s to the mid-1700s were also unearthed. 
When Does The Curse of Oak Island Return?
The Curse of Oak Island season eight ended after its last episode aired on May 4, 2021.
And season nine has already returned on the channel. Its first episode aired on November 2, 2021. The new installment is set to end in the middle of January 2022.  
As of this time of writing, the show has not been renewed for season 10. Given the show's popularity, that might change after season nine wraps up.