Taika Waititi Deals with His Kids and Family with the Same Irreverence as His Films
Taika Waititi got married with stripes drawn with a marker pen instead of wedding bands.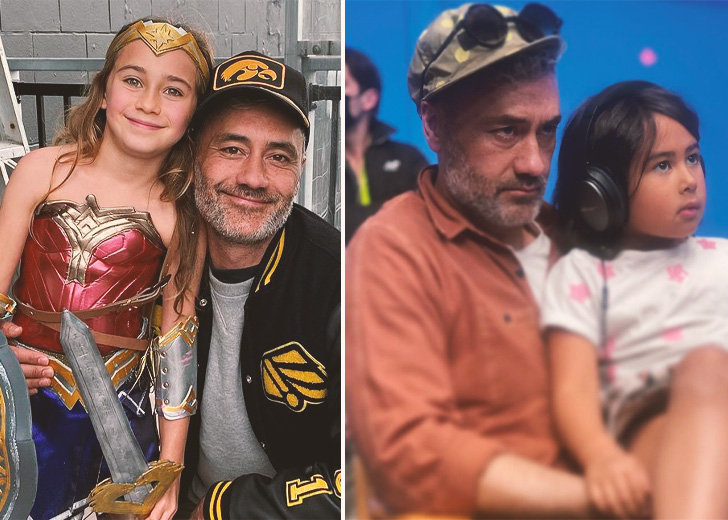 Director Taika Waititi has a reputation for having a little more than a touch of irreverence bleeding into the movies he works on. But, it turns out, the feeling carries over to his family life as well. 
His ways are especially visible in the social media posts featuring his family and even more apparent when his ex-wife narrated their, for lack of a better word, unique wedding.
Taika Waititi Flaunts His Parenting Skills
Take, for instance, the photos he put up on Instagram on April 29, 2021. The pair of monochrome snaps featured Waititi and his two daughters: Te Hinekaahu, 9, and Matewa, 6, narrowing their gaze on a monitor. 
The children appeared to be on one of Waititi's sets as his director's chair was adequately visible. While the photos showed the acclaimed director teaching his young daughters the ins and outs of directing, the caption disclosed that he was "tenderly criticizing" his (then) 5-year-old's performance. 
Apparently, he was talking to her about where she went wrong in the last take and the aftermath of it all. 
Another instance of Waititi being his irreverent self was during his wedding with his ex-wife film-maker Chelsea Winstanley. 
How Taika Waititi Started His Family
During an interview with NZ Herald, the ex-wife recalled her first encounter with Waititi and their marriage in a registry office in New York. However, before getting into all of that, she expounded on her disdain for women being portrayed as living in the shadow of their partners. 
Anyway, Winstanley first met Waititi in her 20s when she interviewed him for a documentary about Māori artists. They also worked together on the award-heavy horror mockumentary What We Do in the Shadows.
They reconnected during the filming of Boy in 2010 and two years later tied the knot to start their family. 
As for the wedding, they got married in a registry office in New York with a stripe drawn by a bright marker pen instead of wedding bands. Yes, that's right! Instead of getting a pair of wedding bands as normal couples do, Waititi turned to his wife, pulled out a bright marker pen and drew a stripe on her ring finger, then drew another on his own.
After the wedding, the newlywed couple walked around New York, hand in hand, bonded by ink. Winstanley later replaced the ink with a simple silver ring.
Taika Waititi Stayed with the Kids as the Mom Was Away Filming
That being said, Waititi had been a supportive husband to his ex-wife as he encouraged her to leave Los Angeles for New Zealand while he held down the fort with the kids so that she could pursue her calling in film-making. She recalled, 
He said that to me the other day, 'It was so arrogant of me to think that you would even want to follow my life.' It was a really big thing for him to admit and it was so refreshing.
And, while his irreverent sense of humor seeps into his personal life with his family and his expression of love towards them on social media, the famed director is evidently a loving father to his kids as he is often seen spending time with them. 
Since his split from Winstanley, Waititi has been rumored to be secretly dating Rita Ora. The two have been spending time together in Australia, as both of them had work commitments on the island continent. 
Waititi was filming Thor: Love and Thunder, and Ora was busy with the Australian version of The Voice.