Tabitha Swatosh Confirms Her Exit from the Hype House in a New TikTok Video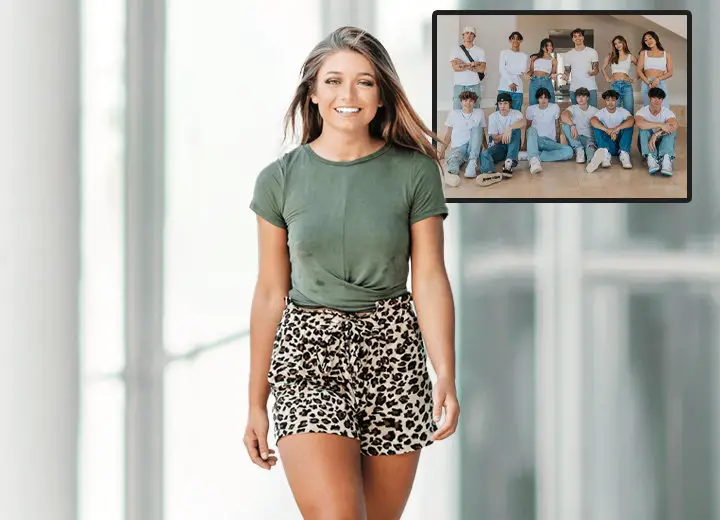 It looks like another member has left the Hype House.
On July 10, 2022, tea pages on social media started sharing screenshots of Hype House and Tabitha Swatosh's Instagram following list. It appeared both parties had unfollowed each other.
Additionally, Hype House founder Thomas Petrou had tweeted "lying clout chasers," which he deleted later. 
The last time Swatosh appeared on the Hype House TikTok video was a week ago when the group celebrated their one-month anniversary of being a new Hype House group. 
Netizens only suspected Swatosh's departure because of these clues, but on July 11, 2022, the TikToker confirmed it in a new video. 
In her outfit transition video, Swatosh stood in front of moving boxes. A user asked her in the comment section where she was going, to which she replied, "a new chapter begins."

Tabitha Swatosh and Hype House unfollowed each other, making fans wonder if Swatosh was kicked out. (Source: Instagram)
Meanwhile, another user commented, "I'm gonna miss you being in the Hype House," and Swatosh replied she would miss it too.
Although Swatosh confirmed her departure, users were more interested to know whether or not she had been kicked out. She did not respond, nor has Petrou talked about her departure. 
Tabitha Swatosh Leaves Hype House after 5 Months
Swatosh joined the Hype House in February 2022. 
The content group openly welcomed her, sharing a series of photos where existing members Jack Wright, Petrou, and Mia Hayward were seen carrying Swatosh.
"Welcome to Hype House Tabitha!" they wrote in the caption as they announced Swatosh as the newest member. 
The TikToker also shared the news on her Instagram, sharing the same photos and writing "I joined the @hypehousela."
Many of her fans were excited to see her and even commented they wanted to see her in season 2 of the Netflix series based on the group. 
"@tabithaswatosh, this smile on u is everything," commented a user on Hype House's post. "Yay! She is my favorite. Cannot wait to see her in all the new TikToks," commented another Swatosh fan.
Renata RI Kicked Out after Fighting with Tabitha Swatosh
Although Swatosh was given a warm welcome and everyone was excited to have her, her entry was not without controversy.
A few months after she joined, existing member Renata Ri confirmed she had been kicked out of the group. 
Although she did not state why, the gossip news outlet, Dexerto, reported via an anonymous source that RI was kicked out because she got into a fight with Swatosh. 
However, this information has never been addressed by the girls or Petrou, who usually offers explanations if netizens speculate about the Hype House members. 
For example, when Jack Wright left the house in June 2022, fans speculated he had a falling out with Petrou. But in a dedicated TikTok video on his account, Petrous clarified this was not true.
He noted he and Wright were still good friends and wished him all the best for his new journey.