Storm Reid and Boyfriend Sayeed Shahidi Have Been Going Strong since High School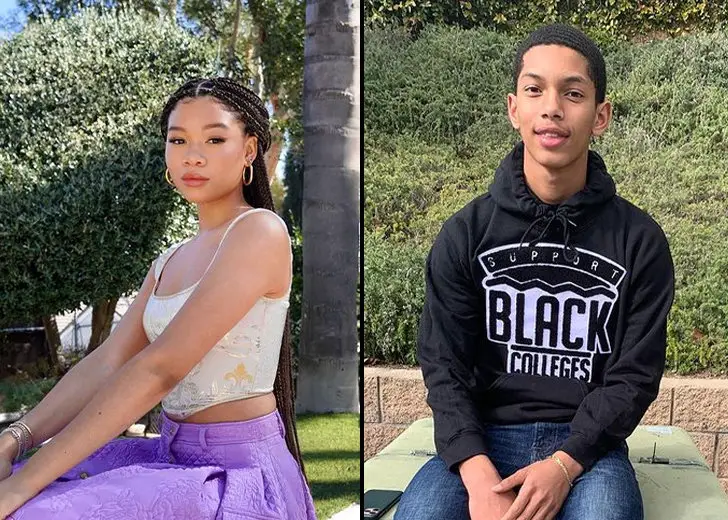 Storm Reid and her boyfriend Sayeed Shahidi are an adorable couple.
The two began dating each other after they first met in February 2017 at the Disney XD Jungle Ball party. Sometime later, they also attended the same high school.
Storm Reid and Boyfriend in High School
Reid and Shahidi regularly went to prom and various Hollywood events together during their high school days.
For instance, they went out as a pair in April 2019 after Shahidi's sister Yara Shahidi helped her then-16-year-old brother ask then-15-year-old A Wrinkle in Time star to prom.
"After big sister FaceTime consultations, conversations with his homies, and knowing what would make her smile, Sayeed SURPRISED Storm with the CUTEST promposal," the Imagine That star wrote on her Instagram.
As suggested by his sister, Shahidi asked Storm with a personalized poster board featuring drawings and photos of the two of them.
The poster read, "Storms are rare in LA, I'm lucky I found one."
Similarly, in November 2019, Reid dolled up in a light-pink feathery minidress for her last high school homecoming dance.
She was accompanied by her boyfriend, who sported a maroon velvet suit.

Storm Reid and her boyfriend Sayeed Shahidi posing for a picture. (Photo: Instagram)
The Suicide Squad actress eventually completed her high school graduation in 2020.
In her May 17 Instagram post, she thanked her family, friends, and loved ones for helping her through the years.
Shahidi also announced his high school graduation through his June 16, 2020, Instagram post.
"Congratulations to everyone who has hit this milestone this year!" he wrote in his post.
Storm Reid and Boyfriend Are Usually Private
Reid and Shahidi are usually private about their relationship.
They hardly express their love for one another through social media posts or long captions.
That said, on a special occasion like a birthday, they have been spotted breaking their privacy and sharing pictures of them.
For example, Shahidi grammed a series of his and Reid's pictures and videos in his since-deleted Instagram post in July 2021. He shared them to wish the actress her 18th birthday.
"This is a surreal moment for me because it feels like it was just a couple of weeks ago when we met each other at 13 years old and now you're a whole 18 year old adult who has accomplished so much [sic]," he wrote in his caption.
He continued to express himself, saying that the memories they had made until the day would stick with him forever. He was also excited to see what the universe had in store for them.
In the end, the Uncle Buck star stated he was inspired by who she was, proud to be in her life, and blessed to have her in his, while writing, "Happy Birthday Twinny, I love you a lot."
In another instance, Reid and Shahidi celebrated 2021's Valentine's Day and Shahidi's birthday simultaneously.
On that occasion, they starred in an episode of Facebook Watch's series Chop It Up and had a candid conversation about their dating life, family, and career.