Do SteveWillDoIt And His Onlyfans Model Girlfriend-Turned-Fiancee Celina Smith Have a Baby?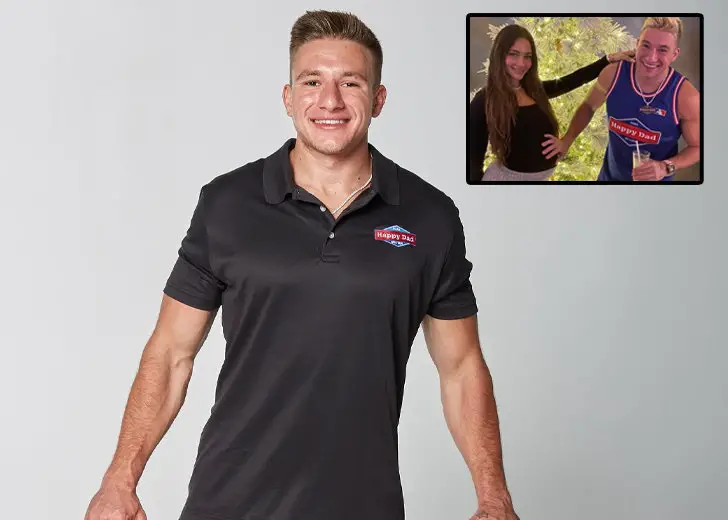 Stephen Deleonardis, better known as SteveWillDoIt on YouTube, is known for his prank and challenge videos. 
As a member of the public pranks channel, NELK boys, he has done tons of prank and challenge videos, which has garnered him a huge fan base on various social media platforms.
In This article, know about the Oviedo native's fiancee Celina Smith, their relationship bonding, and their net worth and age. 
Who is StevewillDoIt's Girlfriend-Turned-Fiancee Celina?
If you didn't know, SteveWillDoIt's fiancee Celina Smith is equally famous as him on the platforms like Youtube. She is into traveling, modeling, charity work, fashion, dress try-on, Only Fans, and daily vlogs.
Steve was the one who got Celina to join Onlyfans as both of them agreed to give space to each other and their respective lifestyles. 
As per her Instagram stories and pictures, Smith has been professionally pursuing modeling and she also posts sponsored brand content on her social media, especially Instagram, of brands such as Fashion Nova.
In March 2023, she walked on the Los Angeles Fashion Week dressed only in tapes representing a dragon's theme, designed by the artist KING DRAKHAN BLACKHART, @thekingoftape.
How old are SteveWillDoIt and His Fiancee Celina?
Smith is 24 years old as of now and is a Pisces, as she was born on 22 February 1999. Her boyfriend, SteveWillDoIt, is less than a year older than her. He was born on 25 August 1998 and is Virgo.
What are SteveWillDoIt and His Fiancee's Net Worths?
Both SteveWillDoIt and His Girlfriend Celina Smith's respective estimated net worth lies in the range of $3 million to $ 5 million each. 
When did SteveWillDoIt Propose Girlfriend Celina?
In December 2022, SteveWillDoIt proposed to Celina in a romantic setup with a double diamond ring worth $486,000 he got from Adam of White Carat, @adamwhitecarat. She was overwhelmed by his effort and finally said yes.
The two met when he was 14 when both of them were just embarking upon their teenage life. The pair began dating in 2013. 
In 2021, Steve and Celina spread Pregnancy news
On November 27, 2021, the YouTuber uploaded "then vs. now" photos, and in the latest photo, he was seen holding his then-girlfriend, Celina Smith's baby bump. 
"I am officially becoming a happy dad," he captioned the post as he confirmed he and Smith were pregnant. 
In the post, his close friends and fans left congratulatory messages 
In another instance, during the 2022 New Year, the YouTuber took to Instagram to wish his followers a Happy New Year. 
He uploaded a photo with his girlfriend, who was seen kissing the YouTuber on the cheeks,

StevenWillDoIt's New Year photo of him and his girlfriend (Source: stevewilldoit/Instagram)
"2022 is gonna b the best year ever. It will be a movie we are gonna have 10010 new variants and aliens are gonna come. Happy New Year I love u guys," Deleonardis wrote in the caption. 
He also included the hashtag "happydad."
Stevewilldoit Uploads a Video of his Pregnant Girlfriend Celina
Similarly, on YouTube, Steve Deleonardis uploaded a video titled 'My Girlfriend is Pregnant! (BABY STEVE).'
The title led many fans to wonder, "Is stevewilldoit a dad?"
The vlog featured Deleonardis and his friends hanging out with 'Im An Island Boy' rappers Kodiyakredd and Flyysoulja. 
They played pool, and Deleonardis' friend Georgie participated in a rap battle with the Florida-based twin rappers.
In the last 5 minutes of the video, the YouTuber, Smith, and his friends were roaming around Mexico City.

SteveWillDoIt kissing his girlfriend, Celina Smith's baby bump (Source: SteveWillDoIt/YouTube)
Before the tour of the city began, Deleonardis shared with the viewers that his girlfriend, who was spotted with a large baby bump, was pregnant. 
"All right boys now I'm in Mexico City and I am here with Celina, my baby mama and we are here is Mexico City to celebrate the pregnancy," said the YouTuber as he stroked his girlfriend's baby bump. 
He even bent down and kissed Smith's bulging stomach, and after that, they toured the city. 
However, toward the end of the video, Smith was about to indulge in a glass of wine. 
That's when Deleonardis revealed that the pregnancy was a prank and showed the artificial pregnant belly that Smith was wearing. 
Fans are Confused About the Fake Pregnancy prank
However, despite the YouTuber confirming that it was all a joke, some fans were still confused. 
On February 27, during her birthday weekend, Smith uploaded a photo of her in a bikini posing on a yacht. 
She had a flat and toned belly, leaving fans to wonder when she had given birth.  
"That was a quick pregnancy," one user wrote while another one commented, "no clue if she was ever pregnant or not."
A third user asked, "where the baby bump at?"
Some users even suspected that Deleonardis might have forced Smith into getting an abortion as they are both at the height of their careers. 
It looks like these confused fans have not watched the YouTube video where it was clarified that the pregnancy was a joke.