SteveWillDoIt Got Girlfriend Celina Smith to Join OnlyFans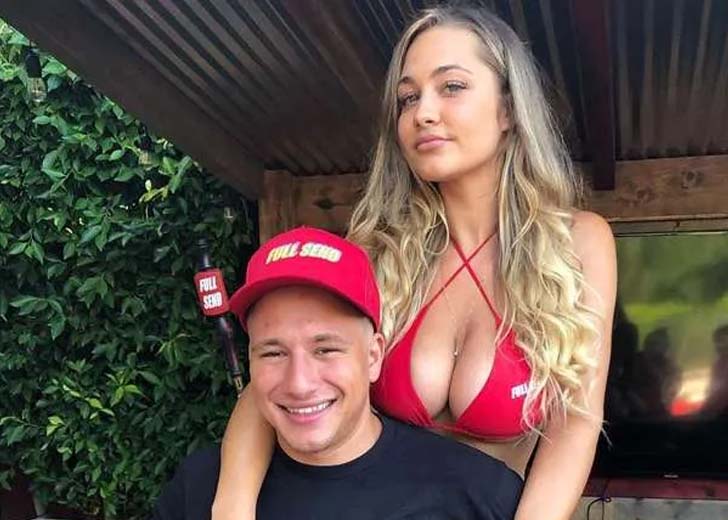 When OnlyFans first came out in 2016, it was for fans who wanted exclusive access to their favorite creators based on paid subscriptions. 
But now, joining the site has become a rite of passage for popular influencers. 
Many social media influencers are flocking to OF to expand their income. 
One such influencer is Celina Smith, the girlfriend of popular YouTuber, SteveWillDoIt, whose real name is Stephen Deleonardis. 
In a recent Q&A segment that Smith did on Instagram, she answered some queries fans had about her being an OnlyFans content creator. 
One user asked her how Deleonardis felt about her putting up NSFW content on Instagram and OnlyFans. 
She replied that the YouTuber was supportive and that he was the one who encouraged her to join OF.
Another user asked her if she was "natural" or had gotten any plastic surgery enhancements, to which she said she was all-natural. 
SteveWillDoIt and Celina Smith's Relationship
During an appearance on Bradley Martyn's Raw Talk podcast, Smith opened up about her OF career and relationship. 
She iterated that the stigma around influencers joining OF was dying, and more people were accepting it these days. 
She added that people didn't just have to post explicit content and that many people had cooking shows. 
Besides her OnlyFans career, the influencer also discussed her relationship with the YouTuber. Smith revealed they did everything together and were "partners in life." 
Meanwhile, Deleonardis added he was crazy and consumed by work and YouTube and gambling, and luckily for him, his girlfriend understood all that. 

SteveWillDoIt's girlfriend Celina Smith talking about her OnlyFans and relationship. (Source: Bradley Martyn's Raw Talk Clip/YouTube)
"I am a crazy psychopath. I am moving to a condo in Mexico, and I made that decision in life two days. That's a spontaneous crazy decision that no one makes but she [Smith] gets it," said the YouTuber. 
When the host asked Smith if she ever had doubts about their relationship working out, she explained she did, especially when Deleonardis was occupied with work and traveling. 
But she added she understood it was his job and for work.
And despite his hectic schedule, sometimes Smith needed space, so it was all about mutual respect and understanding between the two. 
SteveWillDoIt and His Girlfriend Pranked Fans
Another one of the questions that Smith received in the Q&A mentioned above was about when she and Deleonardis were going to have a baby. 
She noted she wanted one at the moment, but she would change her mind next week. 
Previously, the couple pranked their followers, claiming that the YouTuber's girlfriend was pregnant. 
On November 28, 2021, Deleonardis uploaded a "Then VS now" Instagram carousel of him and Smith. 
In the first photo, he and Smith looked loved up, and in the second photo, the YouTuber was touching Smith's baby bump. 
The YouTuber then uploaded a YouTube video titled "My Girlfriend is Pregnant! (BABY STEVE)."
Deleonardis, Smith, and their friends were roaming around Mexico in the video. 
Smith spotted a very large baby bump, but towards the end of the video, the OnlyFans model removes the artificial pregnant belly and clarifies it was a prank.