SteveWillDoIt and Girlfriend Celina Smith Reveal They're Pregnant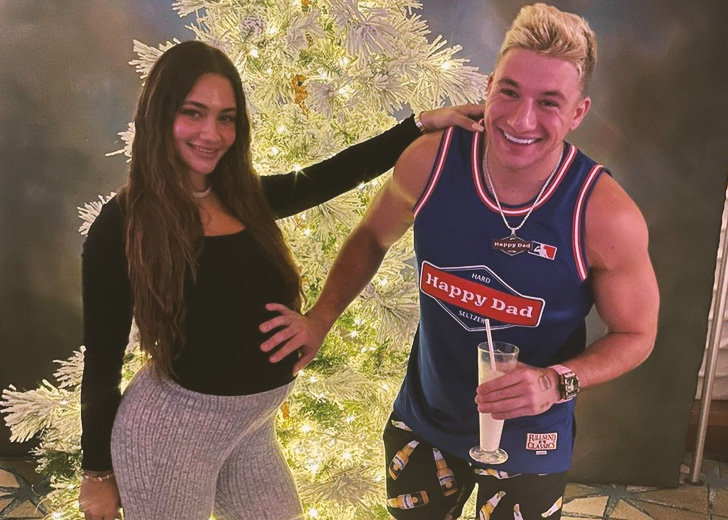 Stephen Deleonardis, famously known as SteveWillDoIt, is becoming a father.
The YouTuber, best known for his insane stunts and food challenges, made the news official via Instagram, stating he and his girlfriend, Celina Smith, are expecting their first child.
In his November 27 post, he shared an old snap of the couple, along with a recent click, comparing how they were "then" versus "now."
The recent click saw them happy, as Smith showed off her baby bump while Steve touched her growing bump.
"Then vs now. I am officially becoming a happy dad @itscelsmith," the YouTube content creator captioned his post.
Steve later took to his Instagram stories to imply that he and his sweetheart were in Miami for a brief vacation. Hence, the announcement picture was clicked during their visit to Miami.
"Goodbye Miami I love u so much. @itscelsmith is pregnant [sic]," he wrote in the story.
Friends and Fans React to the Pregnancy Announcement
The pregnancy announcement surprised many fans and close friends of the couple, who soon dropped congratulatory messages on Steve's post.
"Great father coming," the YouTuber's friend Salim, a comedian, commented.
Someone added, "Congrats my brother! Wish you nothing but the best!"
"dude they been back together like 2 weeks it feels like like wait what?!" another wrote suspiciously.
Another fan said, "Ur gonna be a great dad."
Who Is SteveWillDoIt's Girlfriend, Celina Smith?
On October 22, 2021, Steve posted an adorable picture with Smith on Instagram and suggested his followers head to his YouTube to learn more about the two's relationship.
In a YouTube video posted on the same day, he introduced Smith as his girlfriend. But who is she?
Steve's girlfriend, Smith, is a 22-year-old internet model and hails from Los Angeles. In addition, she is hugely popular on OnlyFans.
She presently has over 340 posts on the platform and regularly interacts with her supporters there. Her bio on the platform even states that it is the only place fans can talk to her directly.
Smith has over 119,000 followers on Instagram, where she regularly posts her recent pictures and videos.
SteveWillDoIt and Celina Smith's Dating Timeline
According to HITC, SteveWillDoIt and Smith have been in an on-and-off relationship for a few years.
The two reportedly met in high school and made many prank videos together in the following years.
In her October 30 Instagram post, she suggested they had been together for a long time, revealing she had lost her virginity to him. "Fun fact I lost my virginity to this one," she wrote in her post.
"Steve you have accomplished a lot at a young age but your greatest prize is that girl right next to you man. She is gorgeous inside and out - wishing you both nothing but happiness," one of Smith's followers also commented.
However, the couple had to split because of the cheating allegations that surfaced against Celina. But the allegations were never confirmed.
During their breakup, Smith was also rumored to be dating social media star and photographer Jason Pagaduan, best known as 905Shooter. But, again, the rumor was never confirmed.
Now that Steve and Smith are back together and expecting their first baby, fans are rooting for the couple.