Fans Request to Deplatform Sienna Mae Gomez after Jack Wright Exposed Her of Sexual Assault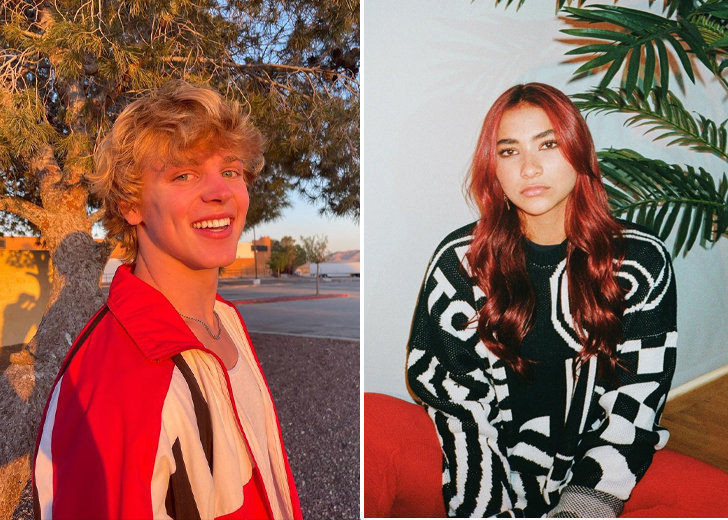 Trigger Warning: The content includes references to topics such as sexual assault. Reach out to the National Sexual Assault Hotline at 1-800-656-4673. 
Jack Wright finally told his story about the allegations of sexual assault at the hands of his childhood friend, Sienna Mae Gomez. 
After hearing his side of the story, many fans and followers are asking to deplatform Gomez. They want her to take accountability for her actions and face their consequences. 
Wright and Gomez were childhood friends, and they used to make a lot of TikTok videos together. As a result, their fans shipped them together, and many believed they were a couple. 
But soon, they drifted apart, and fans were curious if something had happened between the two. Then, accusations against Gomez started coming up where she allegedly abused Wright. 
What Happened Between Jack Wright and Sienna Mae Gomez?
Wright's friends exposed Gomez by releasing a video where she sat on top of unconscious Wright and kissed him. They accused her of sexual assault and verbal abuse, but she denied all the allegations. 
Regardless, her fans canceled her, and she lost a good deal of sponsorships after the scandal. Wright had said nothing about the accusations, but just a simple statement about wishing the best for his childhood friend.
Then, after a couple of months of the scandal, Wright publicly spoke about it. Finally, on January 12, 2022, he uploaded a TikTok where he said he would soon release a video talking about the allegations.
He there said that a couple of other guys accused Gomez of sexual assault. Then, on January 21, 2022, Wright uploaded a YouTube video titled, 'what sienna mae did to me.'
There, he detailed everything that happened between him and Gomez. Most of the allegations of sexual assault and verbal abuse were shockingly heinous.
As a result, Wright had a hard time speaking up about it in the past and letting his fans know about Gomez's behavior. 
Sexual Assault Allegations against Sienna Mae Gomez
In his video, Wright said that a TikTok video inspired him to come out and talk about the allegations. He initially believed that no one would understand him, but now it was time to speak his truth. 
Initially, Wright and Gomez were just friends, and nothing was going on between them. But slowly, Gomez turned their friendship into something else that Wright was not comfortable with. 
Wright was friends with people in LA, and he introduced Gomez to his circle. Soon, she gained popularity and started flirting with other people and going to parties. 
Wright did not mind any of those since the two were never exclusive or dating. But when he did the same, Gomez did not like it. 

Jack Wright posing for a picture at a beach. (Source: Instagram)
She yelled at him and scolded him in front of everyone. In one instance, she took him to a toilet at a party and tried to make out with him even though he was saying "no."
His other accusations included Gomez trying to touch him when he was asleep, getting naked in his room, trying to force him to get intimate, and following him around.
Wright noted that Gomez never understood when he said "no" to her and tried to touch and kiss him without consent. Later, she would say sorry, and he would forgive her. 
Gomez was after Wright so much that he hid from her when she was around. He pointed out that she never respected his boundaries and came after him when he was the most vulnerable. 

Jack Wright exposed that Sienna Mae Gomez had assaulted other men on his YouTube Video. (Source: YouTube)
Wright said he was stuck in a toxic cycle with her, and he could not space. In addition, Gomez used to abuse him so much that he was used to all the assault and advances towards him. 
Moreover, Wright is not the only victim of Gomez. He shared several screenshots of other boys who had the same accusations as him. She allegedly manipulated and abused all of them. 
Wright was glad that the video posted by his friends showed everyone the true colors of Gomez.
He confided he was never silent about the allegations since he constantly spoke about them with his friends, family, and counselor. 
He admitted he would never be the same person he was before Gomez, but now, he learned to be bold and strong. Gomez has not responded to the accusations at the time of writing.