Shailene Woodley's Secret Illness Helped Her Block Judgmental Noise
Shailene Woodley says her health is improving, but it taught her a lot.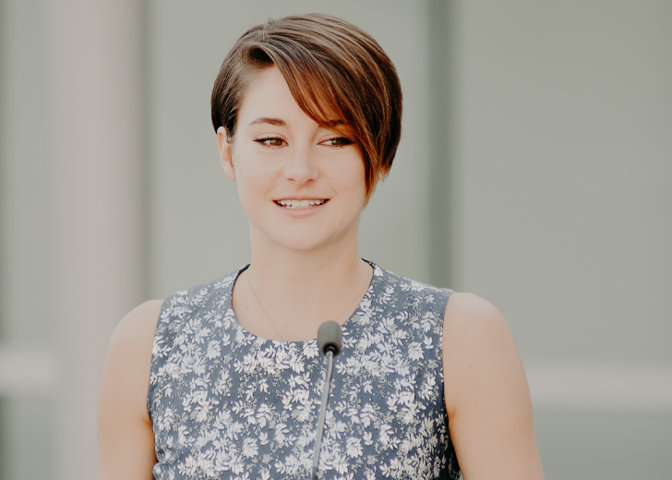 Since the age of five, Shailene Woodley has been acting, but fans were probably first acquainted with her when they watched her on The Secret Life of the American Teenager for five seasons.
Her role in the coming of age dramedy series garnered attention from fans and critics alike. 
Since then, she has impressed everyone with some standout performances in films, including Fox 2000's The Fault in Our Stars, where she brought everyone to tears as an adolescent cancer patient.  
She is also known for her role in Big Little Lies, where she plays a sexual assault victim.
But in between her career rise, Woodley had to reject huge blockbuster films because of a health condition she revealed little about publicly. Speaking to The Hollywood Reporter, she said,
I said no to many projects, not because I wanted to but because I physically couldn't participate in them. And I definitely suffered a lot more than I had to because I didn't take care of myself.
However, the actress revealed there were some upsides to her illness — it made her learn quickly not to care what people thought of her. She explained that it took longer for her to heal her body and mind when she paid attention to all the surrounding noise, so she changed her approach. 
Her illness taught her to take better care of herself, focus less on negativity, and stopped her from trying to curate a perfect life on social media that is plaguing her generation. 
Woodley added that she had compassion for her generation and the one after because they would struggle with social media and the addictive and self-destructive qualities of validation that users sought.
Woodley's Instagram account is far from glamorous, as she is sincere in her approach, uploading only content that closely mirrors her real life.
Her content consists mostly of her drinking wine, promotions for her upcoming movies, and action alerts about political causes. And thanks to her newfound approach, she said her health was improving. 
Taking Scoliosis in Stride
Although the actress has said little publicly about the health problem mentioned above, she has spoken openly about her scoliosis. 
At 15, she was diagnosed with the illness later than most because she passed a middle-school scoliosis screening. 
Woodley recalled that her best friend first told her that her spine was twisted in an "S" shape when she bent over. After that, her mother took her to the doctor for a diagnosis, and her spine indeed had a 38-degree curvature. 
A few degrees more, and Woodley would have had to undergo surgery. So instead, she wore a chest-to-hip plastic brace for 18 hours a day, which she revealed to US Weekly was very uncomfortable and inconvenient. 
It's like wearing a tacky, disgusting plastic corset for 18 hours a day. In the beginning, it was hard to eat or breathe. And I had to give up cross-country running. But I needed to have it to realign my spine.
After 2 years, the doctors gave her the green light to live brace-free. Today she serves as a positive role model for anyone with scoliosis.