Who Is Serj Tankian's Wife? A Peek inside His Married Life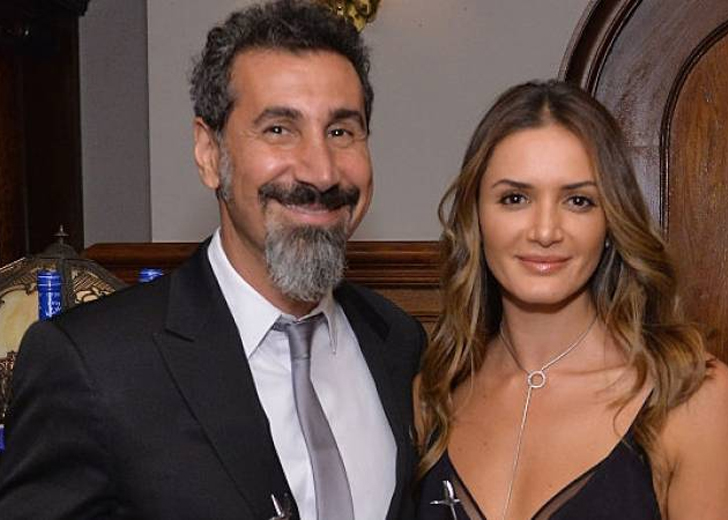 System of a Down frontman Serj Tankian has been happily married to his wife Angela Madatyan for almost a decade now. 
Although Tankian leads a life in the dead-center of the public limelight, the rockstar has managed to keep his life with his wife and family a well-guarded secret.
Good news for fans: there is only so much that someone as famous as Tankian can keep away from the public eye. 
On June 9, 2020, Tankian took to Instagram to celebrate the beautiful relationship he was blessed with.
The post featured a vintage monochrome snap of the couple blissfully lost in the kiss they shared. 
Tankian was facing his wife; she did the same, with her flowing curls shining for the lens. 

Serj Tankian celebrating his wife in an anniversary post (Source: Instagram)
In the caption, the songster shared that he felt blessed to have a life partner who was as passionately committed to justice and equality as he had been his whole life.
Ironically, the latter half of the caption read, "Thank you for adding color and vibrancy to my world and making it our world."
He then closed the caption with, "Sirum em Kez!," which roughly translated to "I love you" from Armenian—his wife's mother tongue. 
Serj Tankian Married His Wife Almost a Decade Ago
As per Armenian Pulse, Tankian married his longtime girlfriend Madatyan on June 9, 2012, in a private, invite-only ceremony in Semi Valley, California. 
The outlet further noted that although the Vanadzor-born Madatyan had been spotted with the vocalist on multiple occasions, public events, and otherwise, not much was known about the enigmatic woman. 
Just over two years into their marriage, the couple welcomed a baby boy into their family. 
Serj Tankian & Angela Madatyan Become First-time Parents
The Chief Creative Officer at DC WarnerMedia, Jim Lee, put up a tweet on October 25, 2014, to congratulate Tankian and his wife as they became parents for the first time. 
As the creative congratulated the vocalist for the arrival of his son, he also revealed that the couple had decided to name their firstborn son Rumi. 
Of course, longtime fans of Tankian know that he released a song earlier this year that was also called 'Rumi.'
The song was an ode written by a doting father in an attempt to put his love for his son into words bound by music. 
Serj Tankian Is a Doting Father
However, the song was not limited to sharing what he felt for his son, as later on in the song, he also passed on wise words for a grown-up Rumi to live by. 
"When you're grown up in your prime, Stay away from God and crime, Embody justice for this tormenting, tormented world. You will learn something every day, Don't dip your toes, go all the way. Be the change you want to see and be the man you want to be.
Apparently, Rumi is also a crowd-pleaser, much like his father.
Back in 2018, when Rumi was just a 4-year-old, he joined his father Tankian up on stage during one of his concerts. 
While most kids his age might have been intimidated by the swarm of fans that his father was singing to, Rumi's first instinct was to reach out for the microphone and say "Hi" to the audience—with a wave.