Is Selena Gomez Dating Chris Evans a Rumor? Know the Truth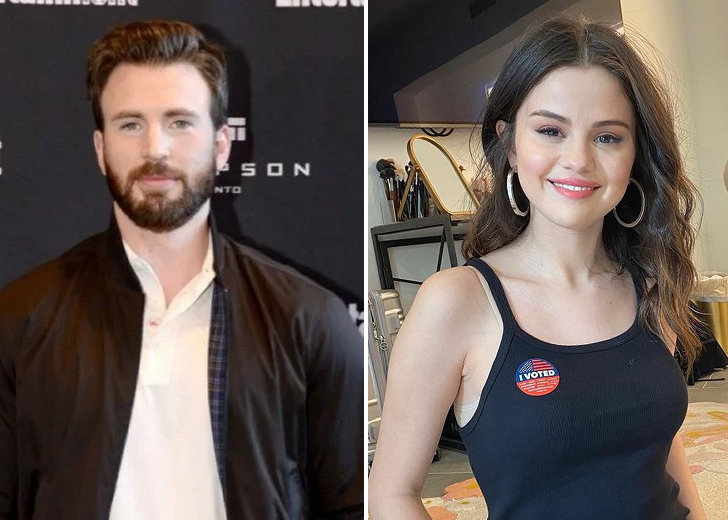 Selena Gomez's love life has always been a talking point since the inception of her musical career.
In recent months, the 29-year-old singer has been linked to Captain America actor Chris Evans. The rumors of Gomez dating Chris Evans started after netizens noticed the 40-year-old actor following her on social media.
The news became a big story since Gomez is one of only 185 people he follows on Instagram. However, the singer is yet to follow her rumored boyfriend back.
Selena Gomez and Rumored Boyfriend Chris Evans Spotted Together
Following the start of the dating rumors, the singer and actor were reportedly spotted leaving the same studio and same restaurant within a day of each other.
Meanwhile, some also speculated that Gomez and Evans were working on a movie or TV show together, and that's why they were seen out together.
In the wake of the situation, a few other fans even implied that they wanted to see them together as a couple.
omg totally shipping Selena Gomez and Chris Evans together 😭 — aneesa (@avenueclouds) November 29, 2021
Someone wrote, "BRO I AM NOT MAD ABOUT THIS RUMOR SELENA GOMEZ AND CHRIS EVANS ARE SUCH A POWER COUPLE." "If Selena Gomez is really dating Chris Evans that gives me so much hope about going from toxic boys to a DAMN MAN," another asserted.
A Twitter user added, "SELENA GOMEZ AND CHRIS EVANS HELL YEA."
Fans Think Selena Gomez Wore Chris Evans' Sweater
The dating rumors continued after Gomez's close friend and famous singer, Taylor Swift, posted a TikTok video of them backstage at Saturday Night Live on November 13.
Fans were quick to notice the Only Murders in the Building star wearing a white cable knit sweater which was similar to the sweater worn by Evans in 2019's Knives Out.
"UHM WHY DOES SELENA'S SWEATER REMINDS ME OF THAT KNIVES OUT SWEATER WORN BY CHRIS EVANS???" someone wrote on Twitter.
Another chimed, "OHH MY GODDDD you guys Selena's wearing Chris Evans knives out Sweater."
Chris Evans Instagram Story Fueled the Rumors
On October 26, Evans posted an Instagram story video of him playing 'Purple Rain' on the piano. Soon, fans pointed that a brunette woman was also seen on the bottom left corner of the video.
It was enough for netizens to assume that the woman in the video was Gomez.
"Is that Selena?!" a TikTok user [@girlgangz773] captioned a repost of the video.
Selena Gomez Once Admitted She Has a Crush on Chris Evans
Back in October 2015, when there were no rumors of Gomez dating Chris Evans, the singer confessed that she had a crush on the Gifted actor during an appearance on Watch What Happens Live With Andy Cohen.
"I kind of have a crush on Chris Evans. Isn't he cute? He's very cute," Gomez said at the time.
Selena Gomez and Chris Evans Have Not Addressed the Dating Rumors
Even though the dating rumors between them have been swirling around the internet for months, Gomez and Evans have not addressed the rumors.
That's also why believing in the rumors might not be the best option.
Before her rumors with Evans, the famed singer was also linked to her Only Murders in The Building co-star Aaron Dominguez. But she later declined the news, stating she was not dating Dominguez.