Sean Lock's Weight Loss Was a Sign of His Secret Cancer Battle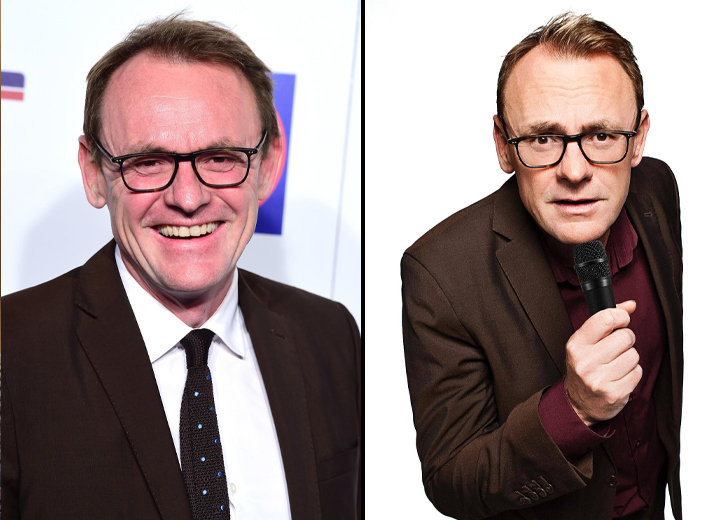 Close to a year after his death, Sean Lock is back on the news.
The reason? The 8 Out of 10 Cats Does Countdown team aired Lock's last episode that was filmed before his death.
The episode eventually ended with a tribute to the comedian, with a pre-credits message reading, "In loving memory of comedy legend Sean Lock, 1963 – 2021."
In the wake of the situation, many fans got emotional while a few others were found discussing Lock's weight loss — before he passed away.
The fans stated that the famed comedian's bad health was evident because he had lost visible weight in the last few years.
Fans Discuss Sean Lock's Illness and Weight Loss
First things first — Lock was diagnosed with lung cancer a long time ago, but he chose not to reveal it in public and fought a secret battle.
He continued to work and more especially played a prominent part in the British comedy panel show 8 Out of 10 Cats Does Countdown. He was one of the two regular team captains, along with fellow comedian Jon Richardson.
So a few months after his death, a user on YouTube posted a video on the platform, featuring a compilation of Lock's final appearances on 8 Out of 10 Cats Does Countdown.
In the comment section, however, fans praised the late comedian's dedication towards his work and sense of responsibility to entertain his audience despite the evident illness.
"Poor Sean. He really was unwell here; but still carrying on like the brilliant man he was. It's such a shame he's gone," a user commented on the video.
Another remarked, "There's a man, clearly ill can't be feeling very good, but right to the bitter end he's making other people laugh and bringing joy to the world. We can all learn something from him."
Is it me, or does Sean Lock sound quite poorly on 8 out of 10 Cats? His voice is kinda wobbly. And he has lost weight. Hope he is ok. 😧 — mellymelmelmel (@pikminlover) August 24, 2018
Is poor Sean Lock ill? That's dramatic weight loss and ageing.So sorry if it's as bad as it looks. Even more sorry if he's fine!!Still funny https://t.co/mDR810ZuZV — Kimble Di (@KimbleDi) September 15, 2017
Similarly, a fan also recalled watching those episodes before his death when the fan was unaware of his cancer. At that time, the fan said they felt he looked very skinny and frail; and now, they finally know the reason why he looked so.
Weight Loss and Secret Cancer Battle
Like the latter fan, Lock's fans were totally unaware of the comedian's secret cancer battle.
That said, his weight loss hinted at his bad health, making fans worry about him for a very long time.
Prior to his weight loss and battle against cancer, he was a very charismatic comedian, who often wore his smile along with his rectangular black-framed glasses.
Lock was also very energetic on the stage with his funny expressions and stage movements.

Fans think Sean Lock had weight loss due to his lung cancer. (Photo: Twitter)
But the sad news had to eventually come out — and when it did, it broke many hearts.
The fellow comic Bill Bailey was one of the first people to reveal the news of his death and cancer to the world in August 2021.
During an interview, he stated that Lock continued to work despite his illness, which helped him leave a fortune of over $4 million to his family.
"He's amazingly courageous and tough individual who was mentally strong throughout the whole time. I'm just grateful for the time we have had together," Bailey said.
Lock is presently survived by his wife Anoushka Nara Giltsoff and the couple's three children.