Sean Gunn and Wife Natasha Halevi Were Set Up by the MCU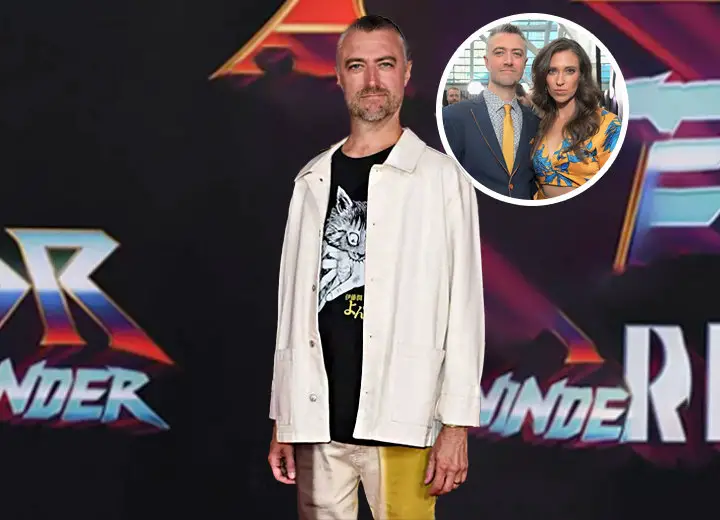 Sometimes, love is just meant to be. The universe sets up two people to be together.
Sean Gunn and his wife, Natasha Halevi, too, were set up by a universe. However, instead of the real one we live in, they were brought together by a fictional one — the Marvel Cinematic Universe.
Gunn and Halevi met when he was portraying Rocket, a beloved MCU character and a mainstay in the Guardians of the Galaxy franchise. Rocket basically became their matchmaker, setting them on a path of love and picnic wedding.
How 'Guardians of the Galaxy' Brought Sean Gunn and His Wife Together
Gunn completed filming the third installation of the Guardians of the Galaxy franchise in early May 2022. On that bittersweet occasion, Halevi posted a tribute to her husband and his work as Rocket in the hit franchise.
On May 7, 2022, alongside a cute, albeit blurry, picture of the two kissing, she wrote, "Besides being insanely proud of his work and commitment to both Kraglin and Rocket, it's a whole other emotional thing too."
"Without his work as Rocket, we would have never met when he was working on Avengers," she said, who met Gunn in Atlanta.
According to her, Rocket turned her "3 week job in Atlanta" into a 5-year "southern journey." And the raccoon changed her life forever, leading her to meet Gunn and later get married to him.
Gunn and Bradley Cooper have portrayed Rocket, a space raccoon with the incredible ability to pilot a spaceship and handle blaster guns, since its introduction in the MCU in 2014. While Cooper is the voice of Rocket, Gunn's movements were the basis for his physical appearance.
Besides Rocket, he also portrays Kraglin in the Guardians of the Galaxy, the Avengers franchise, and the Thor movies.
Ending her lengthy post, she joked about Gunn's work for Rocket and wrote, "Thanks @jamesgunn for making your brother crouch/walk for all these years."
Sean Gunn and Natasha Halevi's Dating Life and Picnic Wedding
The couple met around early 2013, as that was when the first installment of the Guardians of the Galaxy started filming. After dating for a good while, the couple got engaged on June 11, 2018.
He proposed to her during their vacation in Kyoto, Japan, and they celebrated the happy occasion there. They also uploaded a lot of pictures on their Instagram stories to keep everyone in the loop about how everything went.
Then on July 15, 2019, came their "picnic wedding." The couple had unorthodox nuptials held at Catalina Island, Southern California.
The wedding venue, which looked like a park in the pictures, comprised imported Maasai Shuka blankets imported from a small vendor in Kenya spread across the lawn, and baskets of treats like cheese, Savannah Bee Company honey, disposable cameras, and colorful umbrellas atop the blankets.
Gunn and Halevi's choice of honey was a throwback to their first date — "We are partial to Savannah; it was our first date when we met while working in Atlanta," she told People magazine after their wedding that his brother, James Gunn, officiated.

Sean Gunn with his wife, Natasha Halevi, and their guests at their wedding in 2019. (Photo: Instagram)
They had set out to "break the wedding rules" and provide everyone with enough space and freedom to have fun at the wedding.
For the theme, they just told everyone a phrase — "1920s disco ball goes to the beach" — which she said meant "be fun, be fabulous, be colorful, be shiny, be awesome." They did not want to outshine anyone on their special day, thus the request for flashy dress-ups.