Scott Porter Is on a Mission to Fight Huntington's Disease for Wife Kelsey Mayfield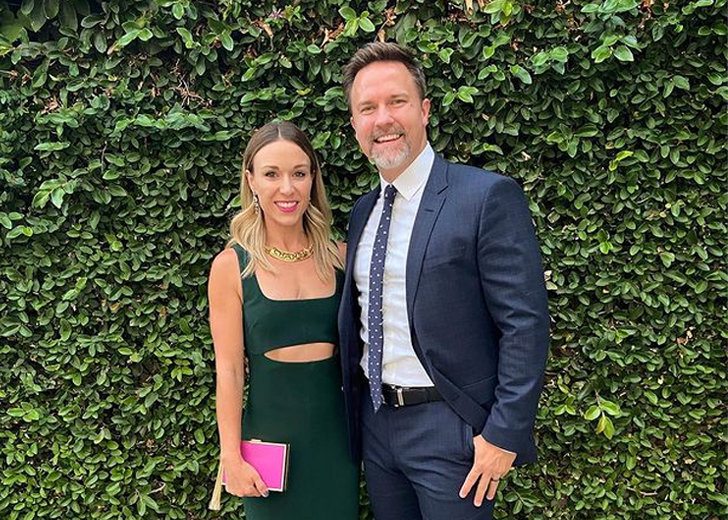 Scott Porter has made it his goal to fight Huntington's Disease with The Huntington's Disease Society of America.
The Ginny & Georgia actor opened up about the personal reason that inspired his fight. 
Shortly after his wedding with his wife, Kelsey Mayfield, his mother-in-law was diagnosed with Huntington's disease. Later, his wife also tested positive for the brain disease gene. 
This means that she will experience the effects such as depression, mood swings, memory lapses, and involuntary movements in the future. 
"I hope that one day I don't have to sit my kids down and fully explain to them what is happening to their mother. That's why we're fighting so hard today," said the actor.
Porter teamed up with the Ginny & Georgia cast members for a reunion to raise money to fight the disease. 

Scott Porter and his wife ringing in the New Year (Source: Instagram)
He revealed everyone agreed right away and was excited to meet everyone. 
The actor shared they planned to talk about season 1, converse with the fans and raise money for a worthy cause simultaneously. 
Scott Porter and His Wife
Porter and Mayfield met in 2008 on the set of NBC football drama, Friday Night Lights. 
The Ginny and Georgia star played an injured high-school football star, Jason Street, while his wife was a cheerleader at the University of Texas at Austin. 
They eventually started dating, and Porter revealed their first sweet and simple with "sushi and a movie."
After four years of courtship, more than a year of being engaged, the couple tied that knot in 2013 at Camp Lucy, Dripping Springs, Texas. 
Before the wedding, Porter shared they wanted to "get married under a Texas sky, and it's going to be a kind of rustic chic wedding."

Scott Porter with his family (Source: Instagram)
He and his wife specifically chose Austin as their wedding destination because that's where their love story began. The couple exchanged their vows before 140 friends and family members.
At the time, they shared to Us Weekly that they planned to wait a few years before having children. 
"We're not talking about kids right now. We're both very family-oriented and definitely want them down the road, but not right now," said the actor.
Scott Porter and His Children
The actor and his spouse kept true to their words and welcomed their first child, a son named McCoy Lee Porter, in May 2015. 
At the time, Porter took to Instagram to announce the birth of his son, writing his son weighed 8lbs 5 oz and was 20.5 inches with 38 cm head. 

Scott Porter with his kids (Source: Instagram)
According to his post, his wife had undergone 44 hours of labor with no medicine. The actor was impressed with the mother of his child, calling her a gladiator. 
After welcoming their son, the couple had their daughter two years later. 
The Scorpion star announced their second child's arrival on Instagram with a picture of himself cuddling his baby.
"Sweet Dreams, world. Welcome to the world, little lady!" he captioned the sweet snap.
However, the actor did not reveal the name of their daughter. 
Porter often shares glimpses of his family on social media, and it appears the father of two adores his children.