Brianne Howey Postponed Marriage With Boyfriend Amid COVID-19
Brianne Howey starred in Netflix's Ginny & Georgia, portraying a 30-year-old mother who moved into a new town with her 15-year-old daughter and elementary school-aged son.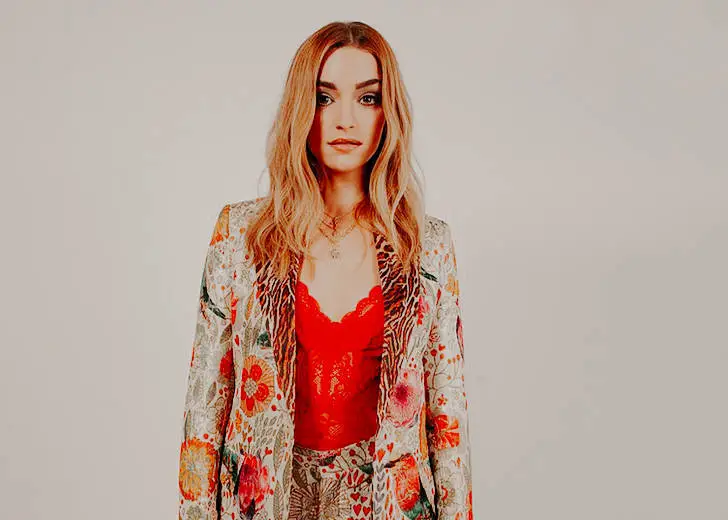 Brianne Howey used to be known for her roles in Horrible Bosses 2 (2014), The Exorcist (2016), and The Passage (2019). While all of these works helped highlight her acting, her latest show, Ginny & Georgia (2021), has overshadowed all her past works.
Debuting on Netflix on February 24, 2021, Ginny & Georgia has now become one of the network's most successful shows, retaining its position on top of Netflix's latest hit for the 15th day in a row on March 12, 2021. Howey plays Georgia, a 30-year-old mother who moves from Texas to New England with her 15-year-old daughter Ginny (played by Antonia Gentry) and an elementary school-aged son, Austin.
Brianne Howey Wanted To Be A Flight Attendant
Howey has found much success as an actress, but initially, she had her sight set on a completely different career path. In an interview with Complex, the Ginny & Georgia star talked about wanting to be a flight attendant when she was a kid.
I didn't really think of acting as a serious career until I was in college. When I was little, I wanted to be a flight attendant or something. I love to travel. My family traveled a lot so I was just always on airplanes and that just looked like fun and the ladies were really cool.
Howey Studied Theater
As Howey grew up, she began to develop an interest in acting. She studied at an all girl's high school in Pasadena, where she realized her love for theater and improv. She only saw it as a hobby back then but changed her outlook on it when she entered college. 
Howey spoke to Cliche Mag about it, "I did it after school [theater and improv classes], and it started consuming all of my time. In college, I started looking at it in a different lens."
The Horrible Bosses 2 actress studied theater at New York University's Tisch School of the Arts and, as a student, worked on several shorts. She even appeared as Stacy in 90210.
She graduated from NYU in 2011 and began acting professionally.
Acting Career
Following her graduation, Howey appeared on multiple shows, including NCIS: Naval Criminal Investigative Service and a three-episode arc on Revenge.
She made her feature film debut in 2014, starring alongside Jason Bateman, Jason Sudeikis, Charlie Day, and Jennifer Aniston in Horrible Bosses 2.
Howey played Kat Rance in the 2016 horror series The Exorcist and also portrayed Scarlet, a model in I Live With Models (2015-2017). Some of her other works are I'm Dying Up Here (2017), The Passage (2019), Dollface (2019), Scream Queens (2015), and Batwoman (2019-2020).
Ginny & Georgia
While Brianne Howey has starred alongside many well-known faces in multiple works, her most notable work to date is Netflix's Ginny & Georgia.
The series is a comedy-drama centered around the mother and daughter duo (Howey and Antonia Gentry) as they try to settle down in New England after years on the run. The show is a blend of classic high school drama, murder mystery, comedy, and coming of age story.
Fans have likened Ginny & Georgia to Gilmore Girls, albeit with a dark twist. It also touches on the subjects of race, gender, sex, and sexuality.
Howey described her character as a confident and calculating woman who doesn't take no for an answer in an interview with Entertainment Studios.
Georgia is a force to be reckoned with. She is confident and calculated. She doesn't take no for an answer. She has literally no boundaries. Especially when it comes to her daughter Ginny. She has a very unconventional parenting style that leads her to be quite diabolical at times. And she wraps it all up with some southern charm.
As for the show, Howey described it to EW as a mother-daughter coming of age story where both of them are trying to figure out life in a new town.
Ginny isn't the only one with some growing up to do and they definitely butt heads. They fall apart, put themselves back together, but they're navigating all the complexities of life, the complexities of being a woman, and trying to figure it out in this new town, with new love interests and their finances… There's a lot going on.
Howey Is Engaged 
The Ginny & Georgia star is engaged to her long-time boyfriend, Matt Ziering. In an interview with Los Angeles Magazine, the two shared the story of how they met.
They met around 2015 for the first time, running into each other three nights in a row at different bars through some mutual friends. Howey and Ziering started dating some time later.
The couple was supposed to be married in October of 2020 but postponed their wedding because of the pandemic. In the same interview, Ziering expressed that he and Howey could hopefully get on with their marriage in 2021.
They Got A Puppy
While Howey and her fiance could not take their wedding vows because of the coronavirus pandemic, they did get a puppy in 2020. They named him Bodie.
The actress posted several pictures of her dog on Instagram and showed appreciation for her pet in January of 2021.
This guy is 1! Bodie boy you opened up a whole new space in my heart and brought more joy, parkour, sticks and rocks to the last year than I ever could have imagined!