Antonia Gentry's Boyfriend Ezra Pounds Talks about His Music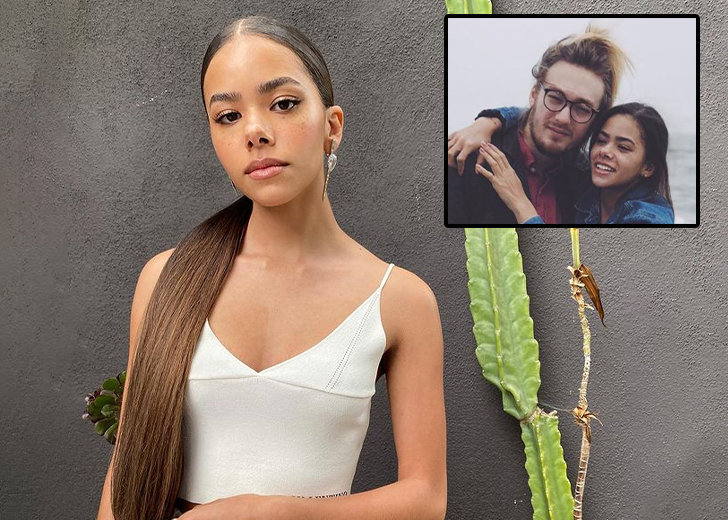 If you have watched Ginny and Georgia, you would recognize Antonia Gentry, who stars as the titular character Ginny Miller.
Unlike her character torn between two suitors, Gentry has eyes only for her boyfriend, Ezra Pounds. 
The coming-of-age series tells the story of Ginny and her mother Georgia, starring Brianne Howey, who put down roots in a New England town after being on the move for the past decade.
There is a role-reversal equation between the mother-daughter duo, and plenty of funny banters in-between. But these are not the only things the series promises to offer. 
The series tackles discrimination, mental health issues, and sexual orientation, including teenage angst and problems.
And while Ginny might have boy problems, Gentry's love life is seemingly free from drama. Here is everything we know about her personal life and boyfriend. 
Antonia Gentry's Relationship with Boyfriend 
According to Pop Sugar, Gentry and Pounds have been together since 2012. 
The duo presumably met at Davidson Fine Arts high school and started dating. They went Instagram official with their relationship in 2019 during Valentine's Day. 
"Happy Valentine's Day to my love forever. Big things are coming your way fast. I'll be here with you the whole way through," wrote Gentry's boyfriend for her during the special occasion. 

Antonia Gentry's boyfriend, Ezra Pounds. (Source: Ezra Pounds/Instagram)
The composer dedicated a lovely message for Gentry's 22nd birthday on September 25, 2019.
He commended her work ethic and claimed that Gentry was one of the most ambitious and talented artists who motivated him. 
Pounds also promoted Gentry's Netflix series in a dedicated Instagram post.
He expressed his excitement for his "best friend, soulmate, and lover" and urged all of his followers to watch Ginny and Georgia when it premiered.
Since making their relationship official, the two posted multiple pictures of each other on social media.
However, they have now deleted most of the posts, seemingly trying to keep their relationship on the down-low. 
Antonia Gentry's Boyfriend Ezra on Music 
Pounds' Instagram page reveals that he is an Atlanta-based music producer and composer. 
During an interview with The Music Enthusiast Blog in June 2021, the musician opened up about his musical journey and his latest song 'Bestfriend.' 
According to Pounds, he has been a musician for as long as he can remember. He started playing violin and piano at 11 and became serious about music when he joined high school.
He ended up studying music at Georgia State University. He studied music technology and learned how to record and produce.
The musical artist shared that it was difficult to break into the music industry, and thus his primary job was giving private violin and piano lessons to students. 
As for his track 'Bestfriend,' he mentioned he made the song's beat in early 2019 but didn't use it at the time.
He revisited his works around a year later and found the beat during quarantine. He worked on it and completed the song, releasing the number in July 2021.
The singer revealed the special people in his life inspired him to write the song.