Sauce Walka and OnlyFans Star Bambi Doe Give Birth to Their Baby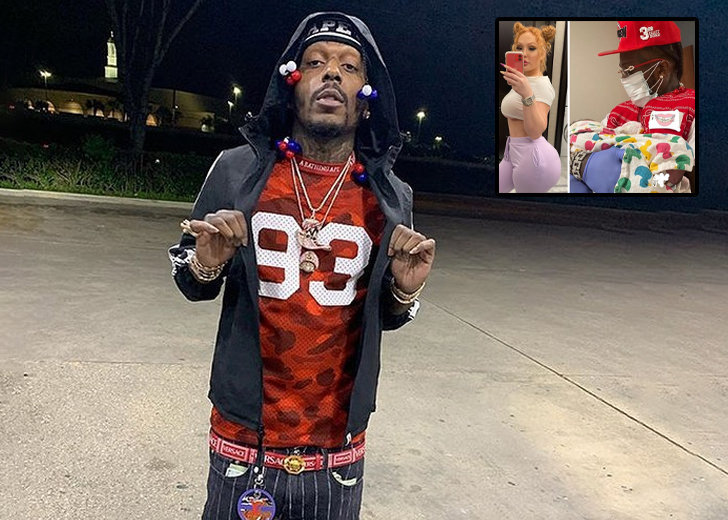 Congratulations are in order for the new parents, Sauce Walka and OnlyFans star Bambi Doe who gave birth to their baby. 
The rapper's fan page took to Instagram and shared a photo of the rapper holding his baby. 
Beside the photo, there was a picture of his baby mama, who was posing in front of the mirror. 
No details were revealed in the caption, and instead, it just had a trophy emoji. 
The comments section was full of congratulatory messages from the rapper's fans, but the mood was slightly different on Say Cheese TV's comment section. 
Say Cheese TV had also uploaded the same photo the rapper had shared and congratulated Walka on the birth of his child. 
However, unlike the other comments section, fans on this post seemed to leave messages criticizing the rapper. 
They judged him for having a baby with Bambi Doe, who is associated with the adult film industry. 

Sauce Walka and Bambi Doe welcome their baby (Source: Say Cheese TV/Instagram)
Some also compared him to Drake, who had a baby with Sophie Brussaux, who has now retired from the adult film industry. 
So far, the rapper has not responded to the comments. 
Sauce Walka's Sex Tape With Girlfriend Bambi Doe
On May 18, 2020, Walka announced he would release a sex tape with his girlfriend on OnlyFans. 
The 'Ghetto Gospel' rapper took to Instagram and teased the netizens with provocative photos and videos of him shirtless, with a woman showing her back to the camera. 
In the video, his girlfriend was balancing a wad of cash on her back on her derrière while the rapper threw more money at her. 
Meanwhile, in the caption, he wrote, "New CONTENT ON MY 0nlyFanz account! Ft @_bambidoe," and asked his followers to check out the link on his bio. 
According to AceShowbiz, the rapper featured women who stripped and performed for paying customers on his OnlyFans account. 
Other reports have claimed that he controls three women for his OF. Two of them are his assistant, Megan, and his girlfriend, Doe. 
He was always just a bystander in his previous videos. But this time, he joined in on the action with his ginger-haired girlfriend, and they got intimate for the camera. 
Sauce Walka Brags About Bambi Doe
Once, the rapper even took to social media, alluding that his girlfriend was the most profitable on the adult site. 
Last November, Walka bragged about his baby mama's money-making womb with a carousel on Instagram. 
"They say pregnant [cat emoji] is better. Hit the bio for NEW MOVIES [popcorn, video camera, and money bag emojis], @bambidoe_ x @_bambidoe," the rapper wrote in the caption of the photo carousel post.
The rapper was using his social media to publish some pregnancy photos and promote the pay-per-view video the couple had made. 
But some netizens were not too keen on the duo's hustle and criticized them in the comments. 
One user wrote that Sauce Walka shouldn't have had a child out of wedlock and iterated that their choice could affect their kid's life. 
The rapper was not having it and clapped back, revealing that his girlfriend easily made $2million a year from a cell phone.
He said that there was nothing better for his child than a future with parents raking in millions.