Succession's Sarah Snook Finds Love (And a Husband) During Lockdown
Sarah Snook credits the COVID-19 pandemic for helping her find the love of her life.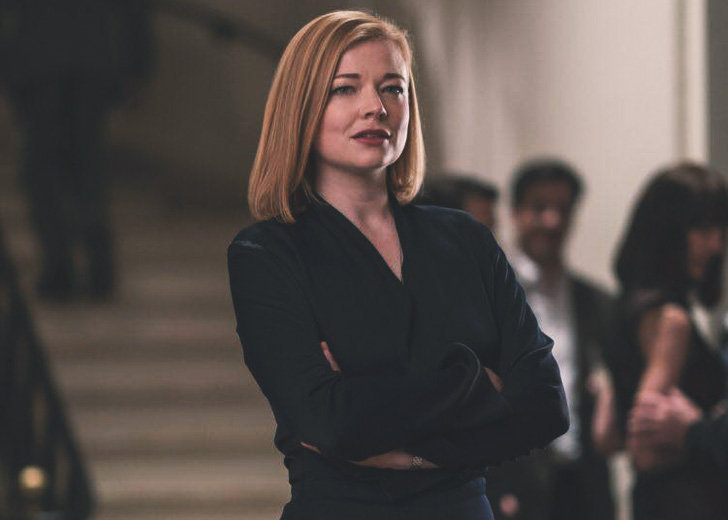 When the COVID-19 pandemic started in 2020, the entire world was turned upside down. With many cases and death rates, it was like a dark cloud of gloominess and sadness had shrouded the Earth. 
However, to some people, there was a silver lining. Brooklyn Beckham and Ben Higgins popped the question to their partners Nicola Peltz and Jessica Clarke, respectively. 
Similarly, Ariana Grande and Dalton Gomez, Gwen Stefani and Blake Shelton, and Nicolas Cage and Riko Shibata are some couples who got married amidst the pandemic. 
Another such celebrity to get hitched was the Succession star Sarah Snook. 
Sarah Snook Married Her Best Friend
Snook recalled the story of her finding love and marrying her best friend to Vogue Australia on October 17, 2021. She got married to comedian Dave Lawson in February 2020 and had kept it a secret before revealing it to the magazine. 
The pair had been friends since 2014, but their relationship was "totally platonic." They have lived and traveled together and, to quote her, "always excited to see each other." 
Unfortunately, neither of them was single back then; they had labeled each other as "best mates." Things took a turn when COVID-19 struck. 
The pair quarantined together in Melbourne at the start of the pandemic. Both of them were single at the time, so slowly, they developed feelings for each other. 
They fell in love, and within a couple of months of dating, Snook went down on one knee and popped the question to her beau in October 2020. Soon, they traveled to the US to get married. 
The pair tied the knot in February 2021 in an intimate ceremony in the backyard of her Brooklyn home. The actress wore vintage velvet Chloe coat, and she and her husband wore Blundstone boots or, in Snook's words, "Blunnies."
The duo got married surrounded by Snook's housemates, and Ash Zukerman, Snook's Succession co-star, witnessed the marriage. 
The actress credited the COVID-19 pandemic for her and her husband's relationship. However, she admitted that while the pandemic was traumatizing to everyone, it benefited her personally.  
It's been a ride. There's so much heartache and sadness in the world, but on a micro personal level, I've been very fortunate.
She went on to say that without the pandemic, she and Lawson would not have ended together this soon, hinting that there would still have some hope for them in the future. 
Sarah Snook's Career 
It has been around 11 years since Snook has been involved in the entertainment industry. Like most actors, she started by acting in a theater when she was in college.
She studied at Sydney's National Institute of Dramatic Art and graduated in 2008. She got the taste of the silver screen with the Australian medical drama, All Saints when she played Sophie in one episode back in 2009.
Since then, she starred in a couple of movies and series and finally got her big break in the 2012 romantic movie Not Suitable for Children. 
She was critically acclaimed in the 2014 psychological thriller Predestination and won several accolades, including the Australian Academy of Cinema and Television Arts Awards and Film Critics Circle of Australia Awards. 
Currently, she is dominating the TV industry by playing the role of Siobhan "Shiv" Roy in the HBO satirical drama, Succession. She has been critically acclaimed and was also nominated for Critics' Choice Television Awards and Primetime Emmy Awards in 2020. 
The first episode out of Season three of Succession premiered on October 17, 2021, on HBO. The remaining eight will be released weekly.