Rosamund Pike Shares Hilarious Stories about Her Children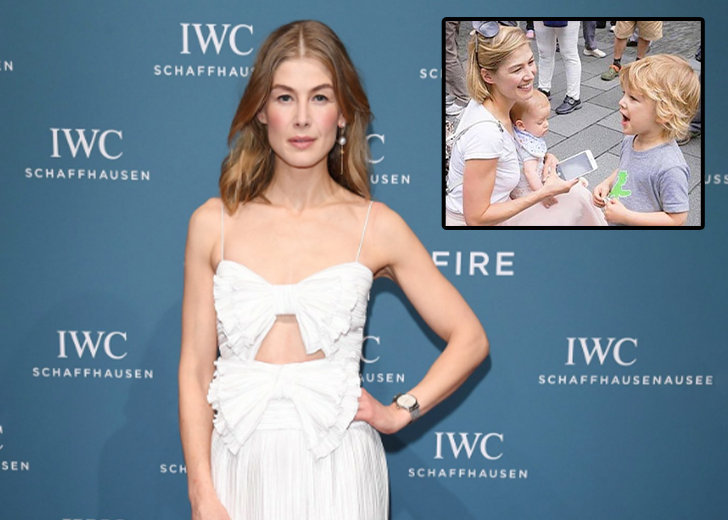 Rosamund Pike has two children with her longtime partner, Robie Uniacke. She gave birth to her first one, son Solo, in  2012, and her second son, Atom, in 2014. 
The Gone Girl star has successfully kept her children away from the limelight. She had never posted their pictures on social media.
Having said that, the seasoned actress has timely shared hilarious stories of them. 
Rosamund Pike's Children Imitated Drunk Partiers 
During a virtual appearance on Jimmy Kimmel Live, Pike recounted a funny incident she encountered while going on a trip with her sons. 
As per her own words, she took her boys for river rafting in a town called Cesky Krumlov during summer.
She knew it was a traditional Czech activity to do with kids; however, she underestimated the fact that the hotspot was famous for bachelorette parties. 
So when they were traveling at the landscape, they came across a group of "scantily clad girls...a group of women in bikinis, with a very large inflatable man..."
"So my kids were fascinated," Pike sarcastically recalled. She added they crossed paths with heavily inebriated people.
Some were falling flat, some were stumbling over the edge of a boat, and some were drenched in mud. The men were splattering all the girls with mud. 
"I mean, my kids have never stopped sort of acting drunk ever since," Pike shared, adding that they were imitating the drunk people. She mentioned her children had an impression that was what adults did. 
Rosamund Pike's Kids Reviewed Toothpaste
During the conversation with Jimmy Kimmel, Pike also opened up about the time her kids had to change their toothpaste.
She explained how children have to shift from the sweet world of childhood into the reality of adulthood, transitioning from flavored toothpaste to "menthol and fluoride and stern kind of dental stuff." 
The Wheel of Time actress noted she was late in making the change. "I think I was supposed to do it around age 6 and I've already got an 8-year-old."
Her children apparently didn't enjoy the transition. They said that Signal toothpaste was "not spicy, very calm," and Colgate Triple Fresh gave "lovely, spaghetti minty breathe." 
Pike and Kimmel both burst into laughter as she pointed out how kids didn't have to know proper adjectives. 
Is Rosamund Pike Married?
Pike has been in an enduring relationship with her partner, and they have been raising their kids together. However, they have not yet married. 

Rosamund Pike and her ex-fiance Joe Wright at the Toronto Film Festival in 2007. (Photo: Wikimedia Commons)
Pike knows well that she is doing things unconventionally.
"You try to do the right thing and the conventional thing, and it doesn't work, and then you're free again," she told Vogue (via US Weekly) in 2012. 
She also acknowledged that she and her partner had their son out of wedlock and uttered it felt "infinitely more right."
Before her relationship with Uniacke, Pike had opted for conventional choices. She had almost made her ex-fiance Joe Wright her husband.
She announced their wedding and invited guests for the September 2008 nuptials. But Wright dumped her for sending the invitation without consulting him.