Robie Uniacke Bio: Reason Why Rosamund Pike Won't Walk Aisle For Him
Admired for wit, straight-forwardness, and intelligence by.... boasts a hefty net worth of ... he was engaged in two failed marriages....marriage between the two was a disaster caused by...shares three children with the... rush for marriage....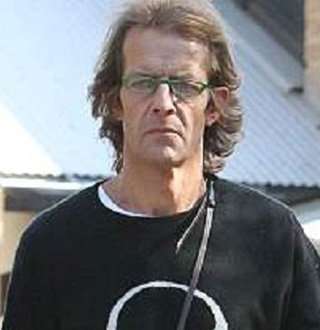 Admired for wit, straight-forwardness, and intelligence by his special someone; the once drug addict Robie Uniacke is a businessperson who is more preferably known as the long-time love interest of the Gone Girl actress Rosamund Pike.
Complimenting his admirable qualities of being witty and intelligent, he is also a mathematical researcher.
As of his business ventures, he is previously said to be an in-charge of three companies (not disclosed). He was the company director of the dissolved IT consultancy company Pale Fire Ltd.
Robie Uniacke Bio: Age & Career Involvements As Businessman
Mathematical genius since an early age and fluent in Mandarin as well; the British native Robie Uniacke was born in 1961 in the UK. He graduated from Eton College in Windsor, England.
He is a low-key person whose professional affiliations and job details have been not clearly disclosed. A once drug-addict turned businessman, he, in fact, was once involved in a controversy regarding his business.
More On Businessmens:  Jared Pobre Bio Reveals! From Age & Married Life With Wife Stacy Keibler To Massive Net Worth
He once served as a company director for the dissolved IT Consultancy Company, he was disqualified from the position after he failed to pay nearly £200,000 to the taxman.
As of now, it is unknown what job he is involved in. But despite all his failures related to the job, he is financially secured by the support of his partner Rosamund Pike. She is a British actress who has starred in movies like Gone Girl, Pride & Prejudice, Wrath of Titans and many more.
His partner boasts a hefty net worth of $9 million and the couple lives in a £2.3m house in North London.
Drug Addiction Destroys Robie Uniacke's Marriage With First Wife
As problematic his professional life is, Robie's past love life history replicates the same mess as well. Before meeting Rosamund Pike, he was engaged in two failed marriages.
His first wife was Emma Howard who was the daughter of late Earl of Carlisle. He married his first wife in 1983 and shared a son named Robie Jojnjo Uniacke. The marriage between the two was a disaster caused by their serious addiction to drugs. The two even ended up in rehabilitation and later divorced in 1988.
See more: Jennifer Ashton Divorced With Husband! Children, Net worth, Education And Much More
After a broken marriage with the first wife, he moved onto his second wife Rose Batstone, an interior designer. He shared three children with the second wife; Hector, Oliver, and Florence. But again his second marriage ended up in separation as well (reason not disclosed).
'I'm Glad I Met Robie' Says Rosamund Pike
After two failed marriages, he found faith in love once again when he started dating Rosamund Pike in 2009. His wife too had a fair share of unfortunate circumstances when it comes to relationships. But she is glad that she met Robie.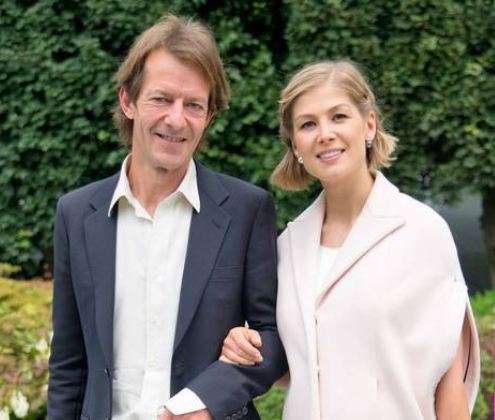 Husband To Rosamund Pike: Robie Uniacke poses with his partner for a picture (Photo: E! Online)
Despite having an age difference of 18 years. his wife describes him as the most interesting person she has ever come across and also credits him for making her fearless. 
They also share two children; son Solo (2012) and Atom (2014) but are in no rush for marriage at all. Robie was twice seen wearing a t-shirt stating Marriage is Gay. This explains the reason why Rosamund Pike isn't walking down the aisle with Robie.
Similar: Jim Toth Massive Net Worth Second Star In Bio; Marriage To Resse Witherspoon Is First
Well to each their own, the couple shares a strong bond of love even without marriage and that's what matters after all!