Rosamund Pike on Perfecting Her Smoking and Vaping Tricks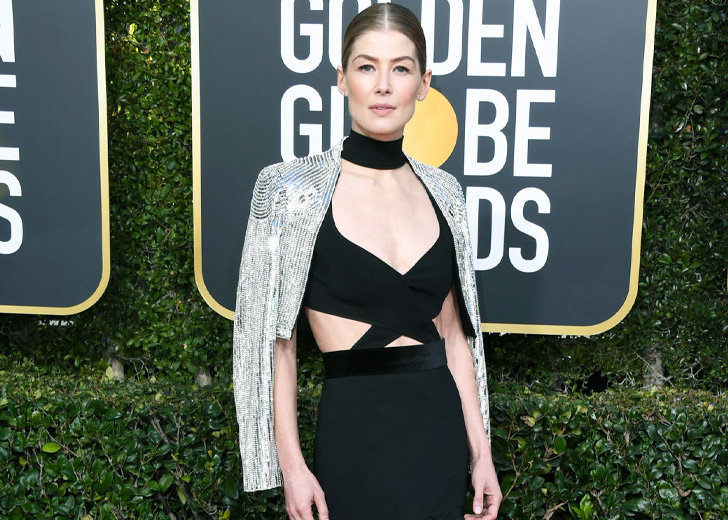 Rosamund Pike, born Rosamund Mary Ellen Pike, is an award-winning actress renowned for her performance in the 2014 psychological thriller Gone Girl. Her other notable acting credits include Die Another Day, An Education, A United Kingdom, A Private War, and I Care a Lot.
It is also not hidden that the actress undergoes extensive workshop sessions to get into her roles, since she regularly brings the best out of herself while portraying her characters.
Pike once learned to smoke to prepare for her award-nominated portrayal of late war correspondent Marie Colvin in A Private War.
"Well, I had to learn how to smoke like a chimney," she revealed during an interview with GQ in February 2019.
Rosamund Pike Is 'Quite a Good Smoker' Now
During an appearance on The Graham Norton Show in October 2018, Pike opened up about her smoking habits and how she felt she had become quite a good smoker.
She first said that her character in A Private War demanded her to change everything, including "my hair, my teeth, my eyes, my walk and I had to learn to smoke."
She continued to share that it was difficult for her in the beginning, but she had become "quite a good smoker" at the time. "It's probably a bit of a dated skill now everyone is vaping," the actress added.
Her Experiences of Vaping
In another interview with The A.V. Club in February 2021, the actress also shared her experiences of vaping that she mainly had while portraying her role as Marla Grayson in the Netflix film I Care a Lot.
In the film, she is usually busy puffing on a vape pen, and according to Pike, the idea behind her character vaping was to provide Marla some "firepower" and "dragon quality."
Explaining Marla's backstory to vaping while speaking with Collider, she said:
The backstory of Marla is that she had a vape business until she was Walmart-ed out of business by a great big discount vape store opening across the street, which she was furious about. I think that was her shot at the American dream played fair. She had a small-time business, she was a small-time business owner, she got screwed and then she thought, 'Right. Chips are down. I'm going all out. I'm gonna play the system like everybody else.' And I think every time she inhales, it's bringing that attitude to it. It's the attitude of having been screwed, and now you're out to screw everybody.
In addition, her character also used vape as a weapon to create irritation to the other person she would talk to on-screen.
"Well, it's a bit different from smoking, which can often seem like a nervous tick," she said of her personal experience of vaping. "And vaping has a sort of slow, steady...It can more be used to unnerve the other person, I think. So it was very interesting thing to do."
Pike later went on to win the Golden Globe Award for Best Actress – Motion Picture Comedy or Musical for her performance in the film I Care a Lot.