Is Quincy Jones Still Alive? Inside the Life of a Music Legend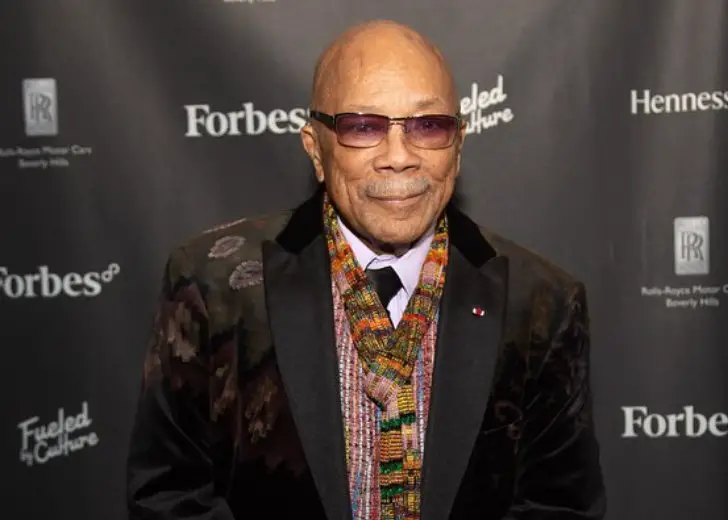 Quincy Jones is one of the musicians who revolutionized the music industry.
With over 70 years of a career in the entertainment industry, Jones has garnered many accolades under his belt. From being nominated for Academy Awards to winning over a dozen Grammys, Jones is a legend.
Jones gained traction in the music industry in the 50s as a jazz arranger. Similarly, he has worked with other acclaimed artists like Frank Sinatra and Michael Jackson.

Quincy Jones' throwback picture when he was young. (Source: Instagram)
It has been around seven decades since he gained prominence, and now, many people wonder if he is still active. They wonder if he is still making music or enjoying his retired life.
However, the question that arises the most is — "is Quincy Jones still alive?"
Is Quincy Jones Still Alive?
Yes, Jones is still alive and well. He was born on March 14, 1933, making him 89 years old as of 2022.
Since the 2000s, Jones is not as active as he used to be in the music industry. He has detailed his work and activities on his website.
He worked with a few artists for their albums, like Anita Hall's 2009 Send Love and Emily Bear's 2013 album Diversity.
Similarly, he also produced music for Alfredo Rodríguez, Andreas Varady, Grace, Nikki Yanofsky and Justin Kauflin. Apart from music, Jones worked on podcasts, software, and TV.
He started his video podcast, Quincy Jones Video Podcast, on July 31, 2007, with Wizzard Media. He shared his knowledge regarding music and his experience to help other aspiring artists.
Similarly, in 217, he started Qwest TV, the world's first-ever video-on-demand subscription, with Reza Ackbaraly. Qwest TV featured jazz and eclectic music alongside concerts, documentaries, original content, and interviews.
Similarly, in 2010, he co-founded Playground Sessions with Chris Vance. The subscription software taught people to play piano with the help of interactive videos.
Jones has also written a couple of books throughout his lifetime. However, his most prominent book is his 2001 autobiography, Q: The Autobiography of Quincy Jones.
He wrote about his childhood, schizophrenic mother, and his struggles without starting his career in music and working with some of the biggest names in the industry.
He also penned his relationship history, life with children, and his friends. He recently released another book, 12 Notes: On Life & Creativity.
He wrote the book by drawing experiences from his own life, including his collaborations and lessons he learned over time.
According to his website, Jones "presents readers with lessons that are hardworking and accessible, yet speak to the passion of self-expression" with the help of his book.
Quincy Jones Is Active on Social Media
Jones is very active on social media, sharing his life and career with his fans and followers. He often uploads pictures of himself and updates people on his life.
Similarly, he also promotes his collaborators' music and news related to him and other day-to-day activities of his life. However, Jones mostly uses social media, especially Instagram, to reminisce about his past.
He uploads old photos of his wives, children, friends, and families. While doing so, he gushes about them and what he was doing back in time.
Most of the posts about his friends and acquaintance are about him appreciating them and wishing them luck.