How Priah Ferguson's Parents Helped Her Prepare for 'Stranger Things'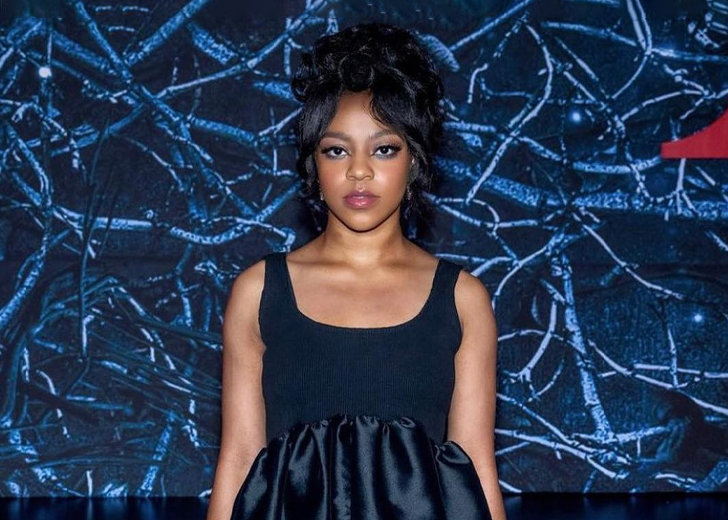 "We are all time travelers."
That's one of the most iconic lines from Stranger Things season 4, and also a figurative truism for most of the younger cast members. Priah Ferguson is a cast member that holds true more for than most others.
A true Gen Z, Ferguson had a lot of catching up to do before she could play Erica, her character on the show, properly. And her parents helped her a lot in that catch-up process.
Priah Ferguson's Parents Helped in Her Preparations
Ferguson, since becoming a sensation through her character, has given a lot of interviews. In most of them, she was asked about how she prepared for her role.
And in most of those interviews, Ferguson has mentioned her parents' input in preparing for the role as Lucas Sinclair's sister (played by Caleb McLaughlin). Her parents had first-hand experience of the '80s, the time period Stranger Things is set in.
She started researching for the role and the time period the day she got the email about her casting. She went into a lot of things from that time.
First were her grandparents' photo albums. She looked through them, getting to know the fashion and style of the time.
Then, her parents pitched in with the things they knew and experienced during their time in the '80s. "My mom grew up in the 80s, so she told me some things about what happened in the 80s and what they did back then," she told Seventeen in May 2022.
She also taught her "some '80s fashion" and gave her feedback on the dresses she wore on set while playing Erica.
"When my grandmother watches the series she says: I remember it!" Ferguson said while talking to Open Tapes. "Or: Your mom had the same shirt."
She also started appreciating '80s hair a lot more. And, already a fan of that period's music, she appreciated them a lot more after learning more from her parents.
Old music and movies helped, too, at which point her dad helped out a bit. Her dad had watched season one of Stranger Things before her.
She watched movies like E.T. and He-Man, her father being a big fan of the latter. "He taught me a lot about that," she recalled during her conversation with Brief Take.

Priah Ferguson's parents helped her understand '80s fashion and entertainment for 'Stranger Things.' (Photo: Priah Ferguson/Instagram)
Stranger Things has always gotten a lot of praise for getting details about the '80s accurate. This impressed Ferguson and her mother as well.
"Everything reminded me of my nana's house, down to the plates and the furniture," she said to The STAR (via Pressreader). "It was cool."
Priah Ferguson's Parents and Family
Ferguson is the older of her parents' two children. She has a little sister, and she uses her traits as clues for Erica.
Born in Atlanta, Georgia, the actress is just 15 but has already been acting for almost a decade. Her parents are in the creative fields, and her mother was the one to first explain to her what acting was.
After this, she decided acting was something she wanted to do. So her journey began with acting camps, then she did school theater, and later joined an agency.
It was also her mother who gave her the good news about being cast on Stranger Things. She read the email from her agent to Ferguson one day after she had just gotten back from school.