Porsha Williams Clashes with Baby Daddy Dennis McKinley on 'Porsha's Family Matters'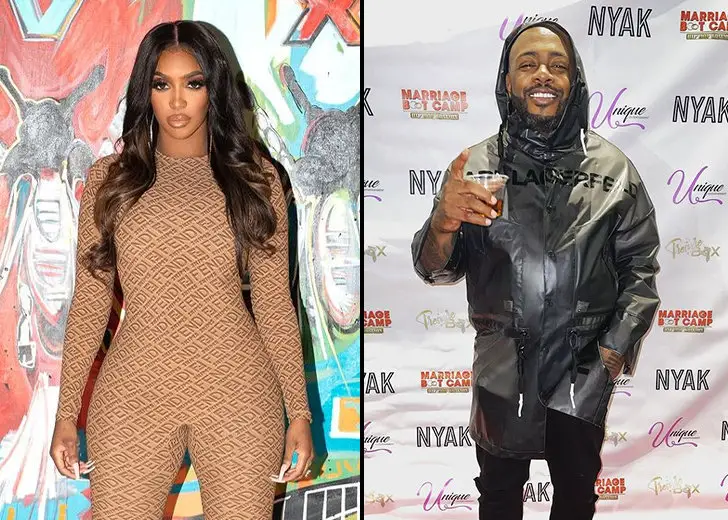 In a preview for the upcoming episode of The Real Housewives of Atlanta's spinoff show Porsha's Family Matters, viewers found Porsha Williams clashing with her baby daddy Dennis McKinley at a dinner table.
The drama started after Williams and her family members complained about McKinley inviting a woman to their family retreat in Mexico.
McKinley was apparently irritated as they told him he could not bring dates to their events.
Porsha Williams' Fight with Baby Daddy
During the dinner, the attendees discussed it was Williams' assistant Dominique who told Lauren Williams that McKinley wasn't being faithful to the reality star.
McKinley confronted Domonique about that, saying, "Yeah, you snitching. Why you worried about my [expletive], bro?"
Momma Gina quickly replied, "It's very petty. Petty and immature."
Williams used the instant to throw some shade by praising her fiancé Simon Guobadia. She stated, "And Simon wouldn't sleep with his young bartender."

Porsha Williams and Simon Guobadia in December 2021. (Photo: Instagram)
After hearing such remarks, McKinley could not contain his anger and yelled at his ex. "Shut the [expletive] up, bro," he told Williams.
In response, she asked her family and crew members to throw McKinley and Gina out of the room. "Get him out. He needs to get the [expletive] out of here. Him and his [expletive] and his mother," she openly said.
But Williams' baby daddy didn't back down and instead asked her to stay silent.
The heated exchange eventually led to a physical altercation. The former couple jumped on each other while the other family members tried to stop them.
Porsha Williams' Baby Daddy Accused of Assault 
After the preview for the upcoming episode of RHOA aired, Williams' cousin Storm, who was present during the fight, took to Instagram stories to accuse McKinley of physically assaulting her.
She shared a collage of four images that disclosed wounds in various parts of her body. She had bruises around her neck, face, lips, and knees.
"I done being quite, Dennis physically assuaged me and nothing was done about it," she wrote in the story, using the hashtag "#porshafamilymatters."
Since then, #PorshasFamilyMatters has been trending on Twitter, and multiple Internet users have asked the concerned authorities to take a look into the matter.
Storm also went live on Instagram to interact with her followers and reveal further details about the alleged physical assault. 
She revealed she was physically attacked by him for so many years and mentioned that she remained silent for the sake of her family's reputation.
The internet personality further said that she had messages and other evidence to prove her claims against Williams' baby daddy.
Fans React to #PorshasFamilyMatters Drama
While a lot has been going on with Williams and her family, fans are reacting to it on various social media platforms.
"The way Dennis is the star of #PorshasFamilyMatters and Porsha is the villain," a user on Twitter wrote.
Another chimed, "The problem is Porsha thought that getting married to Simon, was gonna make Dennis fight for her but Dennis is happy that he does have to deal with her antics so now she is really mad."