'Everybody Loves Raymond' Storyline Inspired by Creator Phil Rosenthal and His Wife's Relationship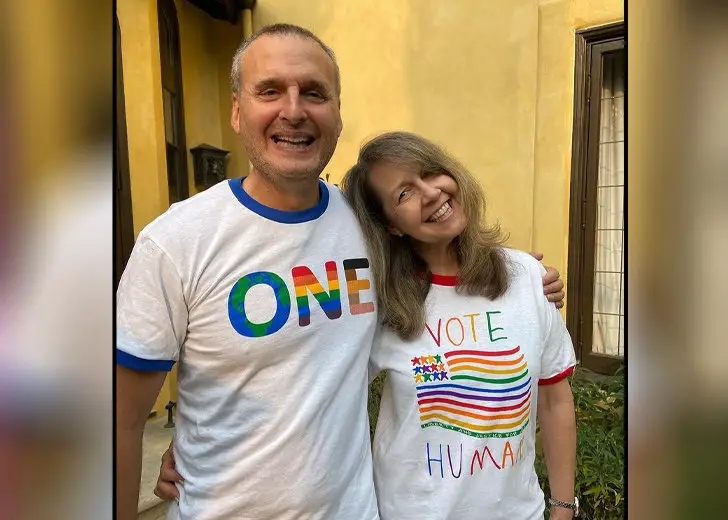 Phil Rosenthal has become a food-tasting icon thanks to Somebody Feed Phil on Netflix in recent years.
But the foodie is best known for being the creator, writer, and executive producer for Everybody Loves Raymond. 
He co-wrote 21 episodes of the series alongside co-producer and main character Ray Romano.
The hit comedy series premiered in 1996, almost ten years after Rosenthal and his wife, Monica Horan, met. 
Horan is an actress who famously starred as Amy MacDougall-Barone on Everybody Loves Raymond, the off-and-on girlfriend of Robert Barone played by Brad Garrett,
Rosenthal had seen a play his wife starred in and was captivated by her flawlessness. 
As luck would have it, the producer ran into Horan and told her he was a big fan of hers. 
"We ran into each other, and he said to me, 'I'm a big fan of yours. Hello!.' And I actually said to him, 'I'm a big fan of yours, too,'" the actress told Jewish Exponent.  
But the actress had seen none of his works and only said that as she was caught off guard. 
Phil Rosenthal and His Wife on 'Everybody Loves Raymond' Storyline
The duo joined the same comedy troupe and later learned that they had both been theater majors at Hofstra University.
The husband and wife tied the knot in April 1990, but not before Horan converted to Judaism. 
After their marriage, they worked on Everybody Loves Raymond and used their own marital experiences for the show. 
Most of the storylines that unfolded between the show's titular characters, Raymond and Debra (Patricia Heaton), were inspired by the couple's own life. 

Phil Rosenthal and wife ringing in the New Year (Source: Phil Rosenthal/Instagram)
In 2002, Rosenthal told People that he and his wife fought over a can opener.
"I spilled the tuna everywhere and got mad and things were said." said the show creator. 
This incident was worked into the series, which led to Romano's biggest gaffes when he asked Debra, "Why am I making tuna fish when I just got home from work?" 
Another episode titled 'Bad Moon Rising' saw Debra PMS-ing inspired by real-life conversations between Rosenthal and Horan. 
That episode earned Romano and Rosenthal an Emmy nomination in the Outstanding Writing for a Comedy Series category.
Ray and Debra often bickered in the series, but the show was therapeutic for Rosenthal and Horan as it gave them something to bond over. 
Phil Rosenthal's Children
Rosenthal and his wife have two children together, son Ben Rosenthal and daughter Lilly Rosenthal. 
Like her father, Lily loves food, which spawned her charity project. 
In September 2021, she and her friend Olivia Sui started 'Liv a Lil' to bring different restaurants for charitable collaborations. 
The duo also conceived the "Jewish-Chinese Alliance chicken sandwich," which combined Asian fried chicken from Luther Bob's with Jewish challah bread and a side of mini latkes.
Other than this, there isn't much information about Rosenthal's family. 
But a quick scroll through Lilly and Ben's Instagram shows they love their mom and dad a lot. 
Whether it is Rosenthal and his spouse's birthdays, anniversaries, or special occasions like Mother's/Father's day, his kids never fail to give them a shout-out on their Instagram.
Rosenthal, too, gave an Instagram shout-out to his late father, Max Rosenthal, during father's day on June 20, 2021.
The producer shared that he and his brother were the luckiest father not because of their children but because of their father, who taught them how to be one.