Brad Garrett Shares Great Chemistry with Wife IsaBeall Quella despite People Calling Them Out for Age Gap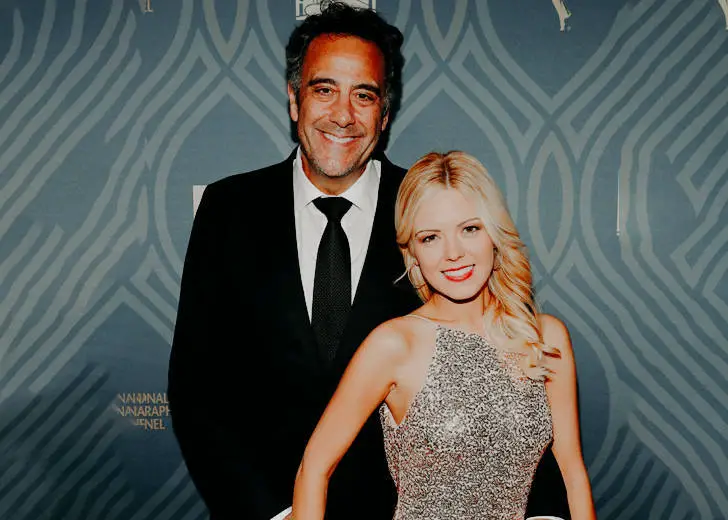 Brad Garrett has been long relishing his personal life with his wife, IsaBeall Quella.
Despite the 24-year-age difference between them (the comedian being the senior), the couple has formed an unbreakable bond and understanding, which has kept their relationship going strong.
While speaking to Entertainment Tonight in May 2015, the humorist jokingly addressed their 24-year age difference. "I'm with someone now who's a little young," he stated, joking adding, "We had an AMBER Alert the other night when we went to the movies."
Garrett admitted his friends teased them for their age gap. He even reminisced about the time when Don Rickles guessed their age difference and made fun of it. 
[Don] Rickles walks up to the table and he looks at her and he looks at me and he goes, '12? 13 maybe, Brad?' And then he looks at her and goes, 'You being kidnapped, honey? Blink if you're being kidnapped.' I immediately put her in a timeout.
Brad Garrett Married Wife IsaBeall Quella in 2021
Garrett and his wife started seeing each other privately in 2008.
After seven years down the lane, Garrett proposed to Quella in the Winston Churchill suite at New York's Waldorf Astoria on December 27, 2015.
His proposal was complemented by singer/songwriter Marc Cohn, who played the couple's favorite songs on piano.
After the engagement, the couple walked into many events and public places together, where the lifestyle and travel blogger was snapped, flaunting her enormous diamond engagement ring.
In one such instance, Garrett's fiancée was captured blazing her ring while the couple was vacationing in Tremezzo, Italy, in November 2016.
In September 2016, the Everybody Loves Raymond star also took his fiancée to the Emmys, and together, they walked the red carpet.
After the event, Quella took to Twitter to express: "So grateful to have had this amazing, kind, handsome man as my date last night."
During their courtship, the lovebirds planned their weddign multiple times. But courtesy of fires, mudslides, and the COVID-19 pandemic, the wedding plan always failed. 
Thankfully, all worked out when they planned their nuptials for the fifth time. As a result, Garrett and his partner finally tied the knot on November 11, 2021. 

Brad Garrett and his second wife IsaBeall Quella on their wedding day in November 2021. (Photo: Instagram)
The wedding was held in Montecito, California, in the striking presence of their fur babies Ivy and Chester.
Garrett wore a black suit by Di Stefano while his partner donned a stunning lace gown designed by Reem Acra. 
Brad Garrett's First Marriage 
Before his relationship with Quella, Garrett was married to Jill Diven, a former cocktail waitress in Las Vegas, from 1999 to 2007.
The actor had proposed Diven on the set of Everybody Loves Raymond in August 1998 in front of his castmates and crew. The following year, they got hitched.
But in April 2006, they decided to part ways and filed for divorce. Their divorce was completed in November 2007 with an agreement to share joint legal and physical custody of their children.

Family Time: Brad Garrett with his wife IsaBeall Quella and his children from his first marriage. (Photo: Instagram)
The actor also agreed to pay $20,000 and $35,000 per month for child support and spousal support, respectively.
After the divorce, the actor's ex wife Diven told People: 
We both realized we're best friends, and we're always going to be best friends. People grow apart. We could do the 'he said-she said' thing, but that's not us.
The former couple share two kids, Maxwell Bradley Garrett and Hope Violet Garrett. His kids have a close relationship with his current wife, Quella, as apparent on his Instagram.