'Law & Order' Star Peter Scanavino Leads a Private Life with His Wife and Kids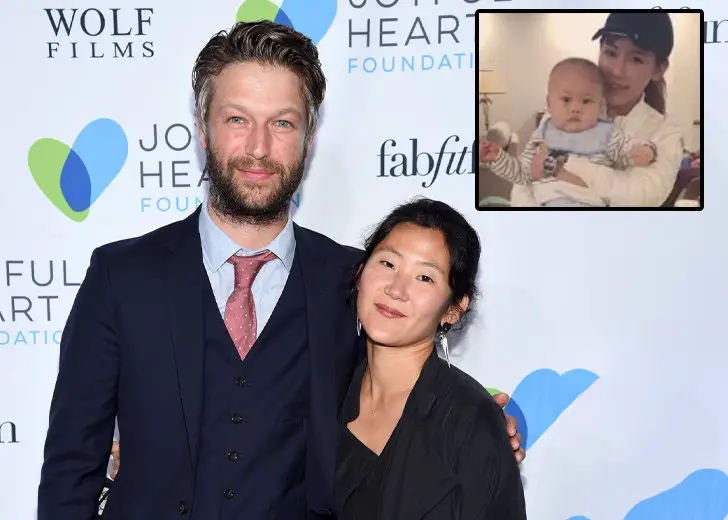 Peter Scanavino is well known in the entertainment industry. His professional career, especially in Law & Order, is widely respected and acclaimed. 
However, the same cannot be said for his personal life since he leads a private life. As a result, there is very little information on his wife and kids online. 
Similarly, he rarely posts about them on his social media. Here is everything we know about the actor's family, spouse, and kids. 
Peter Scanavino and His Wife Lisha Bai
Lisha Bai and Scanavino have been married for over a decade. It is unknown when the pair met and dated, but on July 2, 2020, the actor tweeted it was their tenth marriage anniversary. 
Scanavino gushed how meeting Bai was "the best thing that ever happened" to him in the same tweet. Bai has little to no social media presence. 

Peter Scanavino wished his wife, Lisha Bai, a happy tenth anniversary. (Source: Twitter)
But looking at her Twitter, it is evident that she is very supportive of her husband's career.
While it seems that she has not used the app since 2014, all the tweets she has are about her husband's career. 
She currently has four tweets, and all of them are retweets of fan reactions and positive reviews of her husband's acting on Law & Order. 
According to Heavy, Bai is a painter who often collaborates with Scanavino's brother, David. She graduated from Washington University with the degree of Bachelors in Fine Arts in Painting. 
She then went to Yale University, where she earned her Masters in Fine Arts in Painting and Printmaking. Similarly, she was a Terra Summer Residency Fellow in 2004 at Giverny, France. 
After her studies, she worked at the Pratt Institute in Brooklyn as an art and design instructor since 2005. After 2008, she was a visiting fine arts instructor in the same institute.

Peter Scanavino and posing with his wife, Lisha Bai, in Miami. (Source: Instagram)
Her paintings have also been exhibited on various occasions and in various places like Brooklyn, Minneapolis, Massachusetts, North Adams, and Philadelphia. 
The Scanavino Kids 
Both Scanavino and his wife are extremely protective of their kids and privacy. They have three children, but they have only revealed their second child, Leo, to the public. 
The actor took to Twitter to announce the birth of Leo in January 2016. He posted the newborn's picture and wrote, "Welcome to the world Leo."
Coincidentally, Leo was born around the same time as the kids of Scanavino's co-stars from Law & Order: SUV. In November 2015, Ice-T and his wife Coco welcomed their first daughter. 

The Scanavino kids wearing New York Islanders' jerseys. (Source: Twitter)
Similarly, Kelli Giddish and her spouse, Lawrence Faulbron, were blessed with baby Ludo in December 2015. Ludo had appeared on Law & Order: SUV in 2016. 
In a 2016 interview with Hollywood Reporter, Scanavino was asked if his son would also make an appearance. The actor was unsure and said Leo was "a little unpredictable."
However, he was open to the idea of it. While Leo did not feature in the crime drama, he co-starred his father on the Netflix show Social Distance. 
Like real life, they portrayed a father-son duo in the episode 'You Gotta Ding-Dong Fling-Flong the Whole Narrative' and were critically acclaimed for it.