Paul Lieberstein's Weight Loss — Cancer Rumors and Triathlon Participant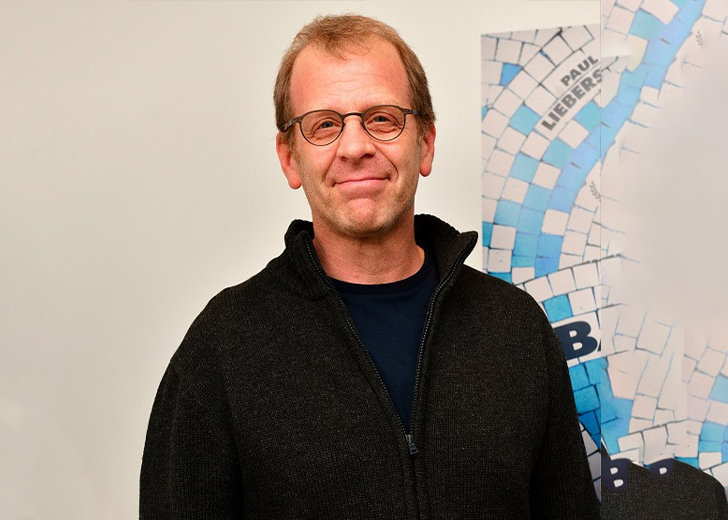 Paul Lieberstein had his fans worried because of his weight loss and cancer rumors during his days in The Office. 
He is one of the people who made The Office one of the best sitcoms of our generation with a massive fanbase. He worked both on and off camera in the show. 
He served as a writer and executive producer for the show. He also played the role of Toby Flenderson, the human resources rep for Dunder Mifflin, Scranton branch. 
While many people are not fans of Flenderson, they adore and appreciate Lieberstein. They care about the actor and wonder if he is doing well. 

Paul Lieberstein posing with the hat given by his nieces. (Source: Instagram)
This peaked during season 7 of The Office, where he looked visibly thin. Eventually, cancer rumors spread and were deemed the truth behind Lieberstein's weight loss. 
Paul Lieberstein Weight Loss and Cancer Rumors 
The seventh season of The Office aired from September 2010 to May 2011. During this time, people noticed a significant weight change in Lieberstein towards the end of the season. 
While his character Flenderson shared little screen time, it was evident that the actor had lost some weight. The speculations came after Flenderson returned to Dunder Mifflin after the Scranton Strangler trial.
The difference between his weight was very noticeable, and many people wondered why this sudden change happened.
They were genuinely worried about him and took to Reddit to voice their opinions. 

Fans discussing Paul Lieberstein's weight loss. (Source: Reddit)
In 2014, a Reddit user pointed out that Lieberstein looked considerably thin, and the difference was dramatic. They revealed that their first conclusion was that the actor was sick. 
Many people agreed with them and said the actor looked gaunt at the end of Season 7.  
Some said he was simply maintaining his weight, whereas some said it was because of chain-smoking. 
In another post, people discussed the cancer rumors. One user pointed out that the actor allegedly felt nauseous and dizzy in the last seasons. 

Discussion about Paul Lieberstein's weight change and cancer rumors. (Source: Reddit)
This fueled the rumors about cancer and his weight change. Another post mentioned that Lieberstein was missing out on public events around the same time. 
Since Lieberstein never publicly addressed the rumors, nothing can be said for sure. But it is reported that his family told the media that he was not sick. 
The actor might have kept his illness a secret as well. On the other hand, cancer is not the only factor for weight loss.
Therefore, unless he addresses this, everything is merely speculation. 
Paul Lieberstein and Triathlon
Lieberstein maintains a healthy lifestyle and constantly exercises. His Instagram Bio says that he is also a model and personal trainer.

Paul Lieberstein with his teammates after winning Malibu Triathlon 2021. (Source: Instagram)
Similarly, Lieberstein is an avid triathlon runner. According to Britannica, triathlon comprises three sports —  running, swimming, and cycling. 
It is an endurance sport extremely good for fitness. Lieberstein constantly takes part in this contest and often wins the first prize.
According to a vlog posted by EverythingDan in 2021, the actor recently participated in the Malibu triathlon and won the gold medal. 
The video also revealed that Lieberstein had done over ten Malibu triathlons to date.
Thus, the actor maintains a healthy and balanced lifestyle regardless of cancer rumors and weight change speculations.